Culture Spotlight:
The Art World
For an art lover, seeing famous masterpieces and museums around the world is one of the greatest pleasures of travel. My husband and I are both very passionate about art—he is a major collector of Orientalist art, and in recent years we have grown very interested in contemporary art as well. Our trips often revolve around visiting galleries and contemporary art fairs, like the Bienal in Sao Paulo, the Biennale in Venice, and Art Basel Miami Beach.
The contemporary art scene has made celebrities out of artists like Damien Hirst and Anish Kapoor—but it's also boosting the fame of architects. Increasingly, art museums are works of art in themselves, built to reflect the local landscape and culture and bring more light and dynamism to the museum-going experience. The most celebrated of these is the Guggenheim in Bilbao, designed by Frank Gehry. When it opened in 1997, it sparked what is called the "Bilbao Effect," creating a tourism boom in the city and a design boom around the world.
I visited the Guggenheim Bilbao last year, and it is absolutely spectacular, worth the trip just in itself. Soon I hope to visit several other museums that have caught my attention. The Museum of Old and New Art, which opened in 2011 near Hobart, Tasmania, is especially fascinating, not just because of the architecture (which looks like a Bond villain's lair) but also because of the museum's eccentric owner, David Walsh. A math savant who earned his fortune as a professional gambler, Walsh exhibits his varied collection of antiquities and provocative modern art side by side, with descriptions provided by iPod rather than on the walls.
The Middle East is an exciting new hub for contemporary art and architecture—edgy galleries have been cropping up in Dubai's Al Quoz district, and major cultural projects are underway in both Abu Dhabi and Qatar. Abu Dhabi has three museums currently in the works: a branch of the Guggenheim, also designed by Gehry; an extension of the Louvre, designed by Jean Nouvel; and the Zayed National Museum by Norman Foster. Each is a dazzling showpiece, from the Guggenheim's undulating roofs, to the Zayed Museum's soaring metal wind towers, to the Louvre's perforated dome, which dapples the galleries with light. The Louvre Abu Dhabi is scheduled to open in 2013, the Zayed National Museum in 2016 and the Guggenheim Abu Dhabi in 2017.
Two of Qatar's new museums are already open—the I. M. Pei-designed Museum of Islamic Art, and the Mathaf: Arab Museum of Modern Art. The Qatar National Museum, designed by Nouvel, is slated to open in December 2014.
Besides being striking and innovative, many of these creations also honor the local culture: Pei was inspired by a mosque in Cairo, Foster's wing-like design is a nod to falconry (the royal sport of the sheiks), and the Qatar National Museum's shape evokes the "sand rose," a rosette-shaped crystal that forms in the desert.
Also on my list are Rome's Maxxi Museum (Museum of Arts of the XXI Century), by Zaha Hadid, and Helsinki's Museum of Contemporary Art Kiasma, by Steven Holl. The Maxxi's low-slung, streamlined shape makes me think of a race car, while Holl's tubular, harbor-side museum was built to make the most of Helsinki's low angles of light.
Newly built museums aren't the only ones creating buzz. Berlin's Museumsinsel, or Museum Island, which consists of five world-class museums housed in Baroque or Neoclassical buildings, has been undergoing major renovations for several years now. I visited Museum Island with my family a few summers ago, and we were truly astonished by the collections (some of the finest examples of ancient Egyptian, Greek, Byzantine and Babylonian art in the world). The architectural innovations here are mostly on the inside—the shells of the building have been left mostly intact to preserve the historic details, while the interiors are modernized to better showcase the art. In cases where the exterior has been damaged, the new construction aims to reinterpret the original building, rather than try to recreate it.
Also making headlines are the Louvre's stunning new Islamic art wing (which opened just last month), and the new wing at Sydney's Museum of Contemporary Art. Amsterdam is redoing its museums in a big way as well. The Stedelijk Museum, Amsterdam's excellent museum of contemporary art, reopened last month with a new wing and renovated interior. The Van Gogh Museum is being refurbished at the end of this year (its collection is on view at the Amsterdam branch of the Hermitage museum from Sep 2012—Apr 2013). And next April, the completely renovated Rijksmuseum will fully reopen after nearly 10 years of additions and restorations, including a new Asian Pavilion. (The museum's most celebrated works from the Golden Age are on exhibit in the Philips Wing in the meantime.) Amsterdam has always been a fantastic museum town—along with those I just mentioned, the Rembrandt House Museum is also well worth visiting. With so many things to do, this city is a great place for kids and makes a wonderful stopover on the way to Africa.
As you can see, there's always something exciting going on in the art world—I can't wait to explore it all! It seems art will be shaping my travels for many more years to come.
New Partner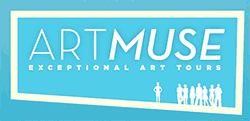 A true appreciation for art often starts young, and no child should miss seeing the great masterpieces of the world. But for active kids, a day at a museum can seem like torture. Our newest partner, ArtMuse, knows the right way to introduce kids to art. Created by an art historian and mother of three, their ArtKids program uses themes, props, songs and games to help children relate to and engage with the art. ArtMuse offers scheduled tours, classes, and private tours for adults and families as well as kids aged 3 and up, and are custom-designed around your schedule and the ages of your kids. Tours are available for over 25 museums, galleries and artist's studios in New York City, as well as the top museums of London, Paris, Rome, and Florence, and they will soon be adding Moscow as well. So, rather than dragging your reluctant kids past an endless row of masterpieces, turn them over to ArtKids, and let them discover the joys of art on their own terms.
Upcoming Event
Friday, November 9
Please join us in Hillsborough, CA for an exclusive day of inspiration. Two of our partners—one from India and one from Africa—will be attending.
Jaisalmer Trunk Show
11am-7pm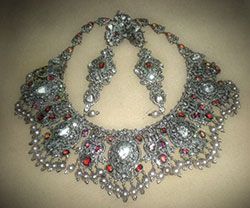 Start your holiday shopping with our trunk show featuring Jaisalmer Fine Indian Jewelry. Ranging from fashionable everyday wear to jewels for the most special occasions, these one-of-a-kind pieces are inspired by the unique designs of Indian jewelry, exquisite craftsmanship, and the beauty of finely cut and polished gems.
"Dreams of Africa"
2-8pm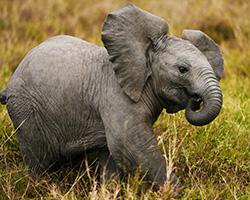 If you've ever thought of taking your kids on an African safari, here is your chance to meet Jan Kortland of Royal African Safaris. An East Africa native, Jan has been guiding safaris for 25 years, and was our guide on my family's Tanzania adventure, which we took when my kids were 6, 7 and 10. At this event, he'll be telling us about two extraordinary new Tanzania journeys, filled with unforgettable experiences like lion tracking, encounters with the Maasai, and a hot air balloon ride over Tarangire National Park.
Photo Contest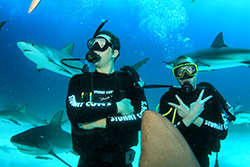 We're still accepting submissions for our second 2012 contest. Send in your photos up until November 30, 2012—we'll be holding our next drawing in early December. As in previous contests, the prizewinner's name will be drawn from the monthly winners. The winner will have a choice of prizes—an Apple iPad or a BlackBerry PlayBook! To see the selected photos from earlier this year, please visit the Photo Contest page on My Little Swans.
Warm Regards,
Katrina Garnett