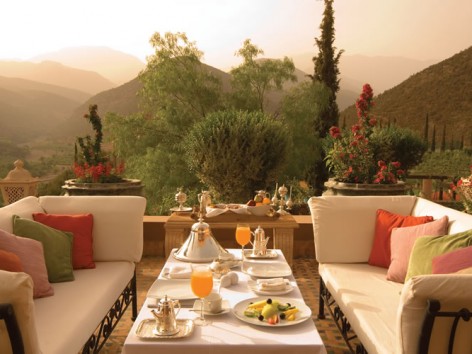 Partner:
Best of Morocco
List of Destinations:
Sample Itinerary 2
This itinerary takes you to the bustling city of Marrakech, the quieter Taroudant, a Saharan Land Rover Safari offering spectacular sightseeing, and onto the luxurious mountain-side retreat of Kasbah Tamadot.
We can book exactly this itinerary for you, but normally customise it to create a Morocco holiday tailor-made to your requirements.
Day 1: Arrive in Marrakech
You will be met at the airport and a private transfer (about 20 minutes) takes you to the Hotel Es Saadi. Stay in one of their villas, each with a unique style, private pool, garden and butler service.
The Es Saadi gardens and resort are set in a large parkland with spectacular views of the High Atlas mountains. We have a lot of repeat clients to this genteel hotel, and the restaurant is renowned for its excellent cuisine and extensive wine list. Other facilities include a large swimming pool, tennis courts and a health and fitness centre.
Take a guided tour of the Medina and Souks, Bahia Palace and Saadian tombs, or fill yourself with the flavours of Morocco at one of the cookery classes (available for a variety of skills and menus). Then watch the sunset behind the Koutoubia Mosque from one of the roof top cafes.
View the landscape from the air with a hot-air baloon flight. This early-morning trip includes mint tea and home baked bread in a local village.
A caleche (horse drawn carriage) will take you into the Palmeraie area (palm groves outside of Marrakech), or explore the souks.
Private road or helicopter transfer to Taroudant (approximate journey time by road: 5 - 6 hrs, by helicopter: 2 - 3 hrs).
Taroudant is a town of great charm and grace with its majestic circuit of high walls which stand against the backdrop of the High Atlas.
Stay at La Gazelle d'Or, an extraordinary place close to the city walls, set in beautiful manicured lawns disappearing to the distant Atlas Mountains and offering a unique sense of luxury, tranquillity and peace.
Local activities include a guided tour of Taroudant, and shopping in the Souks.
Half-day trips will take you into the Anti-Atlas mountains, or to the coast.
With a longer trip, you can visit the Tiz-n-test mountain pass, or the waterfalls at Immouzzer.
Helicopter transfer to Ouarzazate, approximate journey time: 2 hrs, or optionally to Foum Zguid for a shorter Safari.
Depart Ouarzazate 09.00 passing through Amerzagane, Tazanakht and Foum Zguid (106 miles) and then 15 miles of piste to Mdaouer for overnight camp.
The Safari camps include full facilities such as flushing toilets and hot showers, comfortable beds, tables and chairs. An English speaking guide and driver, cook and full support team ensure the smooth running of your Safari.
Drive to the dunes of Erg Mhail and walk for about 2 hours through the dunes. Overnight camp in the dunes.
Drive 28 miles of piste to Mhamid before joining the road to Zagora and continue along the Draa Valley to Ouarzazate (100 miles).
Day 8: Asni, the High Atlas mountains
A private road or helicopter transfer to Asni - approximately 5 - 6 hours, by land or 3 hours by helicopter.
The Kasbah Tamadot is a luxurious property situated in a wonderful location. Owned by Richard Branson, this beautifully restored Kasbah is the perfect mountain retreat, boasting spectacular views of the snow capped mountains. It offers a range of room types, from the master suite with private pool to (very luxurious) Berber tents scattered around the grounds. The hotel facilities include a spa, gymnasium and tennis courts.
Day 9: Into the mountains, or the valley
The walking in this region is fantastic, leading you either down into the valley and around the village of Asni, or onward deeper into the mountains. Mountains biking and mule trekking also show this wonderful area to great advantage.
Day 10: Marrakech and home
Private road or helicopter transfer to Marrakech airport - approximate journey time by road: 1 hour, by helicopter: 40 minutes.
Copyright 2013 MyLittleSwans, LLC. All rights reserved. My Little Swans, the logo and Share a world of experience are registered Trademarks of MyLittleSwans, LLC. Use of this site constitutes acceptance of our Terms of Use and Privacy Policy.