Partner:
Terry Simms Surf
List of Destinations:
Costa Rica
Mexico
United States
Australia
Caroline Islands
Christmas Island
Hawaiian Islands
Micronesia
Special Offer: Openings in Early 2013
Let surf guru Terry Simms be your personal guide and coach at one of his favorite surfing destinations. Openings are still available for the dates below, but they will fill up fast. To book him for your private surf adventure, contact us directly.
topNosara, Costa Rica: 7-day trips
Available dates: January - Feb. 10, April 18 - May 20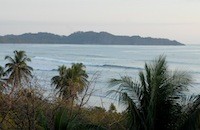 The surf here is suitable for beginners and intermediate surfers, making this an ideal destination for families. We recommend Harmony Hotel, a sustainable, boutique, low-key luxury hotel with wonderful, local organic food, a garden on premises, and a saltwater pool. The hotel is a two-minute walk from a very large beach with many peaks that keeps the surfers spread out, perfect for teaching.
Nosara is small, walkable, bike-friendly town with lots of good restaurants and shops owned by the large expat community that lives there. National Geographic rated it as one of the top 20 surf towns to live in. If Harmony Hotel is full, there are many lovely homes to rent within walking distance to the beach.
Logistics: Fly into Liberia, CR. Jet Blue recently opened up direct service from JFK to Liberia.
topNihiwatu, Sumba, Indonesia: 7-10 day trips
Available dates: April 25-May 16
Terry loves teaching at this exclusive resort because of the consistency of the wave, the low crowd factor, and the resort's location directly in front the wave (God's Left), allowing for all day, in-and-out surfing. There are also several other waves that can be accessed by boat. Terry can work with beginner, intermediate and advanced surfers on this wave. He's been teaching clients at Nihiwatu for ten years, and many clients return to Sumba year after year with their families.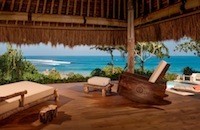 The staff and the accommodations are also excellent. The new villas opened in July and are a perfect combination of eco and luxury. The beach is very private, no other tourists or hotels) – a total contrast to the experience in Bali. In addition to the surfing, there is a variety of diverse and unique activities available: diving, snorkeling, hiking, horseback riding, mud bathing, SUP tours, village tours, waterfall hikes. This one-of-a-kind experience is deal for families and couples and is Terry's top trip.
Logistics: Fly into Denpasar (DPS) in Bali. Nihiwatu has a private charter that leaves Thursday mornings to Tambolaka Airport on Sumba. 1.5-2 hour drive to the resort. Nihiwatu likes to book Thu-Thu; ideal length of stay is one week (or ten days). Many people come for a week and then try to extend because they don't want to leave. Nihiwatu only allows 9 surfers per week. They have availability now but the surf slots will go quickly.
Cost: Nihiwatu recently started charging a per person daily rate $595.00. Includes:
• Breakfasts, lunches, dinners and afternoon teas & coffees
• All drinks including beers, house wines, spirits and cocktails (see exemptions below)
• Car transfers from/to Tambolaka airport in west Sumba
• Sea & land activities, excursions and journeys based on a weekly activities offering (see exemptions below)
• One surfer per room
• Surfing lessons, scuba-diving and snorkeling in and around the Nihiwatu beach & surrounding sites when conditions permit
• Mountain bikes, SUP expeditions, stand-up paddling boards
• Excursions to traditional Sumbanese villages & to the Sumba Foundation's projects
• Scheduled group yoga classes
• One full body massage per person per week of stay (adults over 16)
• Laundry
• 2-hour early morning and afternoon fishing within the Nihiwatu area
• Wi-fi internet access in-room & public areas of the hotel
Clients will pay $195 per day to have Terry stay in staff housing, all inclusive with meals, etc.
Copyright 2013 MyLittleSwans, LLC. All rights reserved. My Little Swans, the logo and Share a world of experience are registered Trademarks of MyLittleSwans, LLC. Use of this site constitutes acceptance of our Terms of Use and Privacy Policy.