Partner:
Great Alaska
List of Destinations:
Kenai Multi-Sport Adventure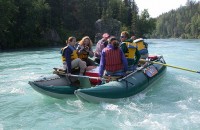 One of our favorite experiences...a great Alaska multi-sport adventure that combines 2 days at Bear Camp, followed by 3-5 days of adventure, based out of the riverfront main lodge. Whitewater rafting, mountain biking, glacier cruising, wilderness hiking and freshwater kayaking all in one big week. For those who enjoy combining wilderness with a workout, here is your perfect blend of wilderness, exercise and Alaska adventure!
June 1 – September 10, 2013
7 days/6 nights $3,295 per person, double occupancy
5 days/4 4ights $2,795 per person, double occupancy
Copyright 2013 MyLittleSwans, LLC. All rights reserved. My Little Swans, the logo and Share a world of experience are registered Trademarks of MyLittleSwans, LLC. Use of this site constitutes acceptance of our Terms of Use and Privacy Policy.