Winter Activities
Exlpore and discover Aspen ithis winter with fun activities for the entire family. Contact our Aspen partner, Lee Bryant at Connected Concierge for details and help in planning and booking your winter adventure in the Rockies.
topSkiing Snowmass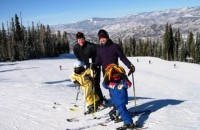 Snowmass has long been rated one of the best family ski resorts in North America. The reason for this brand of loyalty? The sheer size and diversity of its terrain. As the largest of the four Aspen/Snowmass Mountains, this is the part of the ski resort that is most popular with families who have to accommodate a wide range of skill levels. This is where you'll find the famous Treehouse Kids' Adventure Center, geared to occupy children between 18 months and 12 years old while parents enjoy the skiing and snowboarding outside.
topSkiing Aspen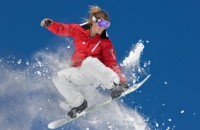 Besides Snowmass, Aspen consists of three ski/snowboarding areas. These are Aspen Mountain, Aspen's original ski resort, Aspen Highlands, which features some of the area's most extreme skiing, and Buttermilk which is the site of the winter Xgames and draws the kids who want to showcase their latest tricks, in the great terrain park and half-pipe. These three areas combined to form the original Aspen of the 1960's. Today, with the addition of Snowmass, Aspen has more than doubled in size.
topSki Instructors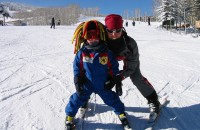 PO Box 1248
Aspen, CO 81612
800-308-6935, 970-925-1220
Best to book in advance at the mountain you wish to ski. Aspen Ski Company has facilities on and instructors for all four mountains—Snowmass, Aspen, Aspen Highlands and Buttermilk. Our Aspen partner, Lee Bryant at CCMG, knows many of the instructors. So if you are working with her, be sure to ask about all your Aspen needs.
topAprès-ski
675 E Durnad
Aspen, CO 81611
Tel: 888-843-6355, 970-920-4600
Fax: 970-920-4670
topDog Sledding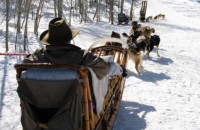 4250 Divide Road
Snowmass Village, CO
970.923.3953
My kids loved both sledding and visiting the kennels when they were younger.
We weren't put off by the smells, but do keep this in mind if you have any one in your party with a sensitive nose.
Krabloonik Dog Sled Tours offer a 2-hour dog sled trip through the Aspen/Snowmass wilderness. Enjoy the magnificent views of Mt. Day and Capital Peak. You will see teams of dog sleds pulling handcrafted sleds. Kids love the puppies. Minimum age for dog sled rides is three years old.
topSnowmobiling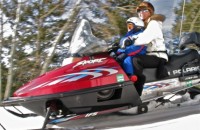 3129 Maroon Creek Rd
Aspen, CO 81611
970-925-4614
Email: tlazy7@rof.net
Enjoy a 2-hour snowmobile tour through the Maroon Bells or longer lunch tours (2 ½ hours) to Klondike Cabin that offers stunning views of 14,000' Pyramid Peak.  Independence Pass Lunch Tour (4 hours) is truly a scenic wonder as you wind up the Continental Divide. Hot lunch is served at a cozy cabin. No minimum age for kids, but must be 18 to drive.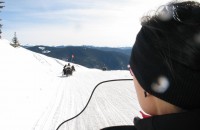 P.O. Box 900
Woody Creek, CO 81656
970-923-3337
Based out of Lenado above Woody Creek, about a 40-minute drive from Snowmass. Lenado is at the foot of Larkspur Mountain and is absolutely beautiful. They have a range of tours from the 2.5 hour tour of Silver Park to an all day excursion with gourmet lunch. Maroon Bell and Silver Park tour includes a light lunch/snack. Bit more cowboy style than the operation at T-Lazy. Not as crowded and they let you run the machines a little more.
topCross Country Skiing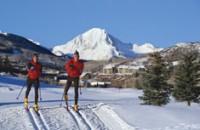 Aspen Snowmass features 60 km's of groomed trails that link Aspen and Snowmass, see www.aspennordic.com for more information on cross-country options in and around Aspen including Ashcroft
topCarriage and Sleigh Rides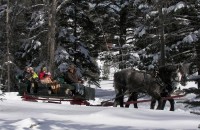 PO Box 38
Aspen, CO 81612
970-925-3394
Private Sleigh Rides for that romantic evening out without the kids!
topHot Air Ballooning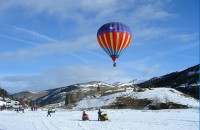 Snowmass/Aspen,CO
PO Box 3048
Basalt, CO 81621
888-927-9606, 970-963-6148
Yet another diversion for those looking for a high altitude off snow adventure.
topIce Skating
Silver Circle Ice Rink
433 E Durant Ave
Aspen, CO 81611
970-925-2838
Open Daily: 10am-10pm
An authentic outdoor skating experience located in the heart of downtown Aspen. Seasonal.
233 W Hyman Ave
Aspen, CO 81611
Tel: 970-920-5141
Fax: 970-920-5706
Public skating, pickup hockey, figure skating and ice skating lessons, ice hockey clinics and games. The rink has it all.
topRecreation Centers
Both Aspen and Snowmass feature multi-million dollar rec centers for a day off the mountains.
0861 Maroon Creek Rd
Aspen, CO 81611
970-544-4100
2835 Brush Creek Road
Snowmass Village, CO 81615
970-922-2240
Copyright 2013 MyLittleSwans, LLC. All rights reserved. My Little Swans, the logo and Share a world of experience are registered Trademarks of MyLittleSwans, LLC. Use of this site constitutes acceptance of our Terms of Use and Privacy Policy.