Destination:
Western France
Vendée Region
Just south of Brittany on the Atlantic coast, this area is famous for gently sloping beaches, yachting and water sports, and as many days of sunshine as you'll find anywhere in France.
topLa Rochelle
One of the prettiest port cities in France, La Rochelle has been an important fortified port since the 13th century, and much of the town has remained unchanged. The charming arch-covered streets are reminders of the city's past as a trading hub, when shopkeepers displayed their wares under the protection of the arcades. In the old center, half-timbered medieval houses and graceful town mansions from the 15h and 16th centuries still stand.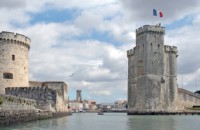 St. Nicholas Tower
Tel: +33 (5) 46 41 74 13
A maze of steps and chambers, this stately, 135-foot-high keep offers spectacular views from its walkway and lookout post. A heavy chain once hung between this tower and the neighboring Tour de la Châine, closing the port to ships.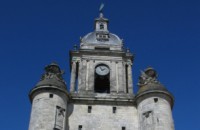 Great Clock Tower
This massive 14th-century gate separating the port from the center once had two arcades – it was reduced to one arcade in the 16th century. The decorative dome dates from 1746.
House of Henry II
Not an actual house, but a highly decorated façade overlooking a garden, this structure is a unique work of French Renaissance art.
Church of Saint-Sauveur
Built and rebuilt several times over hundreds of years, this church features an interesting blend of styles. The flamboyant Gothic bell tower is all that remains from the 14th century – the rest dates from the 15th, 17th and 18th centuries.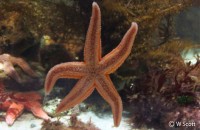 quai Louis Prunier - BP 4
17002 La Rochelle Cedex 1
Tel: +33 (5) 46 34 00 00
Fax: + 33 (5) 46 45 35 71
Email: contact@aquarium-larochelle.com
Open daily, Oct-Mar 10am-8pm, Apr-Jun and Sep 9am-8pm, Aug 9am-11pm
One of the largest and finest aquariums in Europe, featuring 10,000 species of flora and fauna from the oceans of the world.
Arcaded Streets
La Rue du Palais, la Rue du Minage, la Grande Rue des Merciers.
topShopping
Cognac and Limoges porcelain are the main things to buy here, but the shops offer something for everyone.
Rue du Palais and rue des Merciers
Clothing, kitchen goods, sea salt
La Rue St-Sauveur
Art, antiques, nautical souvenirs
topRestaurant
1 rue des Claires
17400 Aytre - La Rochelle Sud  (5 km from La Rochelle)
Tel: +33 (5) 46 44 29 12
Fax: +33 (5) 46 34 66 01
Email: reservation@lamaisondesmouettes.fr
This seaside villa serves inventive cuisine by award-winning chef Johan Leclerre. Comfortable, modern dining room with a scenic view.
topIle de Ré
Two miles off the coast, this long, low island has a charm and tranquility that even hordes of summer tourists can't dispel. The best way to see it is by bicycle – a vast network of bike paths wind between the island's ten picturesque villages and along the southern coast to sandy beaches perfect for swimming and shelling. The largest village on the island, St-Martin, offers great shopping and an impressive 17th-century citadel.
Ernest-Cognacq Museum
Hôtel de Clerjotte
13, Avenue Bouthillier, St-Martin de Ré
Tel: +33 5 46 09 21 22
Housed in the former residence of a 15th-century taxman, this museum is devoted to the history of the island, from Neolithic times to its more recent maritime heritage.
Citadel
This star-shaped citadel was built by Vauban, Louix XIV's chief military engineer, in the 17th century, after an unsuccessful attempt by the English to capture the island. In the 19th century, it was a clearinghouse for convicts on the way to the penal colonies of New Caledonia and French Guiana. The ramparts are a wonderful place to stroll.
1 quay Job Foran
17410 Saint-Martin-de-Ré
Tel: +33 (5) 46 35 40 32
Fax: + 33 (5) 46 35 64 59
Email: toiras@relaischateaux.com
This romantic 4-star hotel in a former 17th-century residence is exceptionally well located, right at the harbor entrance. The rooms are dedicated to historical figures of the region.
topContacts
Quai N. Baudin
17410 Saint Martin de Re
Tel: +33 (5) 46 09 20 06
Fax: +33 (5) 46 09 06 18
Info: OT.ST.MARTIN@wanadoo.fr
top3-Day Itinerary to La Rochelle and Ile de Ré
Travel by car from Dinard to La Rochelle (approx. 4 hrs).
Lunch at one of the restaurants along the harbor.
In the afternoon, visit the Old Harbor and the Old Center.
Dinner at La Maison des Mouettes in Aytré (5 km from La Rochelle).
Evening transfer to the Château Hotel De Toiras in St Martin de Ré on Ile de Ré.
Explore at your leisure. Shop and view the historic sights in St Martin de Ré, or visit the many charming villages and sandy beaches around the island.
Spend the morning touring the island by bicycle.
After lunch, travel by car approx. 1.75 hours to Bordeaux.
Copyright 2013 MyLittleSwans, LLC. All rights reserved. My Little Swans, the logo and Share a world of experience are registered Trademarks of MyLittleSwans, LLC. Use of this site constitutes acceptance of our Terms of Use and Privacy Policy.