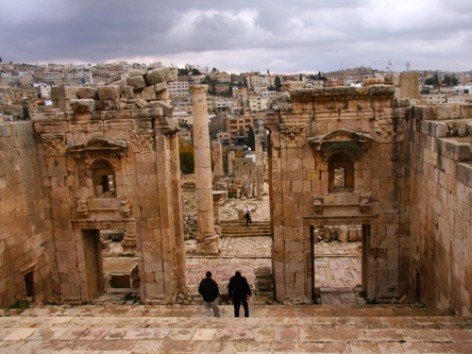 GeoStats:
Official Name: Hashemite Kingdom of Jordan
Passport/Visa Requirements: US citizens need both a passport and visa
Capital: Amman
Population: 6,053,193
Languages: Arabic, some English and French spoken
Predominant Religions: Islamic, small Christian minority
Time Zone: 2 hours ahead of Greenwich Mean Time (+2 GMT), 7 hours ahead of Eastern Standard Time
Currency: Jordanian Dinar
Voltage Requirements: 220 volts
Telephone Codes: 962, country code; 2, Amman city code
Basics
topWhen to Go
The best time to visit Jordan is in the spring (March-May) and fall (September-November), when temperatures are mild. Khamsin winds may occur in March and October, just before and after the dry season. Summers can be oppressively hot, and winters can be quite cold, especially in the desert – pack warm clothes and be prepared to bundle up at night.
topWeather & Temperature
Jordan has a wide range of climates, largely based on elevation. Low areas, such as the Jordan Valley and Gulf of Aqaba, experience the most heat and humidity, while higher central and northern areas can get very cold in winter – snow in Amman or Petra is not unheard of. Rain falls between November and March. The Jordan Valley gets unpleasantly hot and humid in high summer (July–August), with temperatures over 36° C; summer in the desert is also extremely hot, but drier. Evenings in summer are generally cool.
Amman, Jordan
JAN
FEB
MAR
APR
MAY
JUN
JUL
AUG
SEP
OCT
NOV
DEC
Average High Temperature
°F
53
55
60
74
82
88
90
90
88
81
70
58
°C
12
13
16
23
28
31
32
32
31
27
21
15
Average Low Temperature
°F
39
39
44
49
57
60
65
65
62
57
50
44
°C
4
4
6
9
14
16
18
18
17
14
10
6
Average Precipitation
in
2.72
2.91
1.22
0.59
0.2
0
0
0
0
0.2
1.3
1.81
cm
6.9
7.4
3.1
1.5
0.5
0
0
0
0
0.5
3.3
4.6
topTime Difference
Set your watch 2 hours ahead of Greenwich Mean Time (+2GMT) or 7 hours ahead of Eastern Standard Time (+7EST). Jordan's Daylight Savings Time is from late March to late October.
topPassport & Visa Requirements
A valid US or UK passport is required; visitors from non-Arab countries also require a visa, which can be obtained upon arrival at Amman's Queen Alia International Airport. The cost of one entry visa for all nationalities is 20 JD (around $30). Those arriving by land must get a visa prior to arrival. These are obtainable from any Jordanian diplomatic mission abroad, where they generally take a day to receive. Visas cannot be obtained at Jordan's land border crossings. Tourist visas allow a stay of up to one month initially. However, this period can easily be extended for up to another two months. If you plan to stay for more than two weeks in Jordan, you will need to register at the nearest police station, though many high-end hotels will handle this formality for their guests.
Arrivals at Aqaba, either through the port, the airport or at the crossing from Israel or Saudi Arabia, are granted a free visa to Jordan. There is no obligation associated with this visa, provided that they leave the country within 1 month of arrival, and that they do not need to 'renew' their visa. Those holding an Aqaba Special Economic Zone (ASEZ) visa, and wishing to stay longer than 1 month must extend it at the ASEZA office in Aqaba and not with their local police station as holders of a normal visa would do.
There are three departure taxes from Jordan: JD 4 across land borders, JD 6 from Aqaba by sea, and JD 15 when leaving by airplane (usually included in the price of the ticket).
topHealth Matters
Medical services are excellent in the larger cities and towns and most doctors are bilingual in Arabic and English. Larger hotels have a doctor on call and embassies can also suggest doctors and hospitals.
Vaccinations
No inoculations are required for entry into Jordan, although preventive shots for hepatitis, polio, tetanus and typhoid are recommended. Check with your GP or the World Health Organization website for current bulletins on Jordan.
Drinking Water
Hotels rated 3 stars and above have their own water filtering systems and their water is considered safe to drink. Elsewhere, bottled water is cheap and readily available.
Stomach Upsets
The most common problems are mild stomach upsets and diarrhea caused by bacteria in food and drink that foreigners have not built up a resistance to. Immodium is an effective over-the-counter remedy for diarrhea. Water is generally safe, but heavily chlorinated. You may prefer to drink bottled water.
Sun and Heat Precautions
Intense heat and lack of shade can pose potential health risks. Stay hydrated, apply sunblock, wear a sunhat and loose-fitting clothes of natural fibers, and wear a T-shirt when swimming.
topMoney Matters
Local Currency
Local currency is the Jordanian Dinar (JD, often called the "jaydee"), divided into 1000 fils, or 100 piastres (also known as qirsh). The fils is the unit most commonly used; for example, 4 JD and 750 fils will be written as 4,750. Coins come in denominations of 1, 5, 10, 25 and 50 piastres and 1 dinar. Notes are issued in 1, 5, 10, 20, and 50 dinars.
Bank and Exchange Offices
ATMs are probably the best and most convenient option, and are available in all but the smallest towns. Banks tend to offer better rates than exchange offices, but exchange offices are open later, often till 9pm. We recommend changing some money upon arrival – small branches of major banks can be found at borders and airports. US dollars are also widely accepted.
Credit Cards & Travelers Checks
Credit cards, including American Express, Visa, Diners Club, and MasterCard, are accepted at hotels, restaurants and larger shops. Ask if a commission is being added before using your credit card – the fee can be up to 5%. Please note that many smaller shops still prefer cash payment in the Jordanian currency, and it's essential for shopping in the local souks. Most banks and exchange offices will accept traveler's checks.
Tipping
A 10% service charge is often added in mid-range to top-end hotel and restaurant bills. If not, tip at least 10%. Tipping is discretionary, but we recommend tipping drivers US$15/trip, guides US$30/day and Bedouin tent hosts US $20/night. For taxi drivers, round up the bill to the nearest 25 piastres. Small tips up to 1 dinar should be given to anyone who helps you in some way.
topBusiness Hours
Friday is the weekly holiday, and businesses are generally closed. Banks, government offices and some businesses are closed on Saturdays as well. Many businesses, including airline offices, travel agencies and some shops, also close on Thursday afternoon, although department stores and supermarkets remain open. A few businesses and shops close for some of Sunday.

Banks: 8:30am-3pm (some reopen from 3:30-5:30pm)
Business Offices: 8:30am-1pm & 3:30pm-6:30pm
Government Offices: 8am-3pm
Shops: Flexible but typically 9:30am-1:30pm $ 3:30pm-6pm
Post Offices: Sat-Thurs 7am-7pm (5pm winter), Fri 7am-1pm
Please note that earlier closings apply during the month of Ramadan.
Dialing Codes
When calling from abroad, dial the country code (962) + the area code + phone number.

To dial internationally, dial 00 + country code + phone number.

To dial within Jordan, dial 0 + area code + phone number.

To dial locally, dial 6 or 7 digit phone number – no area code required.
City Codes
Greater Amman: 6

Jerash: 4

Madaba: 5
Petra: 3
 Wadi
Rum: 3
Information & Emergency Numbers
Police: 191  
Fire and Ambulance: 199
Mobile Phones
Jordanian mobile phone providers use the European GSM 900 standard and have roaming agreements with most international network providers. Check with your provider before leaving home.
topElectrical
Electricity is 220V at 50Hz and sockets usually take European plugs with round pins. Bring an adaptor to use your electronics from home.
topCustoms
Jordan is one of the most liberal countries in the region, but it is still a predominantly Muslim nation. Very revealing clothing is never appropriate, and conservative dress is advisable for both men and women in the old part of Amman (downtown), and outside the cities. Shorts are rarely worn by either sex, and would be out of place in the downtown Amman area. Modest dress is particularly important when visiting mosques, churches and cultural sites. Shoes must be removed before visiting mosques.

Topless sunbathing is prohibited and one-piece swimsuits are preferred, although two-piece swimsuits are acceptable at hotel pools.

Avoid showing the soles of your feet.

Always ask people for their permission before taking their photograph. If photographing a woman, be sure to get the approval of a male family member first. Do not take photographs of airports, military installations, police or soldiers.
topLanguage
The official language of Jordan is Arabic, but English is widely spoken – especially in the cities. Many Jordanians have traveled or have been educated abroad so French, German, Italian and Spanish are also spoken, but to a lesser extent.
topReligious Holidays
Ramadan, the ninth month of the Islamic calendar, is a strictly observed period of abstinence that requires fasting during daylight hours. In Jordan during Ramadan, restaurants will be closed during the day, and there may be restrictions on smoking and drinking in public. Non-Muslims are requested to avoid eating, drinking or smoking in the presence of Muslims.
topSecurity
Though sporadic demonstrations have taken place in Amman, no travel warnings have been issued. Click here for the latest information from the State Department.
Jordan is generally very safe, with the exception of the Iraqi border. However, normal precautions should be taken In Jordan as you would when traveling anywhere. Be aware of your surroundings, and don't carry valuables in a conspicuous manner.
US Embassy in Jordan 

P.O. Box 354
Amman
 11118
Tel: +962 6 590 6000  Fax: +962 6 592 0121
Copyright 2013 MyLittleSwans, LLC. All rights reserved. My Little Swans, the logo and Share a world of experience are registered Trademarks of MyLittleSwans, LLC. Use of this site constitutes acceptance of our Terms of Use and Privacy Policy.