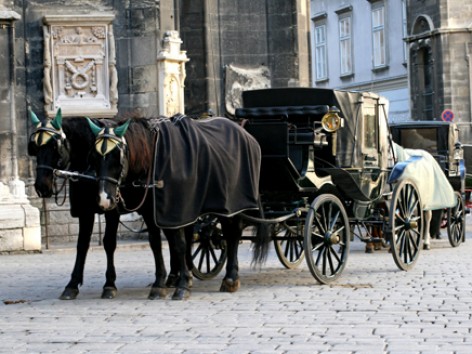 GeoStats:
Time Zone: 1 hour ahead of Greenwich Mean Time (+1 GMT). Daylight Saving Time is observed from the end of March to the end of October.
Predominant Religion: Christian (Roman Catholic, Protestant)
Population: 2,315,000
Languages: German. Most Viennese speak (or at least understand) some English.
Passport/Visa Requirements: Passports (valid for at least six months) and proof of onward passage
Voltage Requirements: 220 volts/50 Hz
Telephone Codes: 43, country code; 1, city code
Key Events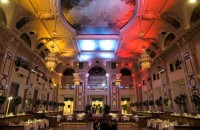 Ball Season
Dec 31–early Mar
Nearly 300 balls take place in Vienna during the height of the season, and many of them are open to the public. Highlights include Le Grand Ball on New Years Eve, the Flower Ball in mid January and the Opera Ball in late February.
Epiphany
Jan 6
This feast day commemorates the nativity story of the three wise men. Costumed children move from house to house singing traditional songs and receiving small gifts and money.
Mid April
Tel: +43 1 606 9510
The route is through the city center, usually ending at the Rathaus.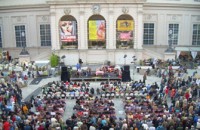 May 7–end of Sep
Vienna's fascinating MuseumsQuartier celebrates summer with an annual program of art, culture, theater, music, dance, performance and literature.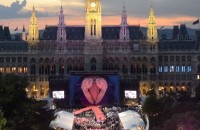 Mid May
Vienna City Hall
Information: +43 1 96096
The largest annual charity ball in Vienna, with proceeds benefiting the fight against AIDS. Highlights include a free fashion show in Rathausplatz.
Late Jun–early Jul
Featuring jazz, blues, soul and funk, this is one of the world's largest and best jazz festivals. Held in venues around the city, from the Vienna State Opera to City Hall Park.
Mid Jul–mid Aug
tel: (+43 1) 523 55 58
Vienna's International Dance Festival brings together thousands of professional dancers, choreographers and teachers from all over the world.
Music Film Festival
Mid Jul–late Aug
See the year's most impressive opera and concert performances replayed on a giant screen during this free film festival held beneath the stars at Vienna City Hall Park.
Klangbogen Festival
Late Jul–mid Aug
Information: +43 1 4000-8400

This classical-music and opera festival takes place at the Theater an der Wien, Musikverien, and various other venues.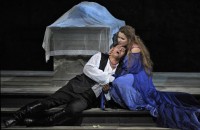 July 25-Aug 30
Information: +43 662-804-5570

Europe's preeminent music festival gathers leading and avant-garde performers in an artistic extravaganza that offers something for everyone. Salzburg is approximately 150 mi. west of Vienna.
Late Oct-early Nov
Tel: +43 1 526-5947

The largest international film festival in Austria shows some 200 films, many low-budget and idiosyncratic. Various venues.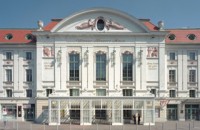 Late Oct-mid Nov
Intended to revitalize Vienna's traditional musical scene, this festival presents major works of international contemporary music.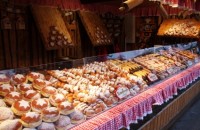 Christmas Markets
Late Nov–late Dec
The markets have holiday foods, crafts, gifts and music. Locations include the Rathausplatz, Schonbrunn Palace, the Spittelberg quarter, Heiligenkreuzer Hof, Freyung and the Church of St. Charles Borromeo on Karlsplatz.
St. Nicholas' Day
Dec 6
Dressed in flowing robe and miter, the predecessor of Santa Claus visits households to reward good children with fruit, nuts and candy.
New Year's Eve
Music and entertainment in the Old City. The Imperial Ball, featuring 10 orchestras, takes place in the Imperial Palace, Hofburg.
Copyright 2013 MyLittleSwans, LLC. All rights reserved. My Little Swans, the logo and Share a world of experience are registered Trademarks of MyLittleSwans, LLC. Use of this site constitutes acceptance of our Terms of Use and Privacy Policy.