Destination:
Utah & Arizona Parks
Grand Canyon
A wonder of the natural world and a World Heritage Site, the Grand Canyon inspires and awes visitors with its immense size; 277 river miles long, up to 18 miles wide, and a mile deep. The South Rim is the most accessible area of the park and includes Grand Canyon Village, Desert Views and Hermits Rest.
Private vehicles entering the Grand Canyon must pay $25 entrance fee, which is good for 7 days. The National Park Services runs an extensive shuttle service (free, 4:30am-11pm).
To avoid lines entering the park, purchase the entry fee at the Official Pay Station located in the National Geographic Visitor Center. There is a special entry lane that allows vehicles to circumvent heavy traffic lanes.
topSouth Rim Activities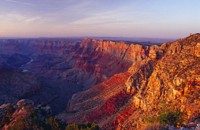 Drive the 26-mile East Rim Drive from Grand Canyon Village to Desert View, where you can see the panoramic view from the 70-foot watchtower or learn about Pueblo life at the Tusayan Ruin and Museum.
Enjoy some of the park's best views from scenic, 7-mile Hermit's Road.
Bicycle along Hermit Road or the Greenway Trail.
Day Hikes
Easy:
The Rim Trail between Pipe Creek Vista and Hermit's Rest (12 miles total, accessible from many points along the way).

Steep:
The Bright Angel Trail begins just west of Bright Angel Lodge and offers day hikes that range in distance up to 12 miles (round trip). Some shade.
The South Kaibab Trail begins south of Yaki Point on Yaki Point Road. Access to the trailhead is by shuttle bus (Kaibab Trail Route). Offers day hikes that range in distance up to 6 miles (round trip). Best views for a relatively short hike. Steep trail, no water, little shade.
Ranger-led day hikes and walks take place along the Rim Trail year round. During the summer months an additional 3-mile round trip day hike into the canyon is offered. Guided backpacking trips are also available.
Do not attempt to hike from the rim to the river in one day, especially during the summer months – and be aware there are no easy trails in or out of the canyon. No matter how long the hike, always be sure to have plenty of water.
Overnight Hikes
Permits are not required if camping in the developed campgrounds on the South or North Rims.
South Rim Air Tour
Both fixed-wing and helicopter tours of the Grand Canyon region are offered daily. Some air operators also fly to the Grand Canyon Airport from Phoenix/Scottsdale or Las Vegas.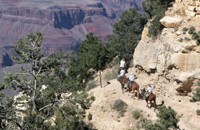 One or two day mule rides from the South Rim can be reserved through Xanterra Parks & Resorts (book well in advance). 3-hour Abyss Overlook Mule Rides depart twice daily from the Historic Mule Barn near Bright Angel Lodge. Overnight rides stay the night at Phantom Ranch, a rustic oasis nestled deep in the Canyon near the Colorado River. Two night rides are also available.
Horse Rides
One-hour and two-hour trail rides and twilight campfire and wagon rides are available. Apache Stables is located just outside the South Entrance to Grand Canyon National Park at the north end of Tusayan. For information and reservations call (928) 638-2891 or (928) 638-3105.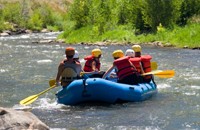 River Trips
There are three different river trip opportunities through Grand Canyon National Park.
1 Day Commercial River Trips – Half-day and full-day whitewater and smooth water trips on the Colorado River. Some take place between Glen Canyon Dam and Lees Ferry (northeastern end of Grand Canyon), and others launch from Quartermaster or Diamond Creek (western end of Grand Canyon).
2 to 5 Day Noncommercial River Trips – Noncommercial trips that launch from Diamond Creek and take out at Lake Mead typically are 2 to 5 days in length. Permits for these whitewater trips are available to the public starting one year in advance and are distributed on a first-come first-served basis.
Lees Ferry to Diamond Creek River Trips – Motorized and non-motorized whitewater rafting trips which launch from Lees Ferry and take out at Diamond Creek vary greatly in length. Motor trips usually take a minimum of 7 days to reach Diamond Creek, but half trip options are available for those who wish to hike in or out at Phantom Ranch. Individuals can choose between commercial and noncommercial trips.
3 to 18 Day Commercial River Trips – These are professionally guided raft trips, available to the public and often reserved a year or two in advance.
12 to 25 Day Noncommercial River Trips - These are self-guided raft trips, sometimes referred to as private river trips. Permits for these trips are made available to the public through a weighted lottery.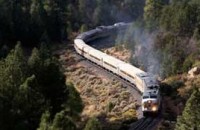 8 hrs, limited availability. Departs from Williams, AZ daily, arrives at the Grand Canyon Village 2 ¼ hours later. Visit for 3 hours before heading back to the depot. On-board entertainment includes story telling/singing, gorgeous scenery, refreshments. The refurbished cars are circa 1920.
topLodging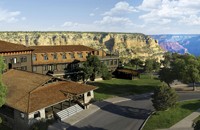 Historic full-service hotel on the rim, open year-round. Reservations a must, well in advance.
Located in Williams, AZ (60 miles south of Grand Canyon Village). Park your RV here and take the train into the canyon (8 hour round trip).
Mather Campground
Located in Grand Canyon Village – takes RVs but has no hookups. The adjacent Trailer Village has RV hookups. Reservations accepted.
Desert View Campground
Located 26 miles east of Grand Canyon Village. RV camping available but no hookups. First come-first served basis, no reservations.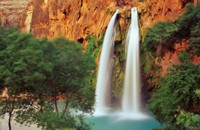 Havasupai Indian Reservation
This is a popular destination when visiting the park. Entry fee to the reservation is $35 per person (plus $17 per person/per night to stay at the campground). The Havasupai Reservation is not well kept, but incredible Havasu Canyon below Supai Village is worth the trip for its spectacular waterfalls.
Access to Havasu Canyon is from Hualapai Hilltop, north of Peach Springs, AZ. It is an 8-mile hike or horseback ride to Supai Village. Helicopter transportation to and from the village is available on a first-come basis 4 days per week.
topNorth Rim Activities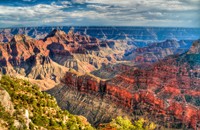 The "other side" of the Grand Canyon is visited by only 10% of all Grand Canyon visitors. Traveling from the South Rim to the North Rim by automobile requires a five-hour drive of 220 miles. This area is only open May-Oct.
Scenic Viewpoints
Bright Angel Point: From the parking area at the southern end of the entrance road, it is a short, easy walk to Grand Canyon Lodge and a classic view of the canyon. This facility is wheelchair accessible. A paved, 0.5 mile round-trip trail leads from the lodge to the point. This trail is steep in places, with drop-offs and stairs, but provides dramatic views into Roaring Springs and Bright Angel Canyon.
Point Imperial and Cape Royal: These viewpoints are reached via a winding scenic drive. The trip to both points, with short walks at each and several stops at pullouts along the way, can easily take half a day.
Point Imperial is the highest point on the North Rim at 8,803 feet, overlooking the Painted Desert and the eastern end of Grand Canyon. Here, the narrow walls of Marble Canyon open up dramatically to become "grand."Cape Royal provides a panorama up, down, and across the canyon, and is popular for both sunrise and sunset. The turn of the Colorado River at Unkar Delta is framed through the natural arch of Angels Window. Cape Royal is accessible via a paved, level trail.
North Rim mule trips do not go to the river. One-hour rides along the rim and ½ day rim or inner canyon trips are usually available on a daily basis.
Ranger-led Day Hikes
Ranger-led nature walks take place between mid-May and mid-October.
Copyright 2013 MyLittleSwans, LLC. All rights reserved. My Little Swans, the logo and Share a world of experience are registered Trademarks of MyLittleSwans, LLC. Use of this site constitutes acceptance of our Terms of Use and Privacy Policy.