Don't Miss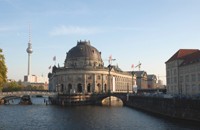 Information: + 49 (30) 266 42 4242
These five museums in the center of Berlin represent 100 years of museum architecture, and have been named a UNESCO World Heritage site. The reunification of Berlin brought the opportunity to unite collections that had been divided between East and West, as well as renovate buildings that had been damaged in WWII. This ongoing development project has produced innovative and sometimes controversial results, as architects reinterpreted rather than faithfully restored the historic buildings.
The riches of the Collection of Classical Antiquities, one of the largest in the world for ancient Greek, Etruscan and Roman art, are distributed among three museums on the Museumsinsel – the Pergamon, the Altes, and the Neues. The Alte Nationalgalerie exhibits 19th-century painting, and the Bode-Museum displays Byzantine art and the world's largest sculpture collection. A promenade linking the buildings is under construction.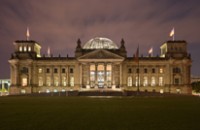 Reichstag
This massive Neo-Classical building was a powerful symbol of the German Reich. Heavily bombed in WWII, it was transformed into a modern masterpiece in the late 90s by British architect Sir Norman Foster. It is once again the seat of the German Parliament.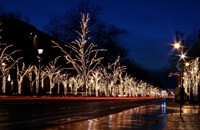 Unter den Linden
This lovely, broad avenue canopied with linden trees stretches out from the Brandenburg Gate towards the town center. It has long been used for major parades and is lined with magnificent, historic buildings and upscale designer shops.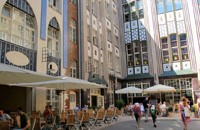 Hackesche Höfe
An elaborately restored network of nine 19th-century courtyards, this charming complex is the largest of its kind in Germany and one of Berlin's main hotspots. You could spend hours poking around the galleries and shops, and the surrounding area has developed into one of the liveliest nightlife districts in Berlin, filled with pubs, bars, restaurants and clubs.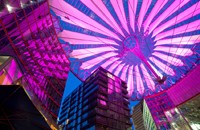 Potsdamer Platz
One of Europe's busiest squares in the 1920s, this area was razed by bombs in WWII, and became a desolate no man's land in the Communist era. With the fall of the wall, Potsdamer Platz was reborn. After several years as Europe's biggest construction site, it is now a major residential, commercial and entertainment center, with the landmark Sony building at its hub.
Copyright 2013 MyLittleSwans, LLC. All rights reserved. My Little Swans, the logo and Share a world of experience are registered Trademarks of MyLittleSwans, LLC. Use of this site constitutes acceptance of our Terms of Use and Privacy Policy.