Destination:
San Francisco and the Bay Area
Chinatown / North Beach / Fisherman's Wharf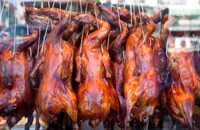 Wandering the back streets of Chinatown, it's possible to forget you're in an American city. This district was first populated during the Gold Rush by Chinese fleeing the Opium Wars. Today it is the second-largest Chinatown in the country outside of New York. The main street, Grant Avenue, is chock-a-block with shops selling tourist trinkets, but shops on other streets cater to the Chinese themselves, selling exotic herbs, live fish and roast duck. Exploring the narrow alleys, visitors will discover historic temples, painted balconies and a working fortune cookie factory.
A few blocks north, the Chinese noodles morph into linguine. North Beach is the city's "Little Italy" – Italian immigrants began populating the area in the late 1880s, and it still abounds with trattorias, caffes and gelato shops. North Beach was also a nexus of the "Beat Generation" – Allen Ginsberg wrote and had his first public reading of the controversial poem Howl here, and the landmark City Lights bookstore was an important gathering place.
North Beach meets the waterfront at famous Fisherman's Wharf. Alcatraz tours and most sightseeing cruises begin here. It's very touristy, but wandering around for a while can be fun.
topSights and Activities
Tin How Temple
125 Waverly Place
Free admission; donation recommended. No photos.
Dedicated to Mazu, Empress of the Heavens, in 1852, this is the oldest Chinese temple in the United States. Visitors climb three flights of stairs to the tiny room, redolent with incense and filled with hundreds of red-and-gold lanterns. The central shrine holds a statue of Mazu – numerous side shrines are devoted to other deities.
Kong Chow Temple
855 Stockton St
Mon-Sat 9-4
Free admission; donation recommended. No photos.
This ornate temple features centuries-old statues and altars imported from Canton. The main shrine is devoted to the deity Kuan Di, thought to bring prosperity. Located on the fourth floor, the temple offers good views from its balcony.
Golden Gate Fortune Cookies
56 Ross Alley
Open Daily 9am-8pm
Tucked away on a side street, this fortune cookie factory has been in operation since 1962. Squeeze into the tiny shop and watch the workers at their old-fashioned griddles as they deftly stuff and fold the cookies.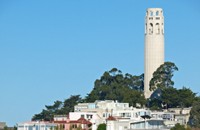 Coit Tower
1 Telegraph Hill Boulevard (North Beach)
Tel: (415) 362-0808
Open daily Mar-Sep, 10am-5:30pm; Oct-Jan 9am-4:30pm
The 210-foot Art Deco tower that crowns Telegraph Hill was built in 1933 using funds donated by Lillie Hitchcock Coit, an eccentric socialite. The often-repeated stories that the tower was designed to resemble a fire hose and intended to honor San Francisco's firefighters are untrue – Coit simply wanted a way to beautify the city. Views from the tower are spectacular, and the restored murals on the inside of the tower's base are worth looking at closely.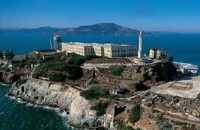 Alcatraz
Site of a Civil-War era harbor defense fort and the first lighthouse on the West Coast, Alcatraz Island is best know for the federal penitentiary that operated here from 1934 until 1963, housing such famous inmates as Al Capone. Daily tours of Alcatraz include a fascinating and atmospheric cellhouse audio tour, featuring the voices of former prisoners and guards. Guided night tours are also available Thu-Mon. Tickets sell out early, so be sure to purchase well in advance.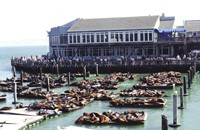 The main attraction of this wharf-side shopping center is the hundreds of sea lions who sun themselves on the docks. Though they departed en masse in Dec 2009 and stayed away for months, they have now returned, though in somewhat smaller numbers. In addition to the sea lions, this touristy but popular two-level mall features dozens of shops along with jugglers and other live entertainment.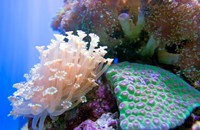 Beach Street and the Embarcadero, next to Pier 39
Tel: (415) 623-5300
May 29-Sep 6, open daily 9am-8pm; Sep 7-Oct 31 and Mar 1-May 28, open Mon-Thu 10am-7pm, Fri-Sun 10am-8pm; Nov 1-Feb 2, open Mon-Thu 10am-6pm, Fri-Sun 10am-7pm. Closed Dec 25.
Filled with 300 feet of acrylic tunnels showcasing over 20,000 aquatic animals, this aquarium focuses on the marine life of San Francisco Bay. The exhibits are intended to inspire conservation. Recent additions include exhibits on octopus, jellies, and climate change.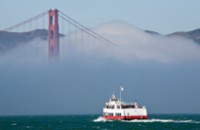 Ferry Cruises
One of the best ways to enjoy San Francisco is out on the water. The Blue and Gold Fleet offers narrated sightseeing cruises along the waterfront and under the Golden Gate Bridge – you can also take a high-speed tour on their RocketBoat, or take a day trip to Sausalito and Tiburon for shopping/dining or Angel Island for hiking/biking. The venerable Red and White Fleet offers a narrated one-hour Bay Cruise, a 90-minute Explorer Cruise, and a two-hour Sunset Cruise.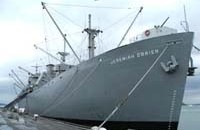 Pier 45, Fisherman's Wharf
Open for tours daily 9am-4pm (closed Thanksgiving Day, Dec 25, Jan 1 and when cruising)
History buffs will be fascinated by this fully operational 1943 Liberty Ship, which carried supplies to Normandy for the D-Day invasion, among her many other WWII services. You can tour the engine room, explore the deck, and peek into the officers' quarters, radio room and mess hall. You'll be climbing a lot of ladders, so wear sturdy shoes.
topRestaurants
Caffé Trieste
601 Vallejo St
San Francisco, CA 94133
Tel: (415) 392-6739
There are other locations, but they don't have the atmosphere of the original – opened in 1956, it was the first espresso house on the West Coast. Francis Ford Coppola wrote much of the "Godfather" screenplay here, and the owners have been offering live Italian folk music and opera on Saturdays since 1971.
373 Broadway
San Francisco, CA 94133
Tel: (415) 393-9000
Contemporary California cuisine; creative, daily-changing 11-course tasting menu. Two Michelin stars.
700 Columbus Ave
San Francisco, CA 94133
Tel: (415) 392-9290
Cozy neighborhood place serving Neufchatel, Rarebit and dessert fondues. There's also an eclectic variety of entertainment on offer, including jazz, open mic and movie nights.
532 Columbus Avenue (between Green & Union)
Tel: (415) 399-0499
This friendly trattoria serves rustic Ligurian cuisine inspired by the neighborhood's original residents (including the restaurant's pistol-packing namesake).
655 Montgomery Street 
Tel: (415) 397-4888
Gourmet French-Chinese cuisine.
Copyright 2013 MyLittleSwans, LLC. All rights reserved. My Little Swans, the logo and Share a world of experience are registered Trademarks of MyLittleSwans, LLC. Use of this site constitutes acceptance of our Terms of Use and Privacy Policy.