Fernando de Norohna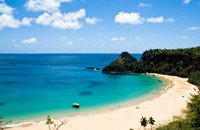 This isolated archipelago, located 211 miles off Brazil's northeastern coast, is one of the world's finest wildlife reserves. Most of it is protected as a marine national park, home to tropical fish, exotic birds, sea turtles, manta rays, and thousands of dolphins. Because of its isolation and diversity of wildlife, the archipelago has been studied by scientists from all over the world and is a famed ecotourism destination.
The main island, Ilha de Fernando de Noronha, boasts a number of spectacular beaches (including the top 3 beaches in Brazil), breathtaking scenery, and historic ruins. No cars are allowed – visitors, whose numbers are limited to 500 a day, get around by dune buggy. While it's perfect for a relaxing beach getaway, this is a destination for active travelers who like snorkeling and/or scuba diving, hiking, wildlife and nature. You can discover hidden beaches on your dune buggy or mountain bike, take a guided ecological walk with a renowned biologist, or cruise along the coast in your own private boat and try "planasub" (snorkeling while being towed behind the boat at low speed).
Note: Take local currency when visiting – many places don't accept credit cards, and there are no ATMs on the island.
topAccommodations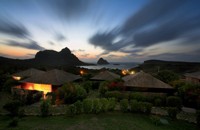 Exclusive eco-resort on the South East Bay, offering five luxurious bungalows and three luxury apartments, with air conditioning, balconies and ocean views. Gastronomic restaurant, spa, gym, swimming pool.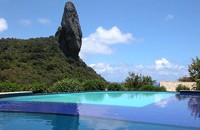 Comfortable, charming and 100% eco-friendly inn located next to the Morro do Pico (Peak Hill), one of the island's main landmarks. Everything from the infinity pool to the whirlpool baths is solar powered. Three deluxe bungalows, nine standard bungalows, three apartments.
Copyright 2013 MyLittleSwans, LLC. All rights reserved. My Little Swans, the logo and Share a world of experience are registered Trademarks of MyLittleSwans, LLC. Use of this site constitutes acceptance of our Terms of Use and Privacy Policy.