The Amazon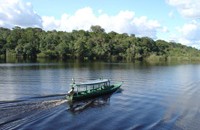 Covering half of Brazil, the Amazon is the world's largest and most biodiverse tropical forest. There are obviously many ways to experience it, from the white sand beaches and river towns of western Pará, to jungle tours by riverboat, to eco-lodges deep in the forest. We chose an exclusive jungle lodge in the western Amazon, near the city of Manaus, capital of Amazonas. Though the city itself is large and commercial, there is untouched rainforest a short journey away, home to tropical flora and fauna such as pink dolphins, sloths, monkeys, alligators, parrots and toucans.
Especially interesting is the nearby "meeting of the waters," where the darker Rio Negro and the beige-brown Solimões rivers meet. The waters flow along in parallel but keep their separate colors for 12 miles until they finally converge to form the great Amazon River.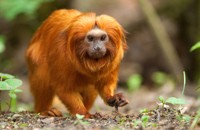 This unique landscape supports a huge diversity of wildlife, which you can discover on a range of excursions with naturalist guides, including piranha fishing, forest hikes, river safaris by motorized canoe, "alligator spotting" at night, and watching the giant Victoria Regia waterlilies bloom at dusk. You can also learn tricks and techniques for surviving in the jungle, if desired. Before departing, we recommend a private aerial sightseeing flight over the forest, which lets you see the "meeting of the waters" from above. Three nights is the suggested amount of time for your stay.
topAccommodations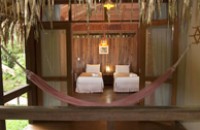 Located 68 miles from Manaus on the world's largest river archipelago, this small, elegant jungle lodge is made up of 16 rustic bungalows (all with air conditioning and hot water), a beautiful pool and décor that embraces the rainforest surroundings. The lodge offers a variety of jungle excursions, including those mentioned above as well as sunset cruises, swimming with dolphins, bow-and-arrow practice with traditional weapons, and visits to the local community, all accompanied by experienced guides.
Copyright 2013 MyLittleSwans, LLC. All rights reserved. My Little Swans, the logo and Share a world of experience are registered Trademarks of MyLittleSwans, LLC. Use of this site constitutes acceptance of our Terms of Use and Privacy Policy.