Iguaçu Falls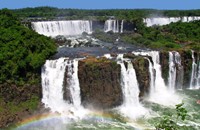 A true natural wonder, this cinematic cascade stretches nearly two miles wide, consisting of some 275 separate waterfalls that plunge more than 200 feet. Catwalks are the best way to view the falls, and put you right in the middle of the spray. You can also take a zodiac boat right up under the cascade, then complete the experience with some light adventure – rappelling down the falls or zip-lining through the rainforest. A two-night stay will allow you to see both sides (the Argentinian and the Brazilian).
topAccommodations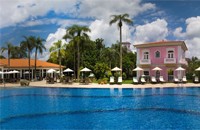 Iguaçu National Park, Paraná, Brazil
Tel: +55 45 2102-7000
Toll free USA: 800-837-9051
Email: reservas@hoteldascataratas.com
This beautiful new Orient Express property is located on the Brazil side of the falls within Iguazu National Park, giving guests exclusive access to the falls in the evening and at dawn.
Copyright 2013 MyLittleSwans, LLC. All rights reserved. My Little Swans, the logo and Share a world of experience are registered Trademarks of MyLittleSwans, LLC. Use of this site constitutes acceptance of our Terms of Use and Privacy Policy.