Egypt
topHurghada
Little more than a fishing village 20 years ago, this town on the western shore of the Red Sea is now booming with resorts and is famous for its diving centers.
Red Sea, Egypt
Pyramids Road, Giza
Tel: 20 65 344 0777
Fax: 20 65 344 0788
Luxurious all-suite resort on the Red Sea coast, set in 48 palm-filled acres with a private beach. The Thai staff prides itself on impeccable service. In-house diving center, Banyan Tree spa, kids' club.
Hotel Restaurant
Zaafran
Cozy and elegant, with views of the sea, this restaurant features eclectic Oriental and Indian cuisine.
topSharm el-Sheikh
Located on the southernmost tip of the Sinai Peninsula, Sharm el-Sheikh is a prized travel destination. Its crystal-blue waters attract divers from around the world, and its warm temperatures make it a popular beach resort all year long. Excursions to St. Catherine's Monastery are easily arranged.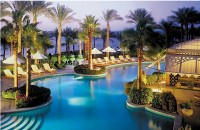 1 Four Seasons Boulevard, Sharm el-Sheikh
Tel: +20 69 360 3555
Fax: +20 69 360 3550
Om El Seed Peninsula, Sharm el-Sheikh
Tel: +20 69 366 1919
Fax: +20 69 366 1920
topDay Trip
St. Catherine's Monastery
Sinai
9am-noon, except Fri & Sun
Closed Greek Orthodox holidays

Located at the foot of Mt. Sinai, this Greek Orthodox structure is thought to be the oldest continuously inhabited monastery in the world. Highlights include a splendid icon collection and a richly decorated basilica. Ask ahead for special permission to see the library of ancient manuscripts (second in importance only to the Vatican library) and the Chapel of the Burning Bush, on the site where the biblical bush supposedly grew.
The Oasis at Siwa has been a stopping point for travelers for thousands of years. Alexander the Great made the trip just to consult its famous oracle. More than 300 freshwater springs feed this scenic oasis, and saltwater lakes add to the beauty.
topLodging
Gaafar Mountain Road, Siwa
+20 2 736 7879 (Cairo office), +20 2 738 1327 (Siwa office)

Egypt's first true ecolodge, at the edge of the Great Sand Sea. Simply furnished rooms and suites in indigenous kershef (a mixture of mud and rock salt) houses. No phones or electricity. Spring-fed pool.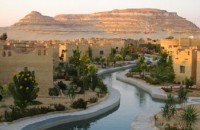 Midan El Souk
El Soboukha St.
Siwa Oasis, Egypt
(046) 4602399

Huge rooms around a narrow pool. It features a large Spa with Turkish baths, massage, fitness room and offers therapeutic sand treatments during the summer. The terraced restaurant, shaded by date palms, is popular with both visitors and locals.
topAlexandria
Built by Alexander the Great in the 4th century BC, Alexandria was once home to one of the original Seven Wonders of the World (the Lighthouse at Alexandria) and the world's largest library. Today, it's worth visiting just to experience the fascinating blend of Greek, Roman, Mediterranean and Egyptian cultures.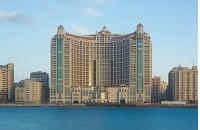 399 El Geish Road, Alexandria
Tel: +20 3 581 8000
Fax: +20 3 469 0142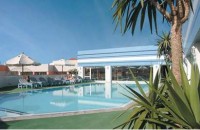 14 May Bridge Road, Smouha, Alexandria
Tel: +20 3 420 9120
Fax: +20 3 420 9140
Reservations:alexandria@hilton.com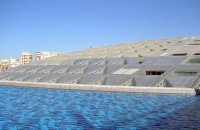 Bibliotheca Alexandrina
Chatby, Alexandria
+20 3 483 9999
Sun-Thu 10am-7pm; Fri-Sat 3pm-7pm (11am-2pm during Ramadan)

Founded in the 3rd century BC, the original Bibiotheca Alexandrina was the greatest library in the world. The striking new Bibiotheca was finished in 2002 and houses a Planetarium and Science Museum.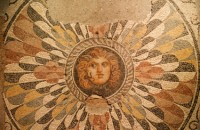 Graeco-Roman Museum
5 Sharia al-Mathaf ar-Romani, Alexandria
+20 3 486 5820
Daily 9am-5pm (9am-3pm during Ramadan)

With some 40,000 Egyptian, Classical and Christian artifacts spanning 1,000 years, this museum offers insights to the complex history of Alexandria.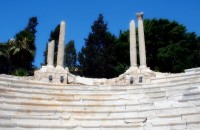 Roman Amphitheater at Kom al-Dikka
Sharia Yousef
Open daily
Built in the 2nd century, this 13-tiered marble amphitheater was discovered in 1965 under the remains of a Napoleonic fort. Further excavations of the site are still underway.

Catacombs of Kom el Shoqafa
Sharia al-Nassereieh
Open daily 9am-5pm (9am-3pm during Ramadan)
Photography not allowed.
This tomb complex was discovered in 1900, when, according to legend, a donkey fell through a hole in the street and into the access shaft. Dating from the 2nd-century, its the largest Greco-Roman necropolis in Egypt. It was built on three levels – only two are accessible today. The burial chamber on the second level features reliefs in a mixture of Egyptian, Roman and Greek styles.
Copyright 2013 MyLittleSwans, LLC. All rights reserved. My Little Swans, the logo and Share a world of experience are registered Trademarks of MyLittleSwans, LLC. Use of this site constitutes acceptance of our Terms of Use and Privacy Policy.