Cusco and the Sacred Valley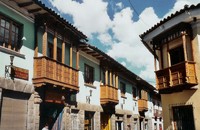 Cusco was the capital of the ancient Inca empire until it was captured by Pizarro in 1533. The city's mixed history is evident in the Colonial-style buildings, complete with wooden balconies, atop sturdy foundations of Inca stone. Today, Cusco is the main hub for travelers visiting the Sacred Valley and Machu Picchu, preparing to hike the Inca Trail, or heading to the Madre de Dios region of the Amazon rainforest. Though touristy, Cusco is atmospheric, genuine, and charming, with narrow, cobbled streets lined with restaurants and small hotels. You'll see local families in brightly colored, traditional clothing, holding baby llamas and hoping for photo opportunities (and the chance to earn a few soles). The heart of the city is the Plaza de Armas, dominated by the Renaissance-style façade of the Cathedral.
Because it's situated high in the Andes, at an elevation of almost 11,000 feet, most visitors to Cusco feel some effects from the altitude, such as shortness of breath and elevated heart rate. These are usually not serious and generally go away within 24 hours. (Visit our Peru Basics section for tips on how to reduce symptoms.) If you are planning to hike the Inca Trail or do any other strenuous trekking, we strongly recommend staying in Cusco and/or the Sacred Valley for a few days to acclimate before setting out.
If you're visiting a number of sights, it's a good idea to purchase a Tourist Ticket (Boleto Turistíco). Valid for 5 days, this ticket gains you admission to most of the major sights of Cusco and the Sacred Valley, including the Cathedral, Church of San Blas, Museum of Religious Art, Sacsayhuamán, Ollantaytambo, and Pisac. If taking a private or organized tour, you may not need a Tourist Ticket. Children under 10 can visit most places for free.
Tourist Tickets can be purchased at:
Oficina Ejecutiva del Comité
Av. Sol, No. 103, (Mon-Fri 8am-5:30pm, Sat 8:30am-12:30pm) 

OFEC Branch Office
Calle Garcilaso (Mon-Sat 8am-5pm, Sun 8am-8pm)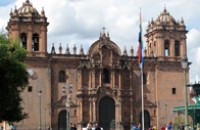 La Catedral
Begun in 1559 and constructed over the course of 100 years, using blocks of stone taken from the Inca fortress of Sacsayhuamán, this church abounds with Colonial art. Austere on the outside, the inside is lavishly Baroque, with magnificently carved choir stalls and a main altar of Bolivian silver. The walls are hung with hundreds of works from the Cusco school, known for its blend of European iconography and Andean motifs – most notably, the Last Supper by Quechua artist Marcos Zapata, which shows Jesus and the Apostles dining on cuy (roast guinea pig) and drinking chicha (corn beer). Another famous painting depicts Cusco residents parading around the plaza with a crucifix, praying for the great quake of 1650 to stop. According to local belief, it worked – the crucifix itself ("El Señor de Los Tremblores") is also on display, blackened by years of smoke from devotional candles.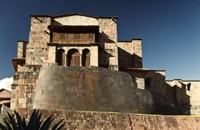 Koricancha and Santo Domingo
Plazoleta Santo Domingo
Open Mon-Sat 8:30am-5:30pm; Sun 2-5pm (Not included in Boleto Turistíco)
Koricancha (also spelled Qoricancha) is Quechua for "Golden Courtyard" – it was once the Inca civilization's most splendid temple, plated with sheets of gold and filled with life-sized golden statues, honoring the Sun God. This was also the Incas' main astronomical observatory. The riches are long gone, but the impressive stonework remains, forming the foundation for the church and convent of Santo Domingo. The Inca method of fitting stones tightly together has allowed their ancient walls to withstand major earthquakes, while newer structures crumbled – the curved stone wall beneath the west end of the church may be the finest illustration of Inca stonework in existence.
Museo Inka
103 Cuesta del Almirante, Cusco Corner of Ataúd and Córdoba del Tucumán
Tel: +51 (0)84 237 380
Open Mon-Fri 8am-6pm, Sat 9am-4pm (Not included in Boleto Turistíco)
The recently restored Admiral's Palace, named for the first owner, Admiral Francisco Aldrete Maldonado, is one of Cusco's finest Colonial homes. Within is a museum housing an interesting collection of Inca jewelry, ceramics, mummies, textiles, and other artifacts, including what may be the world's largest assortment of qeros (wooden drinking cups).
Museo de Arte Religioso
Corner of Calles Hatun Rumiyoq and Herejes
Tel: +51 (0)84 225 211
Open Mon-Sat 8am-12:30pm and 3-6pm
Built on top of the ancient palace of Inca Roca, this was the home of a Spanish marquis and later became the Archbishop's palace. The museum contains a remarkable collection of paintings and other religious art from the 17th and 18th centuries, including several masterpieces from the Cusco school.
San Blas District
A few steep blocks above the Plaza de Armas, this picturesque district is known as Cusco's artisan center, where local craftsmen practice their traditional wood and stone carving and metalwork. The modest, adobe Iglesia de San Blas is worth visiting for its exquisitely carved Baroque pulpit, considered the best example of Colonial woodwork in the Americas.
Central Market
Near San Pedro train station
Open daily approx. 8am-4pm
Selling a huge range of products, this vibrant market is a fascinating slice of Cusco life. Though you'll find some souvenirs and crafts for sale, most of the items are of the more everyday variety – produce of all types, flowers, meats, spices, clothing, kitchen utensils. There's even a row of juice bars - just pull up a stool in front of the flavor of your choice. Don't bring valuables, and beware of pickpockets.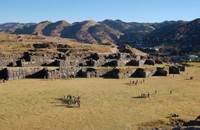 Sacsayhuamán
Located on a bluff overlooking Cusco, this great fortress is another striking example of Inca architecture. The Incas visualized Cusco in the shape of a puma, when seen from above – Sacsayhuamán forms the puma's head, and the zig-zagging walls its teeth. The fort was large enough to hold the entire population of Cusco in the case of disaster. When disaster came, however, it was not one the Incas could have foreseen – this was the site of last battle of the Incas against the Spanish in 1536. Many of the stones were removed by the Spanish and used to build the cathedral and other structures in Cusco, but the remaining ramparts and gates are still impressive, as is the view.
topAccommodations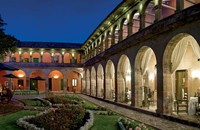 Calle Palacio 136, Plazoleta Nazarenas
Tel: +51 84 60 4000  Reservations: +511 610 8300
A former monastery and national monument dating from 1592, this renowned Orient-Express property combines centuries-old charm and ambience with luxurious service and amenities.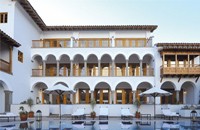 Plaza Nazarenas 144
Reservations: +511 610 8300
Just opened in June 2012 after a painstaking restoration, this former palace and convent is now one of the city's most exclusive boutique hotels. 55 suites, each equipped with oxygen and a personal butler 24/7.
topRestaurants
Plaza de Regocijo 261, 2do nivel (2nd level)
Tel: +51 (0)84 240 520 or 240 717
Email: reservacionescusco@chicha.com.pe
Dine on innovative Peruvian cuisine in a chic, contemporary setting at this restaurant operated by famed chef Gastón Acurio. Great view over the square.
Plazoleta Nazarenas 231
Tel: +51 (0)84 242 476
One of the finest restaurants in Cusco, the Map Café is located in the patio of the colonial Casa Cabrera, home to the Museum of Pre-Columbian Art. Enjoy a selection of meat and fish dishes together with a range of traditional Andean cuisine.
Portal de Panes 115, Plaza de Armas
+51 (0)84 240 668
Operated by the owners of the Map Café, this charming, two-level restaurant serves international Criollo and Nouveau-Andean cuisine. Enjoy live Andean music and views of the plaza along with your meal.
topSacred Valley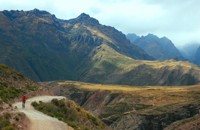 This scenic and fertile valley, northwest of Cusco and 2000-3000 feet lower in elevation, follows the path of the Urubamba River. A number of important Inca and pre-Inca sites are found here, making it a worthwhile day trip from Cusco. This is also a prime area for outdoor recreation. The Urubamba River offers Class II and III rapids for river rafting – other options include mountainbiking, kayaking on the lakes, or horseback riding (the Peruvian Paso horse has the smoothest gait in the world).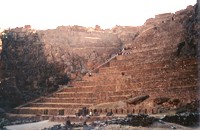 Ollantaytambo
60 miles northwest of Cusco
Relatively unchanged by tourism, this village has been continuously inhabited since the 13th century and is the best surviving example of Inca town planning. It's also the starting point of the Inca Trail. Looming over the village are the ruins of a vast fortress, built to protect the entrance to the valley.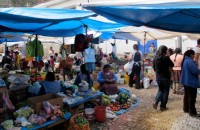 Pisac
20 miles north of Cusco
This town was once an important regional capital – the dramatically situated hilltop fortress, now in ruins, features military, residential and religious buildings, including an astronomical observatory. At the foot of the hill, charming Pisac village holds a large and popular market every Sunday, selling a wonderful variety of handicrafts such as alpaca sweaters, gloves and scarves, carved figurines, and jewelry. Smaller markets are held on Tues and Thurs, and handicraft shops are open every day of the week.
topAccommodations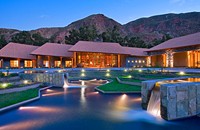 Avenida Ferrocarril S/N, Urubamba
Tel: 1 877 778 2281
Opened in April, 2010, this luxurious retreat is the first of its kind in the Sacred Valley. 128 elegant rooms and suites with views of the Andes and the Vilcanota River, full-service spa, two heated swimming pools and its very own train station to facilitate trips to Machu Picchu.
topRestaurant
Hacienda Huayoccari
Km 64, Carretera Cusco-Urubamba
Tel: +51 (0)84 962 224
This working farm cultivates a strain of corn with especially large white kernels. The Hacienda itself is situated within extensive grounds located in the heart of the Sacred Valley. Enjoy delicious homemade Peruvian specialties, cooked using ingredients grown on the property.
topThe Inca Trail
Along with temples and fortresses, the Incas were skilled, prolific builders of roads, and created an extensive network of trails to connect their vast empire. One of the most unforgettable ways to experience this region is to hike the Classic Inca Trail, a well-preserved 24-mile trail leading from the Sacred Valley to Machu Picchu.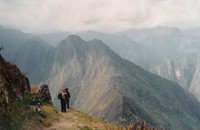 Though the trek is not technical (climbing and descending are accomplished via stone steps), it is challenging due to the elevation – a maximum of 13,779 feet – and the elements. The rewards are well worth the effort, though, as you walk through lush cloud forest and past waterfalls, see one spectacular mountain panorama after another, explore a fascinating series of ruins, and arrive at dawn of the fourth day at the Sun Gate overlooking famous Machu Picchu.
Due to the popularity of this hike, permits are required and reservations must be made well in advance. All hikers must travel with a licensed agency – no more than 500 people are allowed on the trail at a time, including hikers and staff. Both private and group treks are available – in either case you will be led by a guide. Most operators use porters (usually from local villages) to carry tents, food and other items on the hike, and you can hire extra porters to carry your personal items. It's quite a humbling experience, as you're climbing slowly up the trail, to have these fit, barrel-chested men run past you with full loads. The welfare of porters is protected by law, but not everyone complies, so it's important to use a reputable agency (our partner Blue Parallel can make a recommendation).
Be sure to bring layers of clothing (the trail gets cold at night), as well as sturdy hiking shoes, a flashlight, warm sleeping bag, and sun protection. A walking stick is also a good idea – if you don't have the sporting-goods type, you can find sticks for sale at the trailhead in Ollantaytambo, complete with woven hand covers.
May-Sep is the most popular time to do the hike (it's also the driest). Hiking during the rainy months of Dec-Apr is not recommended. Note that the trail is closed in Feb of each year for maintenance.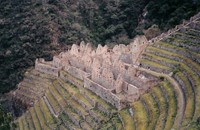 The Classic Inca Trail hike is usually done in 4 days, but some operators offer a 5-day option which may mean less crowded camping areas. There also are 2- and 7-day itineraries available. If you prefer not to camp at all, but still want a taste of the experience, there's the Short Inca Trail option, taking the train from Cusco to Kilometer 104 and hiking the remaining 8km (approx 5 miles) to Machu Picchu. It's a 6-7 hour hike, with a maximum elevation of 8,858 feet – you'll pass the impressive ruins of Wiñay Wayna (an important Inca township) on the way.
Copyright 2013 MyLittleSwans, LLC. All rights reserved. My Little Swans, the logo and Share a world of experience are registered Trademarks of MyLittleSwans, LLC. Use of this site constitutes acceptance of our Terms of Use and Privacy Policy.