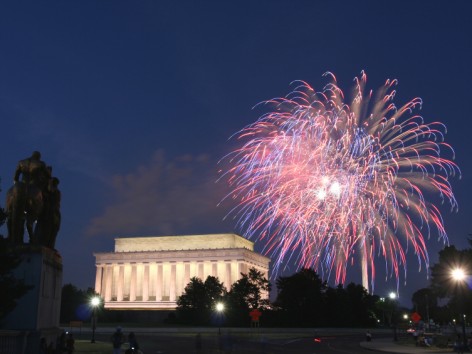 GeoStats:
Common Name: DC
Population: 599,657
Predominant Religions: Christian, Jewish, and many others represented
Languages: English, but you'll hear many foreign languages
Telephone Codes: 202, area code for Washington, D.C.; 703, Virginia suburbs; 301, Maryland suburbs; many cell phones have a 571 area code
Time Zone:: Eastern Standard Time, 5 hours behind Greenwich Mean Time (-5 GMT)
Destination:
Washington D.C.
Getting Around
Washington D.C. is a great city for walking because many of the sights and attractions are clustered in or around the Mall. It's important to know that the city is comprised of four quadrants: northeast, northwest (which contains most of the tourist sights and neighborhoods), southeast, and southwest, with the US Capitol at the central point. Also, most numbered streets run North and South and most lettered streets run East and West.
topMetrorail
The Metrorail, also known as the Metro, is clean, modern and a great way to travel into and around the city. The rates vary based on time of day and day of the week - please check their website for current rates.
The Metro offers a permanent, rechargeable farecard, called a SmarTrip® card, which makes travel fast and convenient. The card is plastic and embedded with a computer chip that keeps track of its value. To enter the Metro, touch the SmarTrip® card to the circular targets on top of or inside station faregates. SmarTrip® cards can also be used on the Metrobus - riders get free bus-to-bus transfers within a two-hour time period and discounted rail-to-bus transfers. Purchase cards online or at Metro sales offices, retail outlets and commuter stores for $5. SmarTrip® cards are also sold through vending machines at all stations where parking is available. Children over age 5 pay the adult fare; up to two children, 4 years and under, ride free with each adult paying full fare.
topMetrobus
The Metrobus in D.C. is tied into the Metrorail. Rates vary based on route - please check the website for current fares.

Drivers do not carry money, so riders must have their pass or exact fare ready when they board. Money-saving weekly passes are available for unlimited travel. Up to two children, 4 years and younger, ride free with each adult paying full fare. Children 5 and older pay adult fares. Special discounted student and senior-disabled passes are available.
Finding a taxi in D.C. is not difficult; they can typically be hailed from the street corner. However, if you need to be somewhere at a specific time, you may want to call a taxi company.
Two of the larger cab companies are Diamond Cab and Yellow Cab.

Diamond Cab: 202-387-6200
Yellow Cab: 202-544-1212
The D.C. Taxicab Commission can provide the names of other cab companies along with fare information, including extra fees.
topDriving and Parking
While nearly every tourist sight is accessible via public transportation, if you do choose to drive, you should know that rush hour traffic (between 6:30 and 9:30am and 4 and 7pm) in D.C. can be daunting. This is due not only to the increased number of cars on the road, but also because the direction of traffic flow can change and certain left turns are forbidden at these times. Be sure to pay close attention to roadsigns. Curbside parking is tough to find at the more popular tourist spots and even becomes illegal in many cases during rush hour. Keep an eye on parking meters' restrictions to avoid fines or being clamped. Parking in a public garage is another option, costing upward of $20/day. Valet parking is available at some restaurants, hotels and malls for a fee.
Copyright 2013 MyLittleSwans, LLC. All rights reserved. My Little Swans, the logo and Share a world of experience are registered Trademarks of MyLittleSwans, LLC. Use of this site constitutes acceptance of our Terms of Use and Privacy Policy.