Destination:
Washington D.C.
Washington National Cathedral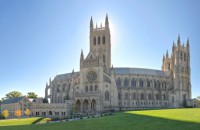 3101 Wisconsin Avenue Northwest
Washington D.C.
(202) 537-6200
Open: Mon-Fri 10am-5:30pm; Sat 10am-4pm; Sun 1-2:30pm
Metrostop: Tenleytown/AU

Note: Due to ongoing efforts to make the Cathedral safe following the August 23, 2011 earthquake and subsequent crane collapse, the Cathedral remains closed. Please visit their website for the latest updates.
Washington National Cathedral has played a vital role in America's history. The first foundation stone of the Cathedral was laid in 1907 and it was not completed until 1990. As the world's sixth largest cathedral, the National Cathedral measures 301 feet high and 528 feet in length. Its Gothic religious architecture is complete with soaring vaulted ceilings, stained glass windows and intricate carvings. Although an Episcopal church, the cathedral welcomes people of all faiths and has been the location of funeral and memorial services for many U.S. presidents.The requested contribution to visit the Cathedral is
 $5 per person.
Copyright 2013 MyLittleSwans, LLC. All rights reserved. My Little Swans, the logo and Share a world of experience are registered Trademarks of MyLittleSwans, LLC. Use of this site constitutes acceptance of our Terms of Use and Privacy Policy.