Zagreb
While it has only been the political capital of Croatia since 1991, Zagreb has long been a crosssroads of Eastern and Western influences. Unlike the cities of Istria and the Dalmatian coast, with their Venetian-style architecture, Zagreb has a strong Austro-Hungarian flavor, evident in the colorful glazed-tile roof of St. Mark's church, the imposing Baroque mansions and formal Habsburg-style parks, and the occasional exquisite Art Nouveau façade. But though the city has more than a touch of Vienna, and residents don't think of themselves as Balkans, the regional cuisine, ubiquitous rakija (Slavic brandy), and the leftover remnants of Communist rule keep Zagreb from seeming like truly part of the West.
In medieval times, Zagreb consisted of two separate towns: Kaptol, the religious center, and Gradec, the commercial hub. The river Medvescak, in between the two towns, was often the site of fierce battles between the cities. Under Ottoman rule in the 17th century, Gradec and Kaptol were merged. Together they now form the Upper Town, or Gornji Grad, which is the historic Old Town of Zagreb, while the Lower Town, or Donji Grad, is more contemporary and everyday.
Sophisticated but friendly, Zagreb is the cultural center of Croatia, with a variety of world-class museums, theaters and galleries. Though it's the country's largest city, the center is fairly compact and easy to get around on foot. When it's time for a break from cultural pursuits, pedestrian-only Tkalciceva Street in the Upper Town is lined with cafés and boutiques, while in the Lower Town, the action centers around Jelacic Square, with its colorful cafés and terraces.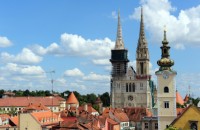 Cathedral of the Assumption of the Virgin Mary
Kaptol 31
Tel: +385 1 48 14 727
Formerly called St. Stephen's Cathedral, this church's twin 334-foot spires dominate the city skyline. Dating from the 13th century and built in Gothic style, the cathedral has undergone many transformations over the centuries, but still has remnants of the original structure, including several frescoes in the sacristy. The exterior has been undergoing a major reconstruction since 1990. Inside, a refurbishment completed in 1988 shows off baroque marble altars, an Albrecht Durer altarpiece, and the tomb of the controversial 20th-century Croat Cardinal Alojzije Stepinac.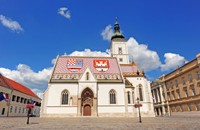 Church of St. Mark
Markov Trg
With its distinctive roof of colored glazed tiles bearing the coats of arms of Croatia, Dalmatia, Slavonia and Zagreb, this church is one of Zagreb's most iconic buildings. Also of note is the Romanesque window on the southern side, and a unique 14th-century Gothic portal containing 15 sculpted figures in shallow niches.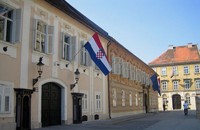 Banski Dvori (Viceroy's Palace)
Trg Svetog Marka

This baroque building was once the seat of Croatian viceroys (or bans) and is now the presidential palace. The building was bombed in October, 1991 by the Yugoslav People's Army, in what was believed to have been an assassination attempt on President Franjo Tudjman. A guard-changing ceremony is held at noon on weekends from April to September.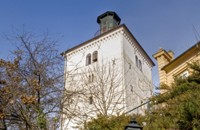 Lotrscak Tower
This fortified tower was built in the 13th century to protect the southern city gate. It's worth climbing to the top for panoramic views of the city, especially if you go at noon – a cannon has been fired at that hour each day for 100 years.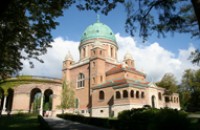 Mirogoj Cementary
North of the center at the foot of Mt Medvednica
Designed by Croatian architect Hermann Bollé in 1876, this cemetery is considered one of the most beautiful in Europe. It features a fascinating mix of styles, with a grand neo-Renaissance arcade surrounding a tranquil green space filled with ornate tombs and chapels. Croatian luminaries like Petar Preradovic and President Franjo Tudjman are buried here alongside common people of every religious faith.
topMuseums and Galleries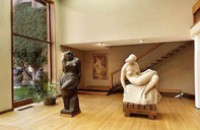 Mletacka 8
Tel: +385 1 48 51 123
Open Tue-Fri 10am-6pm, Sat and Sun 10am-2pm. Closed Mon, public holidays.
Croatia's most celebrated artist is the sculptor and architect Ivan Mestrovic. This 17th-century building, where he lived and worked from 1922 to 1942, contains a fine collection of over 100 of his sculptures, drawings and furniture.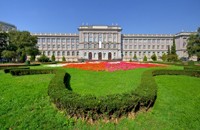 Rooseveltov Trg 5
Tel: +385 1 48 28 100
Open Oct-Jun, Tue, Wed, Fri, Sat 10am-5pm, Thu 10am-7pm, Sun 10am-2pm. Open July-Sep, Tue-Fri 10am-7pm, Sat 10am-5pm, Sun 10am-2pm
Housed in a neo-Renaissance palace, the Museum Mimara is the city's major art venue. The diverse collection of nearly 4,000 objects was donated by Croatian-born artist and collector Ante Topic Mimara. Works range from masterworks by Italian, Dutch, Flemish and Spanish painters to Persian textiles to archaeological finds from ancient Greece and Rome.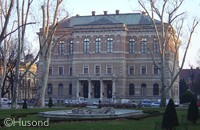 Croatian Academy of Sciences and Arts
Zrinski trg 11
Tel: +385 1 48 95 117
The works in this gallery were donated as well, this time by the illustrious 19th-century bishop Josip Juraj Strossmayer. The collection includes paintings by European masters such as Tintoretto, Bellini, El Greco and Jan Brueghel the Younger. The gallery is also home to the famous Baska Tablet, the oldest known example of Glagolitic script in existence and one of Croatia's most important artifacts.
Galerija Klovicevi Dvori
Jezuitski Trg 4
Tel: +385 1 48 51 926
Housed in a former Jesuit monastery, this gallery presents exhibitions of modern art by prominent Croatian artists as well as international masters like Chagall and Picasso.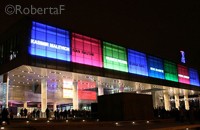 Av. Dubrovnik 17
Tel: +385 1 60 52 700
Open Tue-Sun 11am-6pm, Sat 11am-8pm. Closed Mon and holidays.
Focusing on Croatian artists of the last 200 years, this museum provides an interesting overview of the Croatian art scene and Zagreb's role as a center of contemporary art. Exhibits include paintings, sculpture, film and video, photography and multimedia.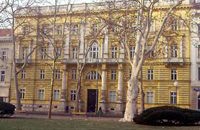 Trg Nikole Subica Zrinskog 19
Tel: +385 1 48 73 101
Open Tue, Wed, Fri, Sat 10am-6pm; Thu 10am-8pm;
 Sun 10am-1pm. Closed Mon.
This museum features an extensive array of Greek, Roman, Egyptian, and Croatian artifacts from prehistoric times onward. The highlight of the collection is the Zagreb Mummy, an Egyptian mummy wrapped in sliced bands of the "linen book of Zagreb," the longest preserved text known in the Etruscan language. Also of note is the vast collection of ancient coins and other forms of currency.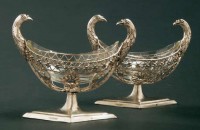 Trg maršala Tita 10
Tel: + 385 1 48 82 111
Open Tue-Fri 11am-7pm; Sat-Sun 11am-2pm. Closed Mon.
Founded in 1880, the museum showcases the production and history of material culture in Croatia. Its fascinating collections are divided into 19 categories, including bookbinding, printed leather, musical instruments, furniture, clocks, toys and devotional objects. There's also an excellent library.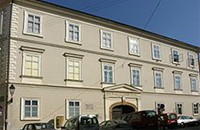 Croatian Natural History Museum
Demetrova 1
Tel: +385 1 48 51 700
This museum contains over 250,000 specimens, with collections covering geology, paleontology, zoology, and biology. The pride of the museum is the Krapina Pre-Historic Man Collection, the most important Neanderthal collection in the world. Other exhibits focus on the evolution of plant and animal life in Croatia, with comparisons to other regions. Kids will especially enjoy the bug and exotic animals collections.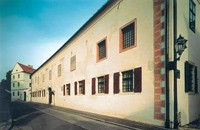 Opatička 20
Tel: +385 1 48 51 361
Open Tue-Fri 10am-6pm,
 Sat 11am-7pm, Sun 10am-2pm. Closed Mon and holidays.
Housed in a 17th-century convent, this museum presents the history of Zagreb from prehistoric times to the present day. An impressive diversity of objects is on display, ranging from city insignias to important local inventions to reconstructions of a 19th-century street. Educational, interactive exhibits help bring it all to life.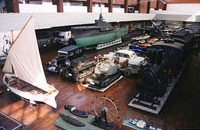 Savska cesta 18
 

Tel: +385 1 43 54 46
Open Tue-Fri 9am-5pm, 
Sat, Sun 9am-1pm. Closed Mon and holidays.
Kids will love this wide-ranging museum, featuring technological inventions and discoveries of all types, from submarines to steam engines to satellite models. Exhibits focus on agriculture, transportation, energy, astronautics, geology, the use of fire and the contributions of great innovators such as Nikola Tesla. Other highlights include a planetarium and a reconstructed mine.
topMarkets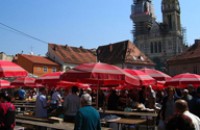 Dolac Market
North of Trg bana Josipa Jelačića
Open daily 6am-3pm
This historic, bustling open-air market is the biggest and most famous in Zagreb, and arguably one of the best in Europe. The sellers, called "kumica," sell a range of traditional products, including baskets, textiles, fruit, vegetables, herbs, meat and local honey.
Copyright 2013 MyLittleSwans, LLC. All rights reserved. My Little Swans, the logo and Share a world of experience are registered Trademarks of MyLittleSwans, LLC. Use of this site constitutes acceptance of our Terms of Use and Privacy Policy.