National Parks
Croatia boasts a number of extraordinary national parks, featuring a stunning variety of terrain – rugged karst peaks, thundering waterfalls, remote islands and dense forests filled with wildlife. You'll find something to suit you whether you're interested in climbing, hiking, sightseeing, camping, birding or just taking in the scenery. Here, we've listed three of the most spectacular parks, which can be easily included in most itineraries.
topPlitvice Lakes National Park

104 miles south of Zagreb on E71
Entrance 1: Open year round. Entrance 2: Closed Oct-Apr.
Park Hours: 8am-6pm spring/autumn, 7am-8pm summer, 8am-4pm winter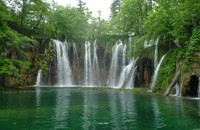 The oldest national park in Southeast Europe and the largest in Croatia, Plitvice is famous for its 16 shimmering lakes, linked by a seemingly endless variety of waterfalls. The lakes are separated by natural dams made of travertine, an accumulated mass of mosses, bacteria, algae, and eroded particles of limestone. These dams continually break down and reform, a centimeter or so per year, keeping the landscape in a slow but constant state of evolution. The minerals and bacteria in the water give the lakes their remarkable colors: dazzling turquoise, cobalt blue, deep green and slate gray.
Founded in 1949, the park was declared a UNESCO World Heritage site in 1979. Two decades later, in March 1991, Plitvice achieved a different kind of fame as the place where the first shots of the Croatian War of Independence were fired. For the next four years, Serbs maintained control of Plitvice, using the park's hotels as barracks and taking shelter in the caves. When hostilities ended with a Croatian victory, restoring the park was a priority – but before any visitors could be welcomed, hundreds of land mines buried within its boundaries had to be removed. Plitvice Lakes was declared land-mine free and reopened in 1998. Today, not a trace of the war can be seen, and Plitvice is once again one of Croatia's most popular attractions.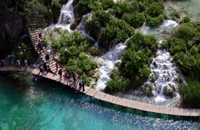 To help protect the fragile travertine structures and the local ecology, the park management has built a five-mile network of planked walkways leading along the edge of the lakes, and beside or over the tops of the falls. Visitors can follow one of several well-marked itineraries – these range from 2-3 hour strolls to 6-8 hour hikes, focused on the upper lakes, lower lakes or a combination of the two. Other routes include a 20-minute boat ride across the length of Kosjak, the largest of the lakes. More adventurous travelers can tackle one of the park's mountaineering trails. Guided hikes and mountaineering tours are available year-round.
Located midway between Zagreb and Zadar, Plitvice is a great day trip from Zagreb or an easy stop on the way from Zagreb to the Dalmatian Coast. It's a truly amazing place, well worth a visit at any time of year. The falls will be at their peak in spring, while autumn offers brightly colored foliage, and in winter, the falls become cascades of icicles. Summer is green and lush but can get very crowded.
topKrka National Park
One hour northeast of Split by car
Open year-round. Skradin and Lozovac entrance 8am-8pm; Roski slap entrance 9am-6pm; Burnum and Kistanje entrance 10am-6pm.
Boats to Krka Monastery run daily Apr-Oct, by appt. Nov-Mar.
Tel: +385 (0)22 771 688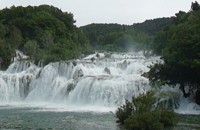 Waterfalls and more waterfalls – Krka National Park, a travertine phenomenon like Plitvice, offers a different but still quite dramatic experience. Over the years, the Krka River dug a deep canyon through the Sibenk-Knin landscape, forming lakes and bringing up deposits of calcium carbonite, which created a series of cascades. The most visited is Skradinski Buk, whose half-mile-long cascade drops down 17 steps and plunges 150 feet. Further upstream is Roski Slap, whose main cascade is nearly 50 feet high.
The park also features several cultural landmarks, most notably the orthodox Krka Monastery, with an interesting mixture of Byzantine and Mediterranean styles that dates back to the 14th century. There's also a 15th-century Franciscan monastery, with a magnificent setting on Visovac Island in the middle of Visovac Lake.
All these sights are accessible via excursion boats. Boats to Skradinski Buk depart from the town of Skradin. At Skradinksi Buk, you can walk on a network of boardwalks and trails that offer numerous vantage points over the cascades. There is also an ethnographic museum and a water mill you can visit, and swimming is allowed in the lower lake.
Fewer visitors continue upstream to Visovac, which makes it a more tranquil experience. Boats to Visovac and Roski Slap depart from Skradinski Buk; boats to Krka Monastery depart from Roski Slap. Excursions to Roski Slap include a visit at Visovac.
topBrijuni Islands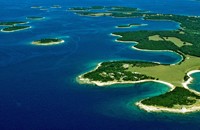 This archipelago consists of two islands and 12 islets off the southwest coast of Istria. The stone from here built many of the great buildings in Venice and the Austrians used the islands to fortify their naval base in Pula. At one time this was an exclusive resort – with hotels, restaurants, a casino, and a marina – which became a playground for European and American celebrities and aristocrats. After World War II, Tito closed the area and made it his summer residence. It is now a national park.
Only the two largest islands, Veli Brijun and Mali Brijun, are open to visitors – Tito's estate, where he entertained movie stars and heads of state in lavish style, is on Veli Brijun. Visitors can tour the island on a tourist tram, rent Tito's Cadillac (for a hefty fee), or rent bikes or golf carts. Our Croatian partner, Exeter International, offers an exclusive private experience here, with arrival by motorboat from Fazana and a guided tour.
Sights include the remains of a 1st-century B.C. Roman country house, the ruins of a Byzantine castle complex, the Church of St. Germain (exhibiting copies of Italian frescoes and Glagolitic writings from Istria), and of course, Tito's villa itself. Among the island museum's best exhibits is "Tito on Brijni," which features a huge collection of photos of the former Yugoslav leader and offers an insight into his life and political career. You can also visit Tito's 9-hectare safari park, which breeds zebra, Somali sheep, zebu, dromedary, llama and elephant.
There are a handful of elegant private villas on Veli Brijun, available for rent through the park office.
Copyright 2013 MyLittleSwans, LLC. All rights reserved. My Little Swans, the logo and Share a world of experience are registered Trademarks of MyLittleSwans, LLC. Use of this site constitutes acceptance of our Terms of Use and Privacy Policy.