Destination:
Washington D.C.
Penn Quarter
topMuseums and Galleries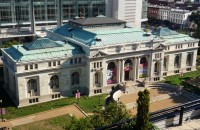 Carnegie Library Building
801 K St. NW
Washington D.C.
(301) 383-1850
Daily: Tues-Sat 10am-5pm
Closed: Jan 1, July 4, Thanksgiving, Dec 25
Metrostop: Gallery Place-Chinatown
The Carnegie Library Building was once Washington's centeral library. It now houses a state-of-the-art Kiplinger Research Library and Reading Room which contains many historical materials.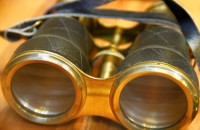 800 F Street NW
Washington D.C.
(202) 393-7798
Daily: April-Oct 10am-8pm; Nov-Mar 10am-6pm
Closed Jan 1, Thanksgiving, Dec 25  
Metrostop: Gallery Place-Chinatown
Opened in 2002, The International Spy Museum is the first museum in the world dedicated to international espionage. The museum features a vast collection of artifacts including a German Enigma cipher machine, a Soviet shoe transmitter, a wristwatch camera and a lipstick pistol. Tickets may be bought online or at the museum.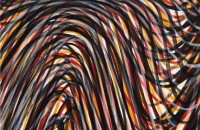 8th and F Streets, NW
Washington, DC
(202) 633-7970
Daily 11:30am-7pm
Closed Dec 25
Metrostop: Smithsonian
This museum is home to one of the largest and most inclusive assemblies of American art in the world, containing more than 7,000 artists' work. It boasts the largest collection of New Deal art and the most superb collections of contemporary craft, American impressionist paintings, and masterpieces from the Gilded Age. The museum is free.
topHistorical and Official Buildings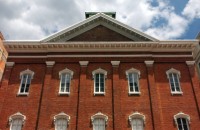 511 10th St NW
Washington D.C.
(202) 347-4833
Daily 9am-5pm
Closed Dec 25
Metrostop: Gallery Place-Chinatown
Originally opened in 1863, Ford's Theatre now celebrates the legacy of President Lincoln. A working theatre, historical monument, world-class museum and learning center, it is the premier destination in Washington D.C. to explore and celebrate Lincoln's ideals and leadership principles. The theater may be closed during matinees or rehearsal days, so be sure to call ahead.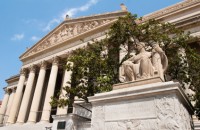 700 Pennsylvania Avenue NW
Washington D.C.
(866) 272-6272 
Open daily Mar 15-Labor Day 10am-7pm; Labor Day-Mar 14 10am-5:30pm
Closed Thanksgiving and Dec 25
Metro stop: Archives-Navy Memorial/Penn Quarter
Established in 1934, the National Archives and Records Administration (NARA) is America's record keeper. This impressive library contains all of the most important historical and legal documents in the U.S. including the Constitution of the United States, the Declaration of Independence, the Bill of Rights and a 1297 copy of the Magna Carta. Valuable documents such as military records, immigration papers, slave transit documents, death certificates and tax information are preserved and are available to you. Admission is free.
1100 Pennsylvania Avenue NW
Washington D.C.
(202) 289-4224
Daily Mar 28-Labor Day, Mon-Sat 10am-8pm, Sun 12-7pm; Labor Day-Mar 27, Mon-Sat 10am-7pm, Sun 12-6pm
Food Court and Retail hours are the same as general hours. Clock Tower open Memorial Day-Labor Day Mon-Sat 9am-8pm, Sun 10am-6pm; Labor Day to Memorial Day Mon-Sat 9am-5pm, Sun 10am-6pm.
Metro stop: Federal Triangle
Built in 1899, The Old Post Office Pavilion was Washington's first skyscraper. The highlight of this classical sight is its 315-foot clock tower, which proudly houses the official United States Bells of Congress, a bicentennial gift from England celebrating the end of the Revolutionary War. The National Park Service Rangers give free Clock Tower tours every day. The renovated building also houses a broad range of shops and restaurants.
topDistricts, Streets and Squares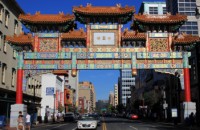 Chinatown
6th St to 8th St & G St to H St, NW 
Washington D.C.
Metrostop: Gallery Place-Chinatown
D.C.'s Chinatown is a small, historic neighborhood formed around 1930 with several Chinese and Asian restaurants and a handful of other small businesses. The Friendship Arch, a traditional Chinese gate, prominently marks the neighborhood at H and 7th Streets.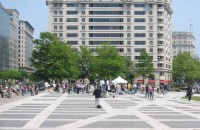 Freedom Plaza
Pennsylvania Ave between 13th St & 14th St, NW
Washington D.C.
Metrostop: Federal Triangle
Freedom Plaza was created as dramatic entrance to Pennsylvania Avenue. Black and white stones are embedded in the ground with engraved quotes about the city from American leaders. The plaza often hosts festivals and concerts throughout the year.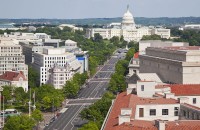 Washington D.C.
Metrostop: Federal Triangle, Archives-Navy Memorial
Pennsylvania Avenue is "America's Main Street," and the country's citizens have marched, paraded, promenaded, and protested their way along it many times over the years. During President Kennedy's inaugural parade down the Avenue, he looked at the street littered with saloons, gambling dens, pawn shops and liquor stores and said, "It's a disgrace – fix it." Today Pennsylvania Avenue is an impeccable, tree-lined street with parks, memorials, theaters and government buildings.
Copyright 2013 MyLittleSwans, LLC. All rights reserved. My Little Swans, the logo and Share a world of experience are registered Trademarks of MyLittleSwans, LLC. Use of this site constitutes acceptance of our Terms of Use and Privacy Policy.