Destination:
Washington D.C.
Outer Northwest
topMuseums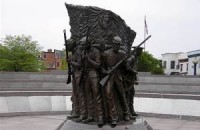 1925 Vermont Ave, NW
Washington D.C.
(202) 667-2667
Daily: Tues-Fri 10am-6:30pm, Sat 10am-4pm, Sun 12pm-4pm
Closed: Mon
Metrostop: U Street

This museum's mission is to preserve and tell the stories of the United States Colored Troops and African American involvement in the American Civil War. Visitors may call ahead for tours.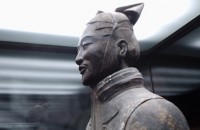 1145 17th Street NW
Washington D.C.
(202) 857 7588
Daily: Sun-Mon 10am-6pm
Closed Dec 25
Metrostop: Farragut North, Farragut West
A small museum in comparison to D.C.'s many others, the National Geographic Museum is home to several impressive permanent and temporary exhibitions that showcase the richness and diversity of nature and human culture.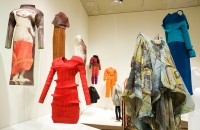 2320 S St NW
Washington D.C.
(202) 667-0441
Daily: Tue-Sat: 10am-5 pm, Sun: 1-5 p.m
Closed Mon
Metrostop: Dupont Circle
The Textile Museum has 17,000 objects from all over the world including beautiful textiles from Peru, India, Indonesia and Central America. A donation of $8 is suggested.
topHistoric Districts, Streets and Buildings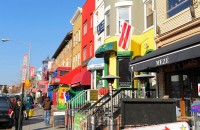 Adams-Morgan
North of Dupont Circle, east of Rock Creek Park and south of Mt. Pleasant
Metrostop: Dupont Circle or Woodley Park

Adams-Morgan is a culturally diverse neighborhood that offers a exciting nightlife with its many ethnic bars and restaurants, including Cajun, Ethiopian, French, Italian, Caribbean, Mexican and Lebanese cuisine.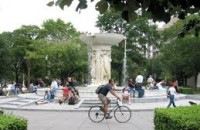 Dupont Circle
The intersection of Massachusetts Ave NW, Connecticut AveNW, New Hampshire Ave NW, P Street NW, and 19th Street NW.

Dupont Circle is famous for its grand marble fountain. The park that surrounds the fountain is a haven for chess players, cyclists, picknickers and sightseers.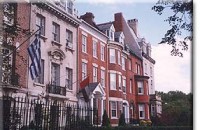 Embassy Row
Massachusetts Ave
Metrostop: Dupont Circle
During the Great Depression, many of Washington's wealthy were forced to sell their mansions to diplomats. Since then many new buildings have been built and the street now boats more than 50 embassies from all over the world.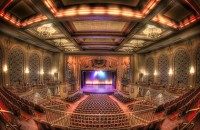 1215 U Street NW
Washington D.C.
(202) 328-6000
Daily: Mon-Fri 10am-6pm
Closed: Federal Holidays
Metrostop: U Street-Cardozo
The Lincoln Theatre, built in 1922, was the center of a cultural renaissance that predated Harlem. The theater hosted shows featuring artists such as Duke Ellington, Ella Fitzgerald, Billie Holiday, Nat King Cole, Cab Calloway, Louis Armstrong, and Sarah Vaughan. Fully restored to its original splendor, it still offers a variety of music, commmunity and civic events.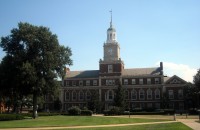 2400 Sixth St, NW
Washington D.C.
(202) 806-6100 
Metrostop: Shaw-Howard
Founded in 1867 for the education of African-American students, this private university is compehensive, research-intensive and culturally diverse, with an emphasis on educational opportunities for Blacks. Howard University has several historic landmarks on campus including Andrew Rankin Memorial Chapel, Fredrick Douglass Memorial Hall and the Founders Library.
Copyright 2013 MyLittleSwans, LLC. All rights reserved. My Little Swans, the logo and Share a world of experience are registered Trademarks of MyLittleSwans, LLC. Use of this site constitutes acceptance of our Terms of Use and Privacy Policy.