Kilkenny, Tipperary, Waterford and Wexford
topCounty Kilkenny
topKilkenny City
Filled with history and character, the medieval town of Kilkenny makes an excellent base for exploring the southeast of Ireland. Dominated by magnificent Kilkenny Castle, the town center is very walkable, with narrow streets that still follow the original layout and are lined with good restaurants and lively pubs. Kilkenny has a flourishing cultural scene and hosts several renowned festivals each year.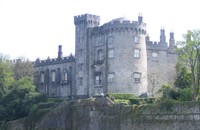 Tel: +353 56 770 4106
Open daily Oct-Feb 9:30am-4:30pm; Mar 9:30am-5pm; Apr-May 9:30am-5:30pm; Jun-Aug 9am-5:30pm; Sep 9:30am-5:30pm. Closed Good Friday; check for opening times on Dec 25 and New Year.
Rising impressively above the River Nore, this stately castle dates from the early 13th century. Built by William Marshall, 4th Earl of Pembroke, it later became the home of the powerful Butler family, who occupied it for nearly 600 years. Over the centuries it was altered and expanded several times, and shows an interesting mix of styles. The family presented the castle to the people of Kilkenny in 1965. Now much restored, it is open to the public daily for self-guided visits. The tour takes you through a series of large, impressive rooms furnished in period style; the highlight is the castle's long, ornate picture gallery, with a hammer-beam roof decorated with fanciful pre-Raphaelite motifs.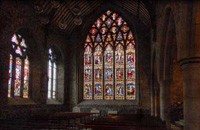 Black Abbey
Abbey Street, Kilkenny City
Founded in 1225, the Black Abbey is thought to have gotten its name from the black cloaks worn by its Dominican friars. The abbey was at the center of civic life in Kilkenny for centuries before being converted into a courthouse by Cromwell during the Reformation, and then falling into disrepair. Now fully restored, it is again open as a house of prayer, and is famous for its glorious "Rosary Window," the largest stained-glass window in Ireland.
Parliament Street, Kilkenny City
Tel: +353 56 772 2893 Open Apr-Oct, Mon-Sat
 10:30am-5pm, Sun 3-5pm; Nov-Mar,
 Mon-Sat 10:30am-4:30pm
Kilkenny's only example of a 17th century merchant's house, this Tudor-era complex contains the city's history museum, exhibiting ancient weapons, town plans, period costumes and other historic artifacts. Behind the house is a recreation of a 17th century garden.
Parliament Street, Kilkenny City
Tel: +353 56 779 6498
Tours Tue-Sat at noon, 1pm, 3pm, 3:30pm. Closed Sun and Mon.
Kilkenny's brewing tradition started with the monks of St. Francis Abbey back in the 13th century. In 1710, John Smithwick began making his ales here, and it is still a working brewery today. Guided tours are available with advance booking.
topAccommodations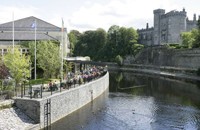 The Bridge, John Street, Kilkenny City
Tel: +353 56 772 3388
With a superb location alongside the River Nore, just across from majestic Kilkenny Castle, this four-star hotel is removed from the city bustle, but a short walk from the historic center. 90 well-appointed bedrooms, three restaurants.
topNear Kilkenny City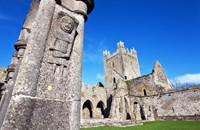 Jerpoint Abbey
12.5 miles south of Kilkenny, 23 miles north of Waterford
Thomastown, County Kilkenny
Tel: +353 56 772 4623
This ruined Cistercian abbey is notable for its stone carvings, considered some of the finest in Ireland. Though the oldest buildings are Romanesque in style and date from the 12th century, the central tower and colonnaded cloister follow 15th-century Cistercian designs.
topTipperary and Wexford Counties
32 miles SE of Kilkenny, 14 miles NE of Waterford
New Ross, County Wexford
Tel: +353 51 425 239
Open daily 9am-6pm. Closed Dec 24-26.
In the 19th century, particularly during the Potato Famine, thousands of Irish emigrants traveled to America on three-masted sailing ships. The Dunbrody is a full-scale, fully operable replica of one of these vessels. Through audio-visual presentations and live reenactments, this experience offers visitors unique insights into that period of history, and what life was like for emigrant passengers.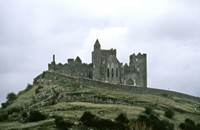 38.5 miles west of Kilkenny, 44 miles NW of Waterford
Rock Lane, Cashel, County Tipperary
Tel: +353 62 61437
Open daily Mid Mar-Mid Jun daily 9:30am-5:30pm;
Mid Jun-Mid Sep 9am-7pm; Mid Sep-Mid Oct 9am-5:30pm; Mid Oct-Mid Mar 9.00am-4:30pm
This dramatic limestone outcropping, crowned with a large collection of towers and turrets, is Ireland's most visited Heritage site. The original fortress here was the seat of the Munster kings beginning in the 5th century AD. After being gifted to the Church in the 12th century, numerous religious buildings were constructed, most of which are now picturesque ruins. One of the best preserved is the atmospheric, Romanesque Cormac's Chapel, unusual for its Germanic influences. The chapel features elaborate carvings, fragments of sculpture, and Medieval frescoes. Also of note is the Round Tower, dating from around 1101, the 13th-century Gothic cathedral, and the restored Hall of the Vicars Choral.
topCounty Waterford
topWaterford City
Though not much favored by tourists, Waterford has a long and colorful history, and has been an important port since it was first settled by Vikings in the 10th century. In the 19th century it was a major shipbuilding hub, second only to Belfast, but its biggest claim to fame and source of wealth is the fine Waterford crystal manufactured here.
Bishop's Palace
Waterford Mall, Waterford City
Tel: +353 1 51 849650
Open Jun-Aug Mon-Sat 9am-6pm, Sun/Holidays 11am-6pm; Sep-May Mon-Sat 10am-5pm, Sun/Holidays 11am-5pm. Closed Dec. 25, St Stephen's Day and Jan 1.
Reginald's Tower
Merchants Quay, Waterford City
Tel: +353 1 51 304220 Open Easter-May daily 10am-5pm;
June-Mid Sep daily 10am-6pm; Mid Sep-Easter Wed-Sun 10am-5pm.
Waterford is the oldest city in Ireland, dating back to 914 AD, and these three museums bring the city's long history to vivid life. Well-designed exhibits showcase an extraordinary array of artifacts from the Viking, Medieval and Georgian periods, including jewelry, musical instruments, weapons, silverware, glassware, and furniture. The museum has recently moved to three new locations: Reginald's Tower (Viking Treasures), Bishop's Palace (Georgian Treasures) and Choristor's Hall (Medieval Treasures; opening in summer 2012).
topAccommodations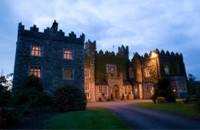 The Island, Waterford
Tel: +353 51 878 203
Situated on its own private Island, Waterford Castle Hotel & Golf Resort offers 19 spacious, luxurious guest rooms with stunning views of the surrounding estate. The hotel's award winning Munster Dining Room is the perfect setting for a wonderful dining experience. You can also enjoy the18 hole Championship Golf Course adjacent to the hotel.
topWestern Waterford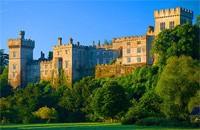 Lismore Castle
70 miles SW of Kilkenny, 42 miles west of Waterford City
Lismore, County Waterford
Tel: +353 58 54424
Open daily Mar 17-Sep 30th, 11am-4:45pm. Other times by appointment.
Located on the site of a former castle that was once Sir Walter Raleigh's residence, Lismore Castle was rebuilt in extravagant Gothic style in the mid 19th century and is the home of the English Dukes of Devonshire. Most of the castle itself cannot be visited (although it can be hired for accommodation on an exclusive basis). However, the magnificent gardens are open to the public. The poet Edmund Spenser reportedly wrote the Fairie Queen in the Lower Garden's remarkable yew walk.
Copyright 2013 MyLittleSwans, LLC. All rights reserved. My Little Swans, the logo and Share a world of experience are registered Trademarks of MyLittleSwans, LLC. Use of this site constitutes acceptance of our Terms of Use and Privacy Policy.