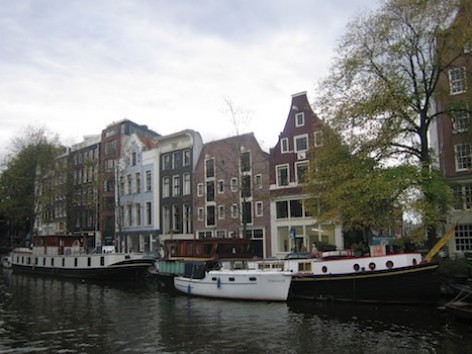 GeoStats:
Passport/Visa Requirements: Passports (valid for at least three months) for citizens of U.S. No visa is required.
Population: 1.04 million
Languages: Dutch, Frisian. Most Dutch speak English (and are usually fluent).
Predominant Religions: Christian (Roman Catholic, Protestant)
Time Zone: 1 hour ahead of Greenwich Mean Time (+1 GMT). Daylight Saving Time is observed from the end of March to the end of October.
Voltage Requirements: 220 volts/50 Hz
Telephone Codes: 31, country code; 20, city code
Basics
topWhen to Go
Amsterdam is at its best from late-April to mid-October, when the weather is mild. Spring is tulip season, when the gardens and tulip fields are a blaze of color, while summer is the best time for cycling or enjoying the sun at a sidewalk café table (a favorite Dutch pastime). For this reason, spring and summer are high season, with prices to match. Winter is typically chilly and often damp, but prices and crowds drop and there is ice-skating in the parks (and if you're very lucky, on the canals).
topWeather & Climate
Amsterdam enjoys a mild, temperate climate – extremes are rare. Summer highs typically reach the mid-70s, while lows rarely go below freezing in winter. However, since much of the Netherlands is below sea level, fog and damp chill are frequent in the wintertime, along with occasional snow. Amsterdam weather is known to be unpredictable, and rain can occur at any time of year, but the bulk of the rain falls between Nov and Jan.
topTime Difference
1 hour ahead of Greenwich Mean Time (+1 GMT). Daylight Saving Time is observed from the end of March to the end of October.
topPassport & Visa Requirements
Passports (valid for at least three months beyond period of intended stay) are required of travelers from the U. S., U.K., Canada, Australia, and New Zealand. No visa is required for stays of up to three months.
topMoney Matters
Currency
The Netherlands' currency is the Euro. Notes come in denominations of €5, €10, €20, €50, €100, and €200. Coins come in 1c, 2c, 10c, 20c, 50c, €1 and €2.
Changing Money
The best way to get cash is at an ATM, which are widespread in Amsterdam and other cities and can be found outside most banks.
Tipping
Most restaurants and bars include a service charge on their bill, but 5-10% on top of that is always welcome.
Bellhops - €1 per bag
Room attendants - €2-3
Bartenders – around 5%
Taxi drivers - around €1-3
Restroom Fee
Bars, cafes and department stores often charge customers a small fee to use their restrooms. The standard fee is 50c.
topPersonal Security
While the rate of violent crime in the Netherlands is low, tourists are often targeted by thieves. It is never advisable to carry large amounts of cash and other valuables, or to leave bags or luggage unattended. Always be wary of pickpockets or purse snatchers in crowds, touristy areas, and on public transportation.
Consulate General of the
 United States, Amsterdam

Museumplein 19, Amsterdam

Tel: +31 (20) 575-5309

Emergency after-hours telephone: +31 (70) 310-2209
Good medical facilities are widely available – however, health care is not inexpensive and must be paid up front, so it's a good idea to take out travel insurance. Emergency medical response can be accessed by dialing 112. Prescription and nonprescription medications can be obtained from a local apotheek (pharmacy).
Anyone planning to stay in the Netherlands for more than ninety days is required by law to take out private health insurance.
No vaccinations are required to visit the Netherlands.
topTelephone
Country code for the Netherlands is 31
City code for Amsterdam is 20
To call Amsterdam from abroad, dial the international access code (011 from the US) followed by 31 (for the Netherlands), 20 (for Amsterdam), then the local number.
Emergency Number: 112
topElectrical
220 volts/50 Hz; round, European-style two-pin plugs are standard.
topGetting Around
The Netherlands has an excellent rail system, one of the best in Europe. Most cities and towns can be accessed by rail. Within Amsterdam, the metro, trams and ferries are an efficient way to get around, though many parts of the city are also very walkable. In good weather, you might consider renting a bike. There are more bikes than cars in Amsterdam, so biking is quite safe if you follow the rules. Be sure to signal when turning, cross tram tracks at a sharp angle to avoid getting tires caught, don't make sudden or unpredictable moves, follow the direction of traffic, and ring your bell if a collision seems imminent. Keep in mind that most Dutch don't wear bike helmets and they are not regularly included in the rental.
Lanes in the center of many urban two-way streets are reserved for buses, trams, and taxis. In cities, pedestrians and cyclists should be mindful of trams, which often cross or share bicycle and pedestrian paths. Motorists should be especially mindful that bicyclists have the right-of-way. Pedestrians should not walk along bicycle paths, which are often adjacent to the sidewalk and usually designated by red pavement.
topWhat to Wear
Amsterdam is warm to hot in summer, and rain can happen at any time, so it's wise to carry a rain jacket and/or umbrella, and bring a sweater and layered clothing any time of year. Be prepared for cold, damp temperatures and heavy rain in winter. Locals dress stylishly but are generally informal.
topPublic Holidays
New Year's Day (Jan 1)
Good Friday
Easter Sunday
Easter Monday
Koninginnedag (Queen's Day, Apr 30)
Ascension Day (Thurs, 40 days after Easter)
Pentecost Sunday (7th Sun after Easter)
Pentecost Monday
Christmas Day (Dec 25)
December 26
Copyright 2013 MyLittleSwans, LLC. All rights reserved. My Little Swans, the logo and Share a world of experience are registered Trademarks of MyLittleSwans, LLC. Use of this site constitutes acceptance of our Terms of Use and Privacy Policy.