Plantage and Oosterdok
The Plantage is a district of parks and gardens named for the plantations in the Dutch colonies - here, you'll find the Botanic Garden and the zoo. The reclaimed islands of the Oosterdok (Eastern Docklands) are home to kids' favorites like the avant-garde NEMO science museum and the Maritime Museum.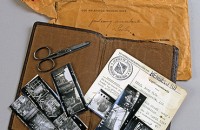 Plantage Kerklaan 61
Tel: +31 (20) 620 25 35
Open Tue-Fri 10am-5pm, Sat-Mon and Public Holidays 11am-5pm
The Dutch Resistance Museum tells the moving and fascinating story of the Dutch citizens who fought the Nazis from within during WWII. Through evocative photos, documents, film clips and other artifacts, it brings to life the dilemmas that faced the population, and highlights the different forms of resistance, from active to passive.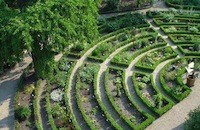 Plantage Middenlaan 2a
Tel: +31 (20) 625 90 21
Open daily 10am-5pm. Closed Jan 1 and Dec 25. No pets allowed.
One of the oldest botanical gardens in the world, the Hortus Botanicus Amsterdam was founded as a medical herb garden after an outbreak of plague in 1638. The gardens now contain some 4,000 species of plants, many brought back by merchants after their travels. The grounds contain several hothouses (including a Three-Climate Greenhouse) as well as a butterfly house and a palm house.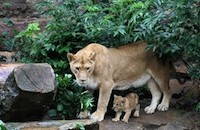 Plantage Kerklaan 38-40
Open daily Nov-Mar 9am-5pm, Apr-Oct 9am-6pm.
"Winternights at the Zoo," late Dec-early Jan, 9am-8pm. "Summer Nights at the Zoo," open until sundown every Sat Jun-Aug.
Founded in 1838, this is the Netherlands' oldest zoo, and combines the pleasures of manicured gardens and some of Amsterdam's most beautiful 19th-century buildings with modern thinking about how zoo animals should be treated and displayed. Exhibits include an African savannah, Aquarium, Butterfly Pavilion, and Planetarium.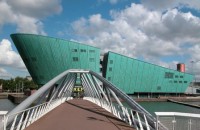 Oosterdok 2
Tel: + 31 (20) 531 32 33
Open Tue-Sun 10am-5pm (Mon in summer and official school holidays). Closed Jan 1, Apr 30 and Dec 25.T
The largest science museum in the Netherlands, NEMO features five floors of entertaining, interactive exhibits that explore science and technology. Though it's mostly for kids, adults will enjoy it too.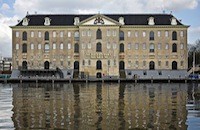 Kattenburgerplein 1
Tel: +31 (20) 52 32 222
Open daily 9am-5pm. Closed Jan 1, Apr 30 and Dec 25.
Amsterdam has a long and rich maritime culture. The National Maritime Museum explores 500 years of maritime history with a wide range of interactive exhibits, many designed especially for children. Highlights include yacht models, navigational instruments and the Amsterdam, an exact replica of an 18th-century East Indian Trading Company ship. The museum is housed in the historic 's Lands Zeemagazijn (the Arsenal), which underwent a major restoration between 2007 and 2011.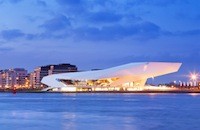 IJpromenade 1
Tel: +31 (20) 589 14 00
Open Sun-Thu 10am-10pm, Fri-Sat 10am-11pm (closing time varies depending on time of last screening)
EYE Film Institute Netherlands is the Dutch center for film culture and heritage. Opened to huge buzz in 2012 in a stunning building on Amsterdam's waterfront, it has quickly become one of the city's must-see attractions. Along with cinema memorabilia and a world-class film archive, the center offers film series and retrospectives, and film and media education for children and adults. The popular bar-restaurant provides great views over the IJ river.
Linnaeusstraat 2
Tel: +31 (20) 56 88 200
Open Tue-Sun 10am-5pm, Mon (public holidays and school holidays, except summer holidays) 10am-5pm
Part of the Royal Tropical Institute, the Tropenmuseum is one of Europe's leading ethnographic museum. The Dutch once had colonies all over the world, and the museum exhibits a huge collection of colonial artifacts from the Americas, Africa and Asia. Exhibits include replicas of a Moroccan souk, a Nigerian village and a Central Asian yurt, along with tribal masks, carved figurines, jewelry, textiles, and objects related to dance, theater and music. The museum is especially fascinating for children, and offers a range of special activities and programs for kids.
Copyright 2013 MyLittleSwans, LLC. All rights reserved. My Little Swans, the logo and Share a world of experience are registered Trademarks of MyLittleSwans, LLC. Use of this site constitutes acceptance of our Terms of Use and Privacy Policy.