Central
This part of the North Island is blessed with stunning geological features, from steaming geysers and vast lakes to active volcanoes and luminous caves.
topRotorua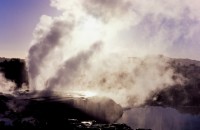 This region is renowned as one of the world's most concentrated geothermal regions. Surrounding the scenic lakes of the Rotorua Lakes district are a variety of natural wonders: geysers, steaming lakes and streams, mud pots, multi-coloured silica terraces and hot mineral pools known for their curative properties. (Be prepared: the smell of sulfur is ever-present.) Kids will enjoy watching the geysers spout and the pools bubble, while parents can indulge in a hot-springs soak or visit one of the area's many spas. Rotorua is also known as New Zealand's center of Maori culture, offering numerous opportunities to learn about their history and customs.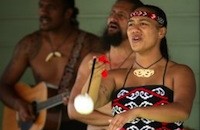 17 Tryon Street,
Whakarewarewa Village,
 Rotorua
Tel: +64 (0)7 349 3463
In this living village, Maori have lived in traditional ways for centuries. Since the mid-1800s residents have welcomed visitors and demonstrated how they use the natural vents and hot springs for cooking and bathing. Experiences include guided tours, cultural performances, hangi feasts and overnight stays.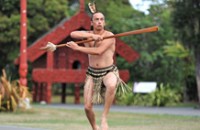 Open 9am-5pm in summer (9am-4pm in winter)
Performance Times: 10:15am, 12:15pm, 3:15pm daily
Set within the Te Whakarewarewa geothermal valley, this Maori cultural center is home to the New Zealand National Carving and Weaving Schools, and offers daily cultural performances, including welcome ceremonies, haka challenge displays, and "action songs" (traditional storytelling dances). There's also a Kiwi Conservation Centre.
Open daily from 8:30am
Created by eruptions from along the Mount Tarawera fault line in 1886, this is one of the world's youngest geothermal areas. An easy 90-minute walk takes you past features like Frying Pan Lake, the world's largest hot spring, and the steaming, pale-blue water of Inferno Crater. Cruises of Lake Rotomahana are also available; the boat passes steaming cliffs and terraces only visible from the water.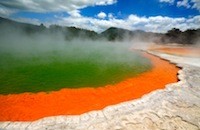 201 Waiotapu Loop Road, Rotorua
Tel: +64 (0)7 366 6333
Open daily 8:30am-5pm (Dec 25, till 1pm)
The region's most varied geothermal site, featuring the reliable Lady Knox Geyser (which spouts up 69 feet high every day at 10:15) the blue-green, orange-rimmed Champagne Pool, and the Artist's Palette, a series of hissing fumaroles and bubbling pools in ever-changing colors.
192 Fairy Springs Road, Rotorua
Tel: +64 7 350 0440; Freephone (within NZ) 0800 RAINBOW (0800 724 626)
Open daily 8am-10pm (summer), 8am-9:30pm (winter). Open 8am-4pm Dec 25.
Set in 22 acres of New Zealand bush, this magical park features many rare and precious native species, and is home to New Zealand's largest and most successful kiwi conservation center. At Kiwi Encounter, enjoy an up-close view of the kiwi birds and learn about the park's success at raising kiwi chicks. Your ticket is valid for reentry on the day of purchase, so you can return at night when the kiwis come out to play.
topAccommodations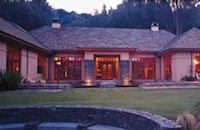 This award-winning luxury lodge is located in a secret valley of 2,500 acres just south of Rotorua. Enjoy a "sophisticated safari" as you explore the eco-park's trout streams, lakes, and mountain bike, hiking and horse riding trails, returning to your tranquil hideaway in one of the lodge's 4 unique suites and 8 luxurious villas.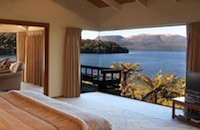 Set on the shores of breathtaking Lake Tarawa, Solitaire Lodge features 10 individually designed luxury suites. With a wide range of outdoor activities including world-class trout fishing, scenic flights to White Island, and natural geothermal bathing, this exclusive retreat offers guests the ideal blend of indulgence and soft adventure.
topCambridge
Northwest of Rotorua, the leafy town of Cambridge is surrounded by lush farmland, home to some of the top thoroughbred horse breeders in New Zealand.
topLake Taupo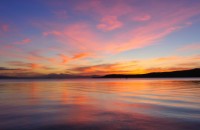 Located within the North Island's central volcanic central plateau, Lake Taupo is New Zealand's largest lake, and one of the biggest in the Southern Hemisphere – some 240 square miles. Its crystal-clear waters, edged with green forests and surrounded by spectacular alpine scenery, offer year-round rainbow and brown trout fishing.
topAccommodations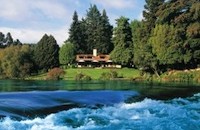 Founded in the 1920s, Huka Lodge is considered to be the iconic New Zealand retreat. Every detail is carefully attended to, from the décor to the cuisine. Accommodations include 20 luxuriously appointed Lodge Rooms and a 4-bedroom Owners Cottage, set in 17 acres of lush private grounds near mighty Huka Falls. Enjoy activities like golf, spa treatments, horse riding, trout fishing, helicopter sightseeing, kayaking and tours to nearby Hawke's Bay or volcanic White Island.
topTongariro National Park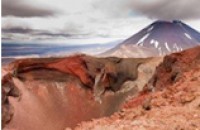 Just south of Lake Taupo, this is New Zealand's oldest national park, and is dominated by three active volcanoes which have great spiritual significance to the Maori. Two of these, Ruapehu and Ngauruhoe, are among the most active composite volcanoes in the world. The park is a dual UNESCO World Heritage site due to its cultural and natural value. Visitors can ski the mountain slopes or hike through diverse and impressive terrain ranging from rainforest to arid plateaus. The park's most famous walk is Tongariro Alpine Crossing, renowned as one of the best one-day walks in New Zealand. The more barren and forbidding areas of this region were used as locations for Mordor and Mount Doom in The Lord of the Rings.
topWaitomo Caves
This famous, 28-mile network of limestone caves offers a variety of caving experiences, from simple strolls along well-made paths to rappelling down a limestone shaft. In many of the caves, the walls are covered with thousands of glowworms, an animal unique to New Zealand. These creatures radiate a luminescent glimmer, making the caves' remarkable formations even more magical. You can take a boat tour through Glowworm Grotto, visit Aranui Cave's massive chambers filled with stalactites, walk past crystal tapestries and see glowworms up close in Ruakuri Cave, or take a "black-water" rafting tour, floating by inner tube through pitch black caves on an underground river as glowworms gleam in the vaults overhead.
Copyright 2013 MyLittleSwans, LLC. All rights reserved. My Little Swans, the logo and Share a world of experience are registered Trademarks of MyLittleSwans, LLC. Use of this site constitutes acceptance of our Terms of Use and Privacy Policy.