L'Isle-sur-la-Sorgue
The town's name means Island on the Sorgue, so called because it is built almost entirely atop the Sorgue river. Although the entire town is really an antique lover's dream, with antiquarian shops and antique dealers crowding the narrow streets, it's the 30-plus year-old Sunday market that is the main event.
topMarkets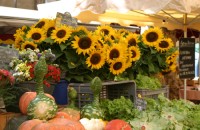 General Market Days
Thurs and Sun mornings
Daily in the summer
Shop for floweres, fruits and vegetables, spices, soaps, clothing
Antiques Market
Sunday all day
topShopping

Leather goods
2 bis, Avenue de L'Egalite
Sat-Mon 10am-7pm

Old Style Bathrooms
25, avenue de la Liberation
Daily 10am-7pm
topRestaurants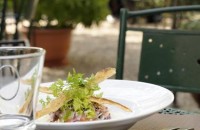 91, avenue Julien Guigue
+33 04 90 20 14 98
La Prévôté
4 bis rue Jean-Racques Rousseau
+33 04 90 38 57 29
Top awards for chef Roland Mercier
topKey Events
If you are really looking for that perfect antique, L'Isle-sur-la-Sorgue hosts antique fairs at Easter and over the August 15th holiday with more than 500 antique and second-hand dealers showing their wares to customers from all over the world.
Copyright 2013 MyLittleSwans, LLC. All rights reserved. My Little Swans, the logo and Share a world of experience are registered Trademarks of MyLittleSwans, LLC. Use of this site constitutes acceptance of our Terms of Use and Privacy Policy.