St. Rémy-de-Provence
Far from the throngs of tourists who descend upon the coastline, Saint Rémy is the sort of hidden gem that attracts those who are in the know. This is where the artists, celebrities and true lovers of history and culture go to surround themselves with authentic Provençal flavor. Not only do some of Saint Rémy's structures date back to as far as the third century BC, but the glorious countryside that surrounds the town even inspired Van Gogh to paint 150 of his works here. You won't have any trouble following in the artist's footsteps – not much has changed since he lived here more than a hundred years ago.
topHighlights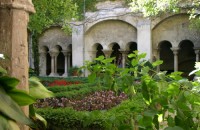 Clinique Saint Paul de Mausole
Avenue Vincent Van Gogh
+33 04 90 92 77 00
Open daily
Apr-Oct 9:30am-12pm, 2-6pm
Nov-Mar 10:15am-12pm, 1-4:45pm
Closed Jan 1, Nov 1, Dec 25

This former medieval monastery cum psychiatric hospital just outside of town is where Vincent van Gogh recuperated after cutting off his ear. He painted in its gardens.
topRestaurants

Alain Assaud
13, bd Marceau
+33 04 90 92 37 11
Summers open daily, closes Sat 12 noon
Winters open Sun, Mon, Wed, Fri; closed Wed, Thur, Sat noon
Rue de la Republique, Eygalieres, 13810
+33 04 90 90 60 34
Well worth the trip. Chez Bru is 6 mi southeast of St-Remy on D99 and then on D24
Copyright 2013 MyLittleSwans, LLC. All rights reserved. My Little Swans, the logo and Share a world of experience are registered Trademarks of MyLittleSwans, LLC. Use of this site constitutes acceptance of our Terms of Use and Privacy Policy.