Day Trips
20 miles NE of Rome. 45 minute train ride from Stazione Tiburtina. A favorite summer resort for Romans since ancient times, this picturesque town features two Unesco World Heritage sites.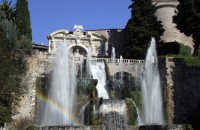 Piazza Trento 1, Tivoli
+39 (04) 2460 0460
Call Center: 199 766 (Dial from anywhere in Italy for reservations, tickets or guided tours)
Tues-Sun 8:30am to one hour before sunset
Closed Mon. If Mon is a holiday, the monument is open and closes on the following business day.
Closed Jan 1, May 1, Dec 25
villadestetivoli@telekottageplus.com
Unesco World Heritage Site

This Renaissance pleasure palace, built in 1550 for Cardinal d'Este, is famed for its lavish, imaginative gardens and fountains.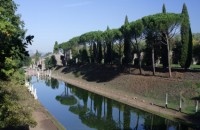 Hadrian's
Via di Villa Adriana 204, Tivoli
+39 (07) 7438 2733
Information and booking: +39 (06) 3996 7900
Opening hours from 9am to one hour before sunset
Closed Jan 1, Dec 25
Unesco World Heritage Site

Located 4 miles southwest of town, the expansive ruins of Emperor Hadrian's main residence are a lovely place for a picnic.
Via della Sibilla, 50 Tivoli, Roma
Tel: +39 0774 33 52 81 Fax: +39 0774 33 05 61
Open daily
This family-owned restaurant is wonderful. Food is fresh and delicious, and the view of the waterfalls from the patio is perfect. Well worth the drive from Rome!
Copyright 2013 MyLittleSwans, LLC. All rights reserved. My Little Swans, the logo and Share a world of experience are registered Trademarks of MyLittleSwans, LLC. Use of this site constitutes acceptance of our Terms of Use and Privacy Policy.