Field Experts
Christmas in Kenya
It is Christmas morning and we have awakened to the sounds of the dawn chorus and rattling of tea cups as they are placed on a small table outside our tent. We have planned an early morning game drive through the Masai Mara National Reserve, one of the world's greatest wildlife sanctuaries. Braced against the morning chill, we tumble into our open Land Rover and set off on a rutted dirt track, thick with morning mist, towards the great open savannah. As the sunlight begins to filter through, I can barely see the outline of large grey forms moving purposefully our way.  I watch in awe as a large family of elephants emerges from the rising mist, marching single file, about 20 in all, silently, massively, swaying through the tall bush grass, small calves in varying sizes huddled against their mothers and a large corpulent matriarch in the lead. They pass so close to our vehicle, if I dared, I could reach out to touch them. I witness my first wild animal sighting, rhythms of life unchanged, and forever surrender to Le mal d'Afrique, the desire to return again and again.

Nothing can compare to the naturalness of this world – the low-lying skies, the vast open plains and the sheer diversity of the land. Everything is on such a grand scale. "I had a farm in Africa, at the foot of the Ngong hills. The Equator runs across these highlands…", opening words famously memorialized in Karen Blixen's book, Out of Africa. Indeed, Kenya is divided east to west by the Equator and north to south by the magnificent Great Rift Valley. Untouched beaches hug the Indian Ocean while the semi-desert borders the north. In between are the fertile Central Highlands with rolling grasslands strung with fresh water lakes. The allure of this diverse terrain is that much of it remains untamed.

It is the ruggedness of this very real world that seduces me – no paved roads here. Kenya's bountiful parks and reserves remain the ancestral home to migrating herds of wildebeest, elephant, and buffalo. This is a complex land of wildlife and birds, tribesmen and fauna in their natural habitat. There's much to explore and to awaken the spirit of adventure: follow the paths of the nomad in the wild north on a camel safari to see Africa at its most natural and sleep in a Bedouin tent beneath the stars…paraglide over untouched wilderness...take a helicopter over mountain tops and see landscapes of spectacular beauty…float over the savannah in a hot air balloon. Kenya's enchanting coast also beckons. An uninterrupted coral reef runs the extent of the coastline creating safe beaches, and pristine waters thrive with tropical fish life. Unlike the interior, the coast was settled by Arab traders.  A visit to Lamu – an exclusive island of beauty with rolling sand dunes and endless beaches - will draw you back in time to the exoticism of the Swahili culture where donkeys, the only form of transport, wander along narrow Arab streets and where ancient dhows plow the warm Indian Ocean. Kenya is still paradise. A country so rich in contrasts – it will call you back again.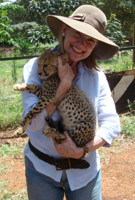 Safari njema!
Courtney Campbell
About Courtney Campbell:
Courtney first came to Kenya in 1989 to join her husband on one of several business trips to Nairobi. Taken with the Kenyan lifestyle and the untamed open spaces, she and her husband moved to Nairobi from Los Angeles in 1992. Courtney is a Food and Travel writer contributing to glossy magazines in East Africa and the United States. Born in México City, she has lived and worked in Madrid, Paris, New York and Los Angeles. From time to time she has considered relocating to other European cities but is irresistibly drawn back to Kenya, where she currently resides in Nairobi with an itinerant kite, a resident gecko and her husband.
Copyright 2013 MyLittleSwans, LLC. All rights reserved. My Little Swans, the logo and Share a world of experience are registered Trademarks of MyLittleSwans, LLC. Use of this site constitutes acceptance of our Terms of Use and Privacy Policy.