Travelogs
Ladies' Trip to India
This February, I was able to check a big destination off my bucket list – northern India! I was in southern India for a wedding a few years ago, and was captivated by the food, colors and culture. It made me long to go back and see some of the famous sights in the northern part of the country, especially Rajasthan, and of course, including the Taj Mahal. So MLS worked with our India partner, &Beyond, to create our first hosted trip. Though it was designed for women, and was ideal for friends (or in my case, sisters) traveling together, this itinerary is also ideal for couples and families. If you have a passion for fine hotels and great food, but want to also see great contrasts in culture and history, India has it all. Obviously, the serious spa/yoga/Himalayas component and the tiger preserves are different trips; however, it is entirely possible to merge all of the experiences to include Rajasthan, the spiritual Himalayas and/or Bhutan and the wildlife pieces into one itinerary. &Beyond does it all!
Before this trip, I didn't realize how many UNESCO World Heritage sites India has: a total of 28 (23 cultural and 5 natural). Our tour visited the Red Fort, Qutub Minar, and Humayan's Tomb in Delhi, Agra Fort, the Taj Mahal, and Fatehpur Sikri, so you can imagine some of the astonishingly beautiful and historic places we found ourselves in.
We started in New Delhi, the bustling capital. The Presidential Palace is here, as well as the diplomatic enclave, which gives it a sophisticated quality. It's quite a contrast to Mumbai, which is the home of India's movie industry and feels more like LA, with lots of hip, young people and an emphasis on status symbols. (For example, Hermès has a flagship store in Mumbai, selling products specifically designed for India).
Our group stayed at the Leela Palace New Delhi, one of the city's two top hotels. We saw New Delhi's impressive Qutub Minar (the world's tallest brick minaret) and the India Gate, but spent most of our time exploring Old Delhi. Humayan's Tomb was exquisite in its symmetry, and the Red Fort majestic in size, but I was more fascinated by the street life here. The traffic was mind-boggling, a mix of small cars, three-wheeled motorized cabs, rickshaws, colorful trucks and buses, and motorbikes piled high with families of five, all constantly bobbing and weaving. The India experience felt like pieces from some of my favorite destinations, Marrakesh, Istanbul and Peru – none of it was set up to impress tourists; it was simply people living their lives.
India is literally shopping on steroids - you definitely need to take an empty duffle or suitcase! Old Delhi is a shopper's paradise, where you can find high quality, handcrafted goods of all types: scarves, block-printed fabrics, jewelry, furniture, and decorative objects galore. My fellow travelers had done their homework and came armed with a list of places to go. I was not as prepared, but had no trouble finding areas to browse. Chandi Chowk, or "Silver Street," is the soul of Old Delhi, a vibrant boulevard with a maze of twisting lanes leading from it, forming a covered bazaar selling a huge variety of traditional crafts. We also had the good fortune to be in town for a large outdoor craft fair, the Surajkund Mela. Held once a year, it draws craftsmen from all over India, who perform traditional dances and sell unique products that express their local culture.
Then, it was on to Agra. We took the train rather than flying, which I think was probably more efficient and certainly more interesting. Though there were thousands of people on the platform, the crowd was very orderly and the intimacy felt welcoming rather than threatening. We all enjoyed the train journey, which offered good views of the countryside.
Our hotel in Agra was the breathtaking Oberoi Amarvilas, just 5 minutes from the fabled Taj Mahal – every room has a stunning view of the monument. Surprisingly, neither the Taj nor the city is lit up at night. As the sunset approaches, you hear the sounds of the city, but all you see is the glow of small fires, which are typical for the various street vendors and food shops. Basically, the cities come alive at night when it is cooler. During Ramadan, the cities stay bustling until 2am, given the fasting during the daylight hours. Therefore, going out at night is encouraged, since you would only see one side of India during the day.
As one of the Wonders of the World, the Taj Mahal is hugely popular. Suhail, the CEO of &Beyond, was with us on the trip, and he knew just where to go to avoid the crowds and get the best pictures. He also made sure we got our timing right, so we were there when the light was best. We went in the early morning and returned in the afternoon. I can't begin to describe the delicacy and intricacy of the decorations that seem to cover every square inch of the tomb – I hope my pictures will give you some idea.
Between visits to the Taj Mahal, we visited Agra's other major monument, Agra Fort, which is the most important fort in India, and is as massive as its history. It reminded me of the Forbidden City in Beijing – courtyard after elegant courtyard. We also toured Itmad-ud-Daulah, which is called a "jewel box in marble." It's also known as the "Mini-Taj," as many of the elements of the Taj were modeled on this exquisite little tomb.
After our afternoon visit to the Taj, we returned to the hotel, where Suhail had prepared a surprise – a special ceremony "on the mound" to wrap up our experience. We had cocktails and watched a dance performance as the sun went down, painting the Taj in gold.
Next was Jaipur, the capital of Rajasthan. On the way, we stopped in the ancient city of Fatehpur Sikri, built by Akbar, the greatest Mughal ruler. Abandoned soon after it was built due to lack of water, it has been preserved almost intact. Quite an amazing place.
Jaipur is called the "Pink City" because many of the buildings are washed in this color, but there were startlingly vivid colors everywhere: saris and turbans in bright orange, yellow and pink, flower sellers and fruit stands. Jaipur is also known for its precious stones.
Our hotel here was the Taj Rambagh, known as the "Jewel of Jaipur," which for generations was the home of kings. We were greeted by women dancing on the lawn, and a man stood in the courtyard constantly flicking a white flag to keep the pigeons away.
Our first full day in Jaipur was devoted to the magnificent Amber Fort, so called because of the reddish-brown color of its stone. There were lots of elephants taking tourists up to the fort, but Suhail didn't recommend it – the elephants are worked hard and seemed unhappy. Later, we saw their handlers herding the elephants through the city traffic.
We had a happier elephant experience that afternoon, at a private family-owned farm called Dera Amer. We were able to ride elephants here, and try our hand at elephant polo, which is slow paced and interesting as a close encounter with these gentle animals. Many of the elephants here were rescued from the Amber Fort.
The following day, we saw the impressive City Palace, which houses a wonderful museum, and the Hawa Mahal, or "Palace of Winds," a five-story structure that is Jaipur's central landmark. This palace was built to allow the women of the harem to stay behind shutters while they observed the streets below.
That evening, we had another special event. Vinesh Maheshwari, of Jaisalmer Jewelry, organized a dinner and entertainment for us. It was over-the-top in all the right ways, with brightly decorated elephants on parade, and craftsmen making bangles over the fire; Vinesh even had "My Little Swans" spelled out in fireworks.
Our last destination, Hyderabad, was one I wasn't familiar with before this trip. Suhail suggested adding it to the itinerary, and it was an excellent choice. Located in south-central India, the "City of Pearls" was once ruled by the Nizam dynasty, known for their fabulous wealth and sumptuous palaces. Our hotel, the Taj Falaknuma Palace, was spectacular in itself. Built in 1894, it was the residence of Nizam VI and was later used as a royal guesthouse for dignitaries. Recently the palace was turned into a hotel with the help of the royal family of Hyderabad. Restorations took 10 years, and the results are incredible. The palace is built in the shape of a scorpion; breakfast and dinner are held on different sides, depending on where the sun is. There's an amazing library, a stunning Jade Room where tea is served, and interiors filled with the royal family's art and furniture.
As you can guess by its nickname, Hyderabad is famous for its pearls, and offers them in a wide range of styles and colors. Many Indians come here to buy pearls for their dowries. We of course spent quite a bit of time shopping for pearls ourselves, but we also took in the sights. Golkonda Fort, built high on a cliff, is famous for its acoustics (the sultans of the Qutub Shahi dynasty, who built the fort, wanted to hear what was being said about them). We also explored the Qutub Shahi Tombs, where seven of the nine rulers are buried. They were quite remarkable – each one has its own distinct architectural style.
Back in the center of Hyderabad, we walked past Charminar, or "Four Towers," Hyderabad's main landmark, and toured Mecca Masjid, one of the largest mosques in the world. At the Salar Jung Museum, I loved the ivory collection (so finely carved it looked like lace) and the miniature paintings. This museum, which houses artifacts from three generations of Nizam rulers, has 54 rooms, so you need to choose what you want to see.
Finally, it was back to Delhi, where Suhail hosted a marvelous farewell dinner at Bukhara. Located in the Maurya Sheraton, it is one of the best Indian restaurants in the world, and a fitting finale to a truly unforgettable trip. I felt like I ate my way thru India…loving every bite. Very easy to become a vegetarian!
Looking back, I'm amazed at how much we saw and did, and yet we never felt rushed. The itinerary was full but well organized, and Suhail's calm, unruffled manner made for a very stress-free trip. Our local guides were top-notch as well. A few of our fellow travelers went on to Bhutan or a tiger safari (and you can see these itineraries on our India destination pages). In a sound bite, a good India trip basically redefines your lifestyle. Although I like to think I am well-traveled, rarely have I experienced a country with so much culture, and such a juxtaposition between calm and chaos. The many smiling faces of the people are a sharp contrast to the faces you see when coming back to the US. Layer in the amazing food and some of the best-preserved sites in the world, and it is a powerful combination.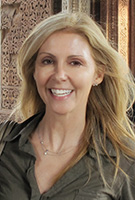 Copyright 2013 MyLittleSwans, LLC. All rights reserved. My Little Swans, the logo and Share a world of experience are registered Trademarks of MyLittleSwans, LLC. Use of this site constitutes acceptance of our Terms of Use and Privacy Policy.