The Give and Take of Travel
Luxury travel has offered me and my family rare opportunities to visit remote, unspoiled places, see endangered and exotic animals, and experience cultures that are very different from our own. We've gained so much from our adventures, and that's why I feel it's so important for us to give something back to the places and people we've encountered. Sometimes, just by visiting a nature preserve or an eco-lodge, you contribute to the conservation of the surrounding habitats or wildlife. Or you can spend part of your vacation volunteering for a project, which raises your awareness of local issues—whether it's a species in decline, or extreme poverty in the villages—and allows you to make a real, tangible difference through your efforts.
In addition to holidays where we've been immersed in nature and gained a true appreciation for wildlife—seeing bears and whales in Alaska, chimps in Mahale, and big game in Botswana and Tanzania; zip-lining through the rainforest at Iguazu Falls; climbing glaciers in Patagonia—we've also taken part in research and education projects, such as adopting leatherback turtles in Rocktail Bay, on the South African coast. The turtle population has dropped alarmingly in the last 20 years, and the facility (also an eco camp) is trying to understand why. On the same trip, we visited a cheetah preserve in Stellenbosch, South Africa (there's nothing quite like petting a baby cheetah!) and stayed at Abu Camp in Botswana, where we got to interact with the resident elephant herd and take an elephant-back safari—a once-in-a-lifetime experience!
On our trip to Australia, where I grew up, we were constantly reminded of the environmental issues they are now dealing with. Crown-of-thorn starfish are decimating the coral in the Great Barrier Reef, the sheep station we visited in the Outback had faced 7 years of drought, and koalas, once plentiful, are now threatened. While on Kangaroo Island, off the coast of South Australia, we met with Dr. Peggy Rismiller and her husband Mike, who run the Pelican Lagoon Research Center. Peggy and Mike have been researching for more than a decade why the echidna and platypus, the only egg-laying mammals in the world, both live on Kangaroo Island. Echidnas are fascinating but reclusive, and very little is known about them.
The MLS partner network is connected to a wide range of eco-volunteer programs and experiences around the world. Our India partner, &Beyond India, in conjunction with Taj Safaris, offers voluntourism packages in the tiger preserves of Panna National Park. Guests gain a first-hand understanding of the lives of the villagers, and assist in programs that help improve living conditions while working towards tiger conservation.
In Peru, our partner Blue Parallel sponsors a cleanup operation on the Urubamba River in the Sacred Valley. The project includes interactions with children from local schools, for a true cultural immersion.
Africa Odyssey offers a number of choices for weaving in conservation and community service with a luxurious safari. You can teach at local schools, help out at an orphanage, monitor elephant migrations and herds for the Saadani Elephant Project, spend time with traditional (and nearly extinct) tribes in Tanzania, adopt an elephant in Nairobi, or help study hyenas for the Tswalu Brown Hyena Project.
Indochina Travel Company has told us about a wonderful Asian elephant sanctuary outside Luang Prabang in Laos. Funded entirely through tourist dollars, the "Elephant Village" offers private encounters, where guests wash and feed the endangered elephants to learn about their care, and then go for a trek in the surrounding forest on elephant back.
Aside from adding a very special and personal element to your travels, finding ways to give back will have a profound effect on your entire family. Once you're involved, you want to stay involved—the Laos elephant village, like the cheetah sanctuary in South Africa, often inspires kids to start their own fundraiser or foundation to help support the project. Travel has helped my children become good global citizens as they inherit a world of global issues, and our family bonds have been strengthened through the ownership and responsibility we've shared, working and learning together in very remote places. The cultural contrasts we experienced in India and Africa changed us forever and redefined our lifestyles. Helping someone or something is very powerful—you cannot put a price on it.
If you are interested in making philanthropy or eco-volunteering a part of your next holiday, get in touch with our partners or our Travel Advisor. You'll be glad you did.
New Partner Services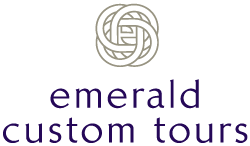 Our partners are continually adding to and improving the services they offer. If golf is one of your passions, Emerald Custom Tours' sister company, Links Golf Ireland, specializes in high-quality, bespoke golf trips to Ireland and Scotland, two of the most iconic places in the world to play this venerable game.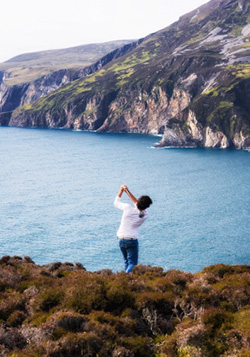 And Lufthansa Private Jet now offers private jet services to a wide range of destinations in North America. Visit the Partner Pages and contact the partners directly for more information.
In the News
My Little Swans has been cropping up in the media again lately. We were very pleased when Babble, an online parenting resource, chose us as one of their "2012 Top 25 Travel Blogs for Families" (we are #1 for High-end Travel). Forbes interviewed me and other female Silicon Valley executives for their April 27 article about the lack of women on Facebook's board (very timely, given Facebook's recent IPO). And the May 21 issue of ForbesLife features an article about the art collection my husband and I have put together over the years (we often find wonderful pieces on our travels, and our travels are increasingly focused on art).
Photo Contest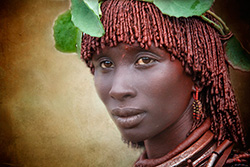 You have a few more days left to enter our photo contest! Please send in your submissions starting now up until May 31, 2012. Each month, we select the best and most compelling images and post them on our photo contest page. In early June, the grand prize winner's name will be drawn from the monthly winners. Once again, the prize is either an iPad3 or a G12 camera (winner's choice). If you have an amazing image to share, please send it in. To see the winning photos from earlier this year, please visit the Photo Contest page on My Little Swans.
Warm Regards,
Katrina Garnett