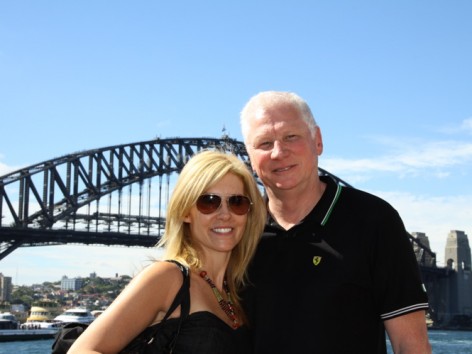 GeoStats:
Passport/Visa Requirements: Citizens of Canada and the U.S. need passports and an Electronic Travel Authority (ETA), which substitutes for a visa.
Capital: Canberra
Population: 21,262,641
Languages: English and Aboriginal languages
Time Zone: 8-10 hours ahead of Greenwich Mean Time. Daylight Saving Time is observed in some states from the last Saturday in October to the last Saturday in March.
Voltage Requirements: 220 volts
Phone Codes: 61, country code
Overview
For me, Australia isn't just an amazing travel destination, it's a big part of my personal history – I was born and raised here. My parents and grandparents, like many Australians of their generation, were immigrants who came here from Europe to escape the ravages of war. The self-reliant, can-do attitude they had is a very Australian trait, and growing up here is what gave me my sense of adventure and my love of travel. Though I've been living in America for years, I still feel more Australian than anything else.
For a long time, the typical view of Australians was the "Crocodile Dundee" stereotype – plucky, cheerfully unsophisticated, able to face down crocs without batting an eye. There's a grain of truth to this. Australians do tend to be friendly and unpretentious, facing adversity with good humor and taking a certain pride in the oddities and dangers of their unique homeland. Australia as a country has a rather masculine quality – rugged and individualistic, with a bit of swagger. In recent years they have relaxed their protectionist policies and become more progressive socially, and their major cities are as cosmopolitan as you'll find anywhere. Aussies love the great outdoors, which is evident in the country's many wildlife parks and nature preserves. Sports are big here, too – the country basically comes to a halt for the Melbourne Cup and the Sydney to Hobart Yacht Race.
My family's recent trip, for the '09 Christmas holidays, was my first time returning to Australia with my children. Previous visits were more about seeing relatives and less about seeing sights, but this time we planned a real Australian adventure. It's new for me to view Australia through the eyes of a visitor – but like anyone else, the big question for us was, what to do first? Australia is the only country that's also a continent, and its sheer size is a surprise to many travelers – it's nearly as big as the continental US. With ocean on all sides, a vast arid interior and a wide range of climates, it offers an incredible variety of terrain. Want beautiful beaches? Spectacular coastlines? The best scuba diving in the world? Come on down. Like majestic landscapes? Pristine rain forests? Strange and wondrous species found nowhere else? It's here. Love wine tasting, performing arts and great restaurants? This is your place.
There's so much here, it would take months to see it all – so don't try, not in one trip anyway. Choose a few key destinations, and really explore them. (Remember, you can always come back!) I've tinkered around with itineraries for years, and finally settled on one. We started at a private resort on Lord Howe Island on the Great Barrier Reef, where you can snorkel right off the beach. We explored the pristine wilderness of Kangaroo Island, off the southern coast of Australia, and spent a few days on a working sheep station in the magnificent Flinders Ranges. Next was Sydney, where we visited the famous Sydney Aquarium, went to Doyle's for their unbeatable fish and chips, and spent New Year's Eve watching the world's most spectacular fireworks display. We finished our tour with a stay at Emirates' new Wolgan Valley Resort, in the scenic Blue Mountains. It was two relaxing weeks of largely unstructured time, where my kids could get dirty and enjoy simple pastimes, free of rules and restrictions, surrounded by landscapes of surpassing beauty. For me, it was a trip down memory lane – the best part was sharing the memories of my Australian childhood with my family. My holidays as a kid were spent hunting for fossils and "thunder eggs," hiking through the rainforest, or body-surfing at the beach, and it was good to know those activities still offer the same pleasure.
For your planning purposes, we've divided Australia into a number of "Experiences," so you can build your own itinerary around the places and activities that interest you the most. Australia is a truly unique and magical place, and the memories you'll create here are as special as the country itself.
Copyright 2013 MyLittleSwans, LLC. All rights reserved. My Little Swans, the logo and Share a world of experience are registered Trademarks of MyLittleSwans, LLC. Use of this site constitutes acceptance of our Terms of Use and Privacy Policy.