Kangaroo Island Experience
Australia's third-largest island (96 miles by 34 miles) has been called one of the world's last unspoiled refuges. A third of the island is national or conservation parkland, and the rest is sparsely populated and lightly developed, making it a haven for wildlife. The dry interior is true Australian bush, home to koalas, kangaroos and wallabies. Wild penguins make a nightly procession at Kingscote and Penneshaw; a large and accessible colony of sea lions can be seen at Seal Bay, while fur seals congregate near Admiral's Arch. The coastline is spectacular, featuring steep cliffs and bizarrely shaped rock formations. The geological wonders continue below ground in an extensive system of limestone caves.
Though relatively few people live here, those who do believe in living well – the small scale of development has helped small industry thrive. No visitor should miss sampling the regional wines, Ligurian honey, seafood, and dairy products, and checking out the local arts and crafts.
My family came here for the 2009 Christmas holiday, and stayed at the Southern Ocean Lodge, located along the edge of a cliff on the southwestern shore. The food and wine at the lodge is amazing, and though the suites are very private, the main dining room is pleasantly communal. We spent our days enjoying the amazing coastal views, discovering the local wildlife with our naturalist guide, visiting the Kelly Hill Caves and aptly named Remarkable Rocks, but the best part (especially for my boys) was the ATV tour we took through the bush – exciting and just challenging enough to be fun. No experience required, though children under 12 need to go with a guide. Kangaroo Island is gorgeous but rugged – the water at most of the beaches is too rough for swimming, and trails for hiking and biking can be long and steep, so ask before you go.
The island has a rich history - Kingscote was the first European settlement in South Australia, and there have been cattle and sheep ranches here for generations, yet over half of the island was never cleared of vegetation. The southern coast was notorious for shipwrecks (rooms at the lodge are named after famous wrecks). The locals never force this history on you, but it surrounds you, and becomes part of the experience. With its unique blend of bush and coast, Kangaroo Island is unlike anywhere else in the country, but at the same time, it's pure Australia.
topGetting Here
Kangaroo Island is 10 miles of the coast of South Australia, 71 miles south of Adelaide. Regular 30-minute flights are available from Adelaide to Kingscote Airport.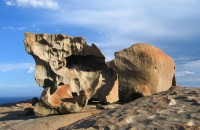 Located at the western end of Kangaroo Island, this fascinating, 81,544-acre park features stunning stretches of coastline and miles of wilderness filled with a large diversity of plant and animal life. A network of trails offers walks for all levels of ability.
Remarkable Rocks
These aptly named rocks at Kirkpatrick Point are one of the island's most iconic sights. Sculpted by wind and sea into fantastic shapes, they're a don't-miss attraction.
Admiral's Arch
Reached by a boardwalk from Cape du Couedic, this amazing, stalactite-edged natural arch frames a striking ocean vista. Look for the colony of New Zealand fur seals living just below.
Cape Borda Lighthouse
Known for its unique square design, this lighthouse was built in 1858 to guide sailing ships arriving off the 'roaring forties' trade winds. Guided tours of the lighthouse and museum are available (including the daily firing of the signal cannon on the 12:30pm tour). The lightkeepers' cemetery is also worth a visit.
The highlight of this park is its astonishing maze of underground caverns and tunnels. Some of the more accessible caves can be appreciated on a Showcave tour. For those who want to delve a little deeper, the dryness of the limestone caves make this an ideal spot to try a guided adventure caving tour.
This park on the rugged easternmost point of Kangaroo Island is centered around Cape Willoughby Lightstation. Built in 1852, it was South Australia's first lighthouse, and offers panoramic views of the notoriously treacherous Backstairs Passage from its 88-foot tower. Guided tours of the precinct, including the tower, are held daily.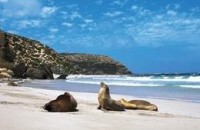 The dunes and beaches of Seal Bay are home to Australia's third largest colony of Australian Sea Lions. Visitors can view the animals from a viewing platform, or join a guided tour and see them up close.
Little Sahara
Just west of Vivonne Bay, these spectacular white sand dunes rise unexpectedly out of the bush. Climbing up the steep slopes and tobogganing or sandboarding back down is great fun.
Penguin Colonies
Observe Little Penguins in their natural habitat at Penneshaw Penguin Center. Also called Fairy Penguins, they are the smallest species of penguin, only about 16 inches tall. The eco-viewing platform at the interpretive center offers close encounters with the penguins as they make their nightly promenades. The Kingscote Marine Center also offers nightly guided tours of their local Little Penguin colony.
Scott Cove
This north coast vantage point offers the best views of Cape Torrens and Cape Forbin – at 863 feet, they are the tallest coastal cliffs in South Australia.
Located near the American River, these interesting, red-colored cliffs overlooking Eastern Cove are a wonderful place to watch the sunset.
topAccommodations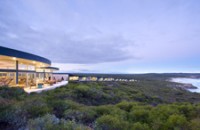 Kangaroo Island's first world-class wilderness lodge is a unique blend of nature and luxury. The owners are committed to eco-sensibility, and developed only 1% of the land they purchased, keeping the rest protected. The resort's 21 spacious suites are spread along a rugged cliff overlooking the Hanson Bay, each with a commanding view of the coast. Premium facilities, contemporary dining and a high level of service means guests will enjoy the splendid natural setting in style. The suites feature open fireplaces and private outdoor terraces – the premium Osprey Pavilion has its own plunge pool. Signature treatments are available at the Southern Spa, and the resort offers a range of exceptional guided adventures and experiences.
topActivities
As guests of Southern Ocean Lodge, you can choose from a range of signature activities and experiences (many are complimentary).
Seal Bay & Quad Bike Tour
This full-day private tour begins with a visit to Seal Bay, home to Australia's third largest colony of Australian sea lions. Join your guide for an exclusive tour on the beach with these wild animals, where you'll learn about their unique breeding cycle. Then, get your heart pumping with an adrenaline-fuelled ATV tour through 500 acres of spectacular bushland trails - no experience necessary.
Kelly Hill Caves
Take a short drive from the Lodge to meet a local National Park Guide and discover amazing sinkholes and caverns, part of the extensive Kelly Hill Caves complex that has evolved over thousands of years.
Seal Bay Sunrise
Seal Bay is home to Australia's third largest colony of Australian Sea Lions and an exceptional place to begin the day. Depart Southern Ocean Lodge pre-dawn for a 30-minute drive to Seal Bay. Upon arrival, meet a National Park Guide for an exclusive tour among these amazing creatures and learn about their way of life. Invigorate with a morning coffee, fresh fruit or lodge baked pastry and witness dawn break over this wild colony of Sea Lions. Arrive back at the Lodge in time for a gourmet breakfast, an early morning spa treatment or even go back to bed!
Wonders of KI
This half-day experience, operated exclusively for Lodge guests by Exceptional Kangaroo Island, is a spectacular introduction to the island's wildlife, maritime heritage and stunning coastal landscapes, and takes full advantage of the Lodge's unique location. Cape du Couedic lighthouse, Remarkable Rocks, Admirals Arch and a unique Fur Seal Colony are just some of the trip highlights.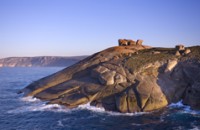 Remarkable Sunset
Journey into the Flinders Chase National Park, where geological phenomena are major attractions. The naturally sculptured Remarkable Rocks formation lies atop a remnant granite outcrop. Witness the spectacular colors of the rocks as the sun goes down into the Southern Ocean with champagne and canapés in hand.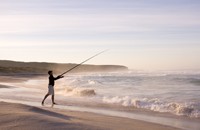 Beach Fishing
There's no bigger Australian tradition than planting your feet in the sand on a secluded beach at first light. Start the day with a catch of fresh fish, and watch for dolphins swimming past as they, too, look for that great Australian feed. Upon returning to the Lodge, "sing for the chef" and have your early morning catch turned into a culinary delight for lunch or dinner. The beaches and coves are also great spots for an early morning walk.
Sanctuary Sundowners
Drive through the property along fire trails to a clearing in the bush where local wildlife including kangaroos and wallabies congregate to graze. Sit quietly on the deck and observe these creatures in their natural environment, sip on champagne and nibble on a canapé while the sun goes down on another magical day.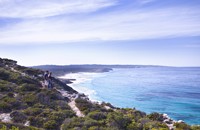 Coastal Clifftop Trek
Starting right on the Lodge's doorstep atop the limestone cliffs of Hanson Bay, this easy walk affords a bird's eye view of the thundering waves crashing along the coastline. Stand on top of the cliff with the wind blowing, look out to sea and realize there is nothing but ocean between here and Antarctica. Experience and learn about local flora, fauna and coastline ecosystems. A photographers dream!
Star Gazing
On clear nights, take a journey and learn of ancient tales and mythologies derived from the southern night sky. Sit back and gaze upon the unique and magical constellations of the Milky Way and Southern Cross.
Penguin Night Walk
Venture down to meet some of the smallest penguins in the world on the beaches right below the Lodge. These flightless miniatures stand a mere 35cm tall and return each night, scrambling up the beach to their coastal sanctuaries after a long day of fishing.
Natural History Lecture
This informative visual presentation hosted by resident naturalist staff will provide an insight into the Island's discovery and natural history as well as giving an overview of its many spectacular attractions.
One-Day Private Tour
Also included in your stay at Southern Ocean Lodge is one full day of Private Touring for your family with Exceptional Kangaroo Island. For this day you can choose from one of the following tour options:
Epicurean Adventure: A full day tour to the Island's best produce farms. This tour encompasses wineries, a sheep dairy and seafood farms – experience the produce to plate phenomenon.
North West Wilderness: A historical trip taking in some original tracks used by early settlers to access lighthouses and haul supplies from sailing vessels. Visit Cape Borda lighthouse station, Scotts Cove (the second highest cliffs in Australia), Western River Cove and a chance for some more challenging hiking if desired.
Art of Nature: The nature and beauty of Kangaroo Island attracts and inspires creativity – take a journey through a selection of the Island's studios, galleries and workshops and the chance to meet the artists.
Exclusively Flinders Chase: Flinders Chase National Park is a vast wilderness covering the entire west end of the Island. Visit a Fur Seal colony, Cape du Couedic lighthouse, Remarkable Rocks, Admirals Arch and the endless bush which provides habitat for a host of Australian wildlife including kangaroos, wallabies, possums, goannas, echidnas, koalas and platypus.
Copyright 2013 MyLittleSwans, LLC. All rights reserved. My Little Swans, the logo and Share a world of experience are registered Trademarks of MyLittleSwans, LLC. Use of this site constitutes acceptance of our Terms of Use and Privacy Policy.