The My Little Swans Difference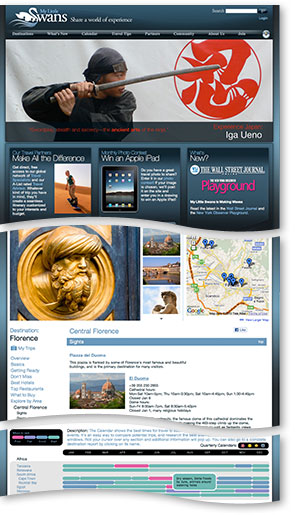 Other travel sites are about planning vacations. My Little Swans is about creating experiences. We know your leisure time is precious—and so is the time you spend with your family. You want those hours to be filled with one-of-a-kind moments and dream-come-true adventures, not travel headaches and missed opportunities. My Little Swans helps you make the most of your vacation by offering a depth of information and a caliber of partners other travel resources can't match. Whatever type of travel you have in mind, we offer the expertise and advice you need to create unique and memorable journeys.
Our Site Content
There is nothing generic about the content on our site. Our 30+ featured destinations are based on trips that were personally taken by our founder, Katrina Garnett (usually with her three children in tow), or another member of our MLS team. Our pages are filled with first-hand information and advice: the top restaurants and hotels, the most worthwhile sights and activities, the best private guides and drivers, when to go, what to pack, what to buy—everything you need to plan, book and enjoy your trip.
Everything you find on our site, from travel tips to our global calendar, has been personally vetted by discerning travelers and trusted industry sources. We've consolidated this wealth of expertise into streamlined, easy-to-use resources that put it all at your fingertips.
We know that travel is about pursuing your passions. Whatever you love (art, history, wine, fishing, cycling, high fashion, the great outdoors), with MLS you can follow your heart's desire wherever it takes you.
Our elite Partner Network will introduce you to a whole new world of travel possibilities. Covering hundreds of destinations in over 80 countries, they can make any dream trip a reality.
Our Trusted Partner Network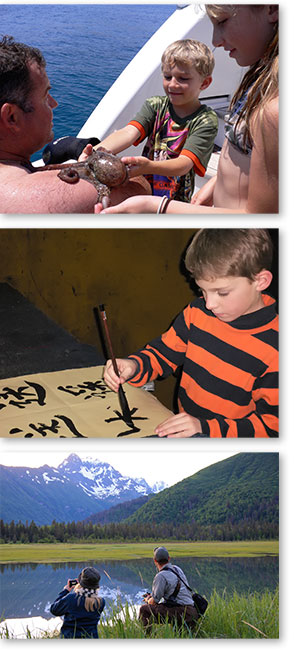 We've chosen our global travel partners for their expertise and quality of service. All are companies we've either worked with directly or had personally recommended to us. They are regionally based, with long-established local relationships and connections you will not get from a wholesaler (even a luxury wholesaler).
Our partners understand the special requirements of family travel and know how to do it extremely well. Accommodating different age groups, levels of ability and areas of interest can be a challenge, but our partners can be trusted to plan a trip that's smooth, memorable and offers something for everyone.
With My Little Swans, members have direct access to our partners—no middlemen or hidden costs.
Our partners show sample itineraries to give you an idea of their offerings, but they pride themselves on customizing each trip to meet the exact needs and interests of the party. Here are just a few examples of the unique experiences and special access they can provide:

A calligraphy or martial art lesson for your child while touring China
Cooking lessons for you and your child with a Cordon Bleu chef in Paris
Access to the best safari camps in Africa, even when your kids are under 12
A private Greek isles cruise with a captain who will treat your kids like his own
Access to museums and private collections closed to the public

Whatever activities you choose, our partners will arrange the ideal guides: historians, city guides, curators, personal shoppers, sommeliers, naturalists, gauchos, Bedouins, Maasai, Mahouts—you name it.
Designed for the Way You Want to Work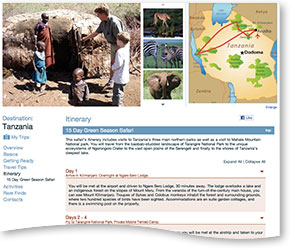 Our site was created to be flexible. Whether you like to do a lot of your own research, or prefer a more turnkey experience, we have the tools you need to turn your dream trip into a reality.
Our curated, meaningful content makes trip planning easy and efficient, saving you countless hours of research.
All of our featured destinations include personally tested itineraries. If you'd like to take one of the featured trips, just contact the listed partner, and they'll get your plans in motion.
Our travel partners will tailor your journey around your unique requests and specific interests, book your tour, and provide on-the-ground assistance at your destination.
Luxury for Less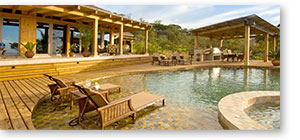 All of our partners have deep regional ties. The relationships they've developed give them better local access, so they can offer unique experiences and a high level of luxury at a great value.
Copyright 2013 MyLittleSwans, LLC. All rights reserved. My Little Swans, the logo and Share a world of experience are registered Trademarks of MyLittleSwans, LLC. Use of this site constitutes acceptance of our Terms of Use and Privacy Policy.