Q&A with
Katrina Garnett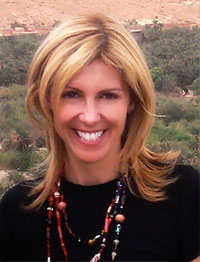 My Little Swans founder Katrina Garnett is a well-known Silicon Valley entrepreneur and mother of three. Born in Australia and educated in American and European schools, Katrina has been planning world adventures with her family from the time her firstborn was less than a year old. After numerous friends and acquaintances sought her out for travel advice, Katrina saw the need for a comprehensive online travel resource that makes it easy for families to plan unique, memorable global journeys.
Q: What is My Little Swans?
A: My Little Swans is a resource for families, couples and individuals who make sophisticated travel a part of their lifestyle.
It's a meeting place where families who travel the world with their children can connect with the best travel experts and plan their next global adventure. Everything you need is here – from completely turn-key itineraries, to detailed information on where to stay, where to eat, what to see, do and buy, and local contacts who can fully personalize your trip and offer special access to places most people don't get to see. Our users have a world of first-hand travel experience at their fingertips. They benefit from the expertise of our partners and the knowledge I've gained through traveling with my own family.
Q. How do you expect travelers to use Little Swans?
A: We've designed the site so people have everything they need to plan their own journeys. If you like the trips we've already taken, we make it easy to follow the same itinerary. If you want to go to the same destination, but do different things, you have direct access to a regional travel specialist who will customize your trip. And if you want something completely different, our network of Travel Partners spans the globe. Go for it!
Q: You mentioned this was a new kind of travel resource. How so?
A: The Internet brings an avalanche of information, but no one wants to sift through all that content. What we want are quality experiences. And how do we get these? Generally from people we trust, who have the same high standards, and expect the same quality of service.
This is where My Little Swans comes in. I have taken many world trips with my family over the last 18 years. I've shared my photos and itineraries with friends, and they have taken the exact same trips and loved them. Now I'm sharing these experiences and resources with everyone. I know that this is information you can trust.
Few travel services really understand how to do high-end family travel well – especially global travel – but our trips work because we have the right expertise and we've brought together the right network of partners.
While I was developing my family adventures, I dealt with some tour companies and travel advisors that worked, and many that didn't. For My Little Swans we have partnered with the best regional tour companies to work with our members directly. These are people you can trust. They will work with you to plan, book and provide on-the-ground support as needed.
Q: What was your inspiration for a travel site like My Little Swans?
A: Traveling the world with my own family has been rewarding, educational, and a lot of fun – but accommodating different age groups, levels of ability and areas of interest can be a challenge. I want to make it really easy for parents to take their children on trips. A resource the whole family can use for creating a trip that's adventurous but manageable.
Q: You are such an advocate for family travel. Why is it important for kids to travel?
A: Childhood is the best time to explore. Kids stretch themselves on trips in ways they will never do in a classroom. The world they are growing up in is so different. How will they know what is out there, what the world has to offer, if they don't experience it for themselves? Travel just gives kids a much broader experience of the world, gets them out of their provincialism, which will be really useful as they grow older.
Q: Can you give me an example?
A: My son Emerson knew China as a kind of restaurant before our family trip there. Morgan was studying China in school, but it was Emerson who really took to the Chinese culture. We had booked a calligraphy class, and he loved it. He saw a monk taking rubbings at a Confucius temple, and he asked to bring one home. He was transfixed by the Xian soldiers, and now he has a replica in his room. He's now studying Chinese.
Q: How do families benefit?
A: Families that travel together develop lifelong bonds that don't happen easily any other way. Let's face it – life is not set up for families to spend quality time together. Parents often both have busy professional lives, kids have school, homework, extracurricular activities, sports, friends, and their online world. My kids' schedules are as busy as any executive's.
The best way I know to have quality family time is to create it. To go somewhere together, away from meetings, internet, phones, TV, videogames, and iTunes. To see and do new things…together.
Quality family time is precious. If you don't create the opportunities, it will not happen. There are four breaks in the school year, at least in the States, and I started creating family holidays around all the school vacations – summer, Christmas, President's week, and spring break. Now it's part of our lives, and our family life is much richer for it.
Q: So are you suggesting a lifestyle?
A: Absolutely. We go somewhere in the world every school break and we've been doing it for years. The kids have been to every continent except Antarctica (and Ali is lobbying for that), and 30 countries.

Q: Does this mean they miss out on all their regular school and after school activities?
A: Absolutely not. You can do it all. You just have to plan it well.
Q: What differences do you see in your children that you attribute to travel?
A: My kids are more confident. More self-assured. Willing to try new things. More worldly. They feel at home anywhere they go.
They've also been able to stretch, go beyond their limits, face fears…and conquer them. One of my kids had a fear of heights. Then on our South America trip, he zip lined through the jungle 300 feet above the Amazon forest floor and rappelled down a 100 foot water fall. He came back with a big grin and no more fear of heights!
Q: How old should the children be before you start traveling?
A: I don't think they're ever too young – we started traveling with Morgan before her first birthday. Traveling with kids when they are very young does take a bit of a leap of faith, but we all know how fast children learn in their first 5 years. Why not give them the world as a classroom when they are most open to it? You may not see the benefits of this travel right away, it may be five, even ten years down the road, but I can tell you from experience, the benefits are there.

If you wait until your children are older, it can be hard to tear them away from their own lives, interests, and circle of friends. But it is never too late to start! One family I know took a trip with their kids just before they were off to college. It was a wonderful bonding experience, and now they're planning trips for all of their children's college vacations.
Q: Is My Little Swans for family travel only?
A: Not at all. I feel if you can turn family travels into marvelous experiences, you can do any type of travel well. Family trips are a specialty of course, but our partners can also help with weekend getaways, business trips, or a romantic holiday for you and your significant other. We can help you plan an entire vacation, or just provide those little insider details that make any trip more special. If you're in New York or London or Rome and need a restaurant recommendation, just go to our site.
Q: When do you start planning your next trip?
A: As soon as I get home from the last one.
Q: How do you choose a destination?
A: It varies. Sometimes the choice is driven by what one of the kids is studying in school. We booked a holiday in Greece when Emerson was studying Greek mythology. We booked a trip to Japan because Morgan elected Japanese as her foreign language.
And there are places you just want to go to, like Africa. And so you go and you are never the same.
Sometimes you are drawn by a particular interest. My husband loves Middle Eastern art and architecture. He is quite a collector. So we booked trips to Morocco and Turkey.
Sometimes you just want to see one of the great wonders of the world. So we went to see the pyramids and monuments in Egypt.
Or you want to go on a mild adventure trip and see some of the most spectacular natural wonders of the world. So we went to Argentina.
Sometimes it is just something you love to do. We love boat trips. A great family experience, and really easy. Pack very little. Unpack once. Sail or motor to a new place each day. We've gone to Alaska, the British Virgin Islands, Greece and Turkey.
Q: What's on your next trip wish list?
A: It's a long list, but my top five would be: Indonesia, Vietnam, Cambodia, Thailand and Namibia.
Copyright 2013 MyLittleSwans, LLC. All rights reserved. My Little Swans, the logo and Share a world of experience are registered Trademarks of MyLittleSwans, LLC. Use of this site constitutes acceptance of our Terms of Use and Privacy Policy.