Reef Experiences
Australia's Great Barrier Reef is the most famous reef system in world, let alone the country – and deservedly so. But the fact that Australia is surrounded on all sides by ocean, much of it tropical, means there are a number of other excellent places to observe marine life. Lord Howe Island, off the coast of New South Wales, is sheltered by the world's most southerly coral reef – its pristine waters are home to over 500 species of fish. The Ningaloo Reef, off the coast of Western Australia, features many of the same colorful species as those commonly seen in the Great Barrier Reef and some that are not, such as the gentle whale shark.
topLord Howe Island
Less than two hours by air from Sydney, Lord Howe is an unspoiled island sanctuary, listed as a UNESCO World Heritage Site for its exceptional beauty and biodiversity. Getting there is easy – QuantasLink offers year-round scheduled flights from Sydney most days, and from Brisbane on weekends. Only four hundred guests are permitted on the island at any one time in order to preserve this precious habitat. The surrounding reef houses a huge variety of tropical and sub-tropical fish, corals, turtles and other marine life. There are fantastic scuba diving sites a short boat ride away, but you can also snorkel right near the beach. We were there for the '09 Christmas holiday, during the Australian summertime, when temperatures averaged a balmy 78 degrees. We were originally planning on Lizard Island in Northern Queensland, but concerns about rainy weather and jellyfish made Lord Howe a better option this time of year. I liked that the island was so convenient to Sydney and loved being able to snorkel in a protected lagoon just off shore (so did the kids!).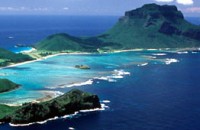 Aside from the attractions of the reef, the island also offers great fishing, prime birdwatching, gorgeous beaches, and scenic roads perfect for biking. The 7 x 1 mile island is laced with walking trails that wind through banyan and palm forests and reward you with spectacular cliff-top views – the climb to the summit of Mt Gower is rated as one of the world's best day walks. Or, go on a journey of discovery with a world-renowned naturalist. There's a 9-hole golf course, a lawn-bowling green, tennis courts…your family will never lack for things to do.
The island's small size makes it easy to get around by bicycle and golf cart. Boat excursions leave from the jetty near the island's tiny settlement. We went out snorkeling in the lagoon, and one day took a trip out to Ball's Pyramid, the world's tallest volcanic stack. We couldn't quite reach it due to rough seas, so we stopped for some catch-and-release shark fishing. Within minutes, both my boys had hooked big sharks! Another day, we fed large but friendly kingfish, who come right up to you in the shallow water at Ned's Beach. There's great body surfing at Binky Beach, and nine other pristine beaches to enjoy.
If we go back, we'll visit the sea turtles in North Bay, or maybe take a birdwatching tour. I was captivated by the local birds we saw nesting low in the trees, showing no fear of us, even though their downy chicks were in plain view. The island really felt like an undiscovered paradise, with its crystal waters and lush hills beckoning you to explore – a very relaxing place to start off our holiday.
topAccommodations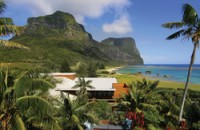 Located on the secluded southern end of the island, Capella Lodge commands panoramic ocean, lagoon and mountain views. The lodge sets new standards of exclusive luxury and contemporary style, offering beach-style accommodations with just nine suites, a high level of personal service, exceptional dining and the option to enjoy a range of activities during your stay.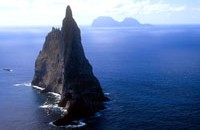 Ball's Pyramid
The world's largest volcanic sea stack, this 1,844-foot spire rises like a fairy-tale castle from the water 13 miles southeast of Lord Howe Island. It's a renowned dive site and the home of the Lord Howe Island stick insect, possibly the rarest insect on earth.
Lagoon Road at Middle Beach Road
Tel: 02 6563 2111
Email: lhimuseum@clearmail.com.au

This small but fascinating museum features a range of innovative displays about the island's environment and history. There is also a learning and scientific center and a visitors center, which provides information about activities, events and dining on the island.
topGreat Barrier Reef
The only living thing visible from space, the Great Barrier Reef is the world's largest reef system, stretching over 1800 miles along the northern coast of Queensland. Sprinkled with hundreds of tropical islands and blessed with an extraordinary diversity of corals, fish and other wildlife, it's a hugely popular travel destination. Finding a truly private and undiscovered place to stay is an ongoing challenge, but we've listed some newer high-end properties that still feel like hideaways. If you love sea life, gorgeous beaches and turquoise waters, this really is nirvana. Most activities are centered around diving, snorkeling, water sports, and relaxing on the beach or at your resort. Excursions are also available to the nearby national parks and rainforests. The best time to visit is in the Australian winter (Jun-Aug). During the wet season (Nov-Mar), rain can put something of a damper on your activities, especially in the far north – jellyfish can also be a problem near the northern coastal beaches during these months. If you do travel here in the wet season, staying to the southern part of the reef will help ensure better weather.
Cairns is the gateway to our featured resorts (with the exception of Wilson Island, which is closer to Gladstone). The only true city in the region, Cairns has an international airport but not much in the way of beaches or sightseeing. The resorts are widely spread along the reef; some can be reached by ferry or car from Cairns – others (generally the more exclusive ones) are a good distance from Cairns and are reached by charter plane, private launch and/or helicopter. It's important to keep their location in mind when making your plans.
topAccommodations
We like to stay in small, private resorts that feel like getaways. These high-end resorts usually have a very limited number of rooms, and many have strict policies about not taking children under 12 years of age. Your relationship with your travel partner will be crucial in helping you select the right property, finding availability, getting access, and seeing if they will be flexible about the under-12 policy.
44 miles northeast off the coast from Gladstone, Queensland (Gladstone is 331 miles north of Brisbane, 751 miles south of Cairns)
Located on the southern part of the Barrier Reef, this private resort on a tiny, secluded coral cay offers instant access to the reef and white sand beaches. Stylish tent accommodations for a maximum of 12 guests add to the feeling of an island hideaway. No one will want for creature comforts here, but the real draw is the pristine natural setting, including breeding grounds for turtles and rare birds. Guest can enjoy world-class snorkeling right off the beach, paddle a glass-bottom kayak around the reef, or just relax in a hammock and take in the view. Transfers are available to Wilson Island from Gladstone via Heron Island. Quantas runs regular flights to Gladstone from Australian capital cities.
Note: Children 12 years and under are not catered for on Wilson Island. The resort is closed every year during the month of February for the bird-nesting season.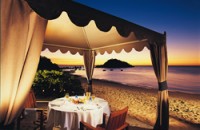 149 miles north of Cairns and 16 miles off the North Queensland coast
Australia's northernmost island resort, and a national park, Lizard Island offers 40 villas, all with beach or ocean views. It's not as super-luxe as some other resorts, but there's plenty to recommend it – it's right on the reef, with great snorkeling right off the powdery-white beaches, the food at the restaurant is exceptional, and the nearby ribbon reefs are known for some of the best big-game fishing in the world. One of the all-time favorite snorkeling and diving spots here is the famous Cod Hole, well-known for its friendly underwater inhabitants, including the Potato Cods and the Maori Wrasse.
Regular scheduled flights are available from Cairns – private charter flights can also be arranged. Note: Children under 12 are not catered for.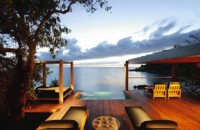 2.5 miles off the North Queensland coast, midway between Townsville and Cairns
Complete with in-room spa treatments and exquisite dining, this intimate luxury resort is a real escape. The 16 secluded villas are surrounded by rainforest – we recommend the Pavilion suites, with their soothing minimalist décor. Motorized dinghies are on hand for exploring local beaches, and there are also snorkeling, diving and game-fishing excursions available. The resort has two pools and a tennis court – nearby Dunk Island offers golfing, horseback riding, rainforest walks and other activities.
Regular scheduled flights are available from Cairns to Dunk Island – a courtesy boat to Bedarra will meet all transfers. Note: Children under 12 are not catered for.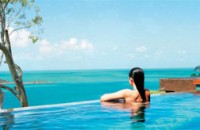 Hamilton Island (off the coast from Arlie Beach, North Queensland); a 1-hour flight from Cairns or 2 hrs from Sydney
Built in 2007 and located on the northernmost tip of Hamilton Island in the Whitsundays, this 60-room resort is understated and sophisticated, with wonderful views of the Coral Sea and excellent service. The best bungalows are the Windward pavilions, each with a private plunge pool. Two restaurants serve up innovative modern Australian cuisine, and the tranquil spa offers a variety of treatments. More ambitious guests can tour the island in their personal golf buggy; catamaran cruises, snorkeling, scuba diving, and beach excursions are also available. Adults-only property.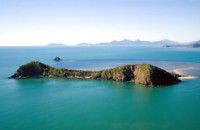 Palm Cove, Queensland (20 min drive north of Cairns + 20 min launch ride)
Located off-shore from Palm Cove and accessible only by launch or helicopter, this 20-room resort offers peaceful seclusion in a comfortably chic environment. Luxurious open-plan villas, spacious decks overlooking the Coral Sea, and a magnificent heated pool add to the serenity; the internationally renowned restaurant serves fresh regional cuisine. Activities include catamarans, canoes, a unique outdoor cinema, and diving and boating charters.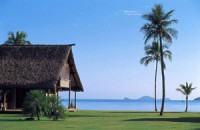 On the mainland just north of Arlie Beach, North Queensland
An exquisitely appointed jewel on the mainland near the Whitsundays, this 4,000 acre property is surrounded by miles of untracked national parkland. Privacy is the key word here, from the luxurious thatched huts housing a maximum of 14 guests, to the private lake, roads, and beach all ready to be explored. Fishing, quad and mountain bike tours, canoeing, and waterfall walks are available – scuba excursions and lessons, deep sea fishing, windsurfing, paragliding and a host of other activities can be arranged.
Accessible via Hamilton Island (10 min flight + 20 min drive) or Proserpine Airport (25 min drive). Note: This resort is not located on the reef.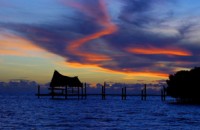 370 miles north of Cairns
A remote paradise near the tip of Cape York, this resort offers three thatched-roof dwellings, each right on the white-sand beach. It's a true Robinson Crusoe experience in a virtually uninhabited part of Australia. Two clear lagoons provide great snorkeling and diving just off the beach; fishing and birdwatching are top-notch. Helicopter tours of the reef and to waterfalls and estuaries on the mainland are also available.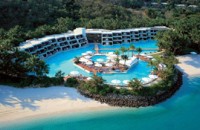 Accessible via private launch, seaplane or helicopter from Hamilton Island airport
Located on the most northerly of the Whitsunday Islands, this luxury resort is listed as a Leading Hotel of the World. Accommodations include 212 rooms, suites, and penthouses, and a Kerry Hill-designed private residence; eight new beachfront villas were opened in Dec 2010. The reseort also features five restaurants and a full-service spa. Things are done on a large scale here, and some may find it rather over the top. It is very child-friendly, though. To get to the resort, guests fly into Hamilton Island ( a 1-hr flight from Cairns, 2 hrs from Sydney), where a member of the Hayman team will arrange transfer to Hayman.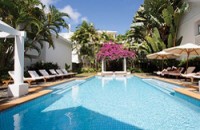 99 Williams Esplanade, Palm Cove (25 min drive north of Cairns)
Though it's not on an island, this relaxed, sophisticated boutique hotel overlooking the Coral Sea is still a wonderful getaway. The resort features 69 guest rooms and individually designed suites, each with private balconies. The high standards of luxury and service continue with an award-winning restaurant, an internationally acclaimed spa, and an in-house tour specialist. Three pools, beachfront location.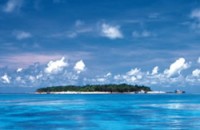 Green Island, Queensland
Accessible via high-speed catamaran from Cairns, this five-star resort on a coral cay offers 46 luxurious suites with private balconies. The boat traffic around Green Island means the coral isn't as spectacular here as other, less accessible islands – however, the resort prides itself on being one of the most eco-sensitive tourist centers in the world. Island activities include snorkeling and diving, windsurfing, parasailing, glass-bottom boat tours and rainforest walks.
topActivities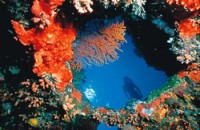 Snorkeling and Scuba Diving
With over 2,000 species of fish and the world's largest collection of coral, the Great Barrier Reef offers some of the best, most fascinating scuba diving and snorkeling anywhere. Snorkeling and diving excursions are available at nearly every resort; due to their popularity, it's wise to book ahead. If you aren't scuba-certified, diving schools are plentiful in Cairns and along the coast. Some – though not all – of the island resorts also offer instruction.
Game Fishing
Northern Queensland is renowned for its game fish – the Cairns region has been called the "Black Marlin Capital of the World," and Blue Marlin and Yellowfin Tuna are also plentiful. Sep-Dec are the best months for game fishing.
Copyright 2013 MyLittleSwans, LLC. All rights reserved. My Little Swans, the logo and Share a world of experience are registered Trademarks of MyLittleSwans, LLC. Use of this site constitutes acceptance of our Terms of Use and Privacy Policy.