Outback Experiences
Made famous in movies like The Adventures of Priscilla, Queen of the Desert, The Proposition, Rabbit-Proof Fence and most recently, Australia, the Outback captures imaginations with its remote but striking landscapes, famously huge cattle drives, and a harsh, arid climate that has produced a variety of unusual wildlife. One of the best ways to experience the bush is with a stay at an Outback homestead, often a working cattle or sheep station. You can participate in the work or just relax and enjoy the surroundings, depending on your interest and the type of accommodation. With the exception of Tasmania, all of Australia's states and territories have their portion of Outback, so an excursion can be added easily to most itineraries. Though the terrain in the different regions can vary, they each offer a taste of the true bush lifestyle.
topSouth Australia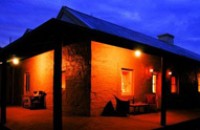 Flinders Ranges (311 miles north of Adelaide)
Though all of these stations and homesteads have their charms, we chose this one for its proximity to Kangaroo Island and its incredible location. Surrounded by the spectacularly rugged Flinders Ranges, this retreat offers the chance to become part of the life of a working sheep station. The original part of the homestead dates from the 1860's, when pioneering graziers first drove their flocks into the Flinders Ranges. A classic of Australian vernacular architecture, it's a comfortable but civilized place, where farm animals wander around like pets.
The warm and friendly hosts, Ian and Di Fargher, offer true bush hospitality and treated us as members of the family – it was a very personal, unique experience. Ian is the fourth generation of his family to run sheep at the station, and he and Di are models of Outback self-sufficiency, where everyone learns to drive and fly at a young age, out of necessity. Di does all the cooking; Ian will gladly take you on an arial tour of Wilpena Pound, a famed natural amphitheater, or lead you on a bush walk, or drive you to a high peak for microbrews at sunset. To my boys, he was like a long-lost uncle, teaching them to drive and shift his ancient jeep and taking them for rides on his dirt bike. Depending on the season, you can witness the daily activities of the station, including mustering, sheep shearing, and bore runs. We had just missed the region's big annual rodeo, and were a few weeks late for the sheep-shearing competitions, but we had plenty to keep us occupied - bottle feeding the baby sheep, skipping stones, visiting Aboriginal rock sites, and being continually astonished by the magnificent landscape, carved and folded over millions of years.

Angorichina offers two private en suite guests rooms sleeping up to two guests each. For single parties booking the station exclusively, it's possible to utilize additional rooms in the homestead for up to 8 persons in total (shared bathrooms).

Carrieton Rodeo – Last Saturday in December
Sheep Shearing Competitions – Late Nov-early Dec
topWestern Australia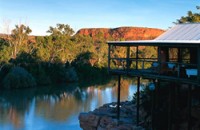 62 miles west of Kununurra
El Questro is an exclusive retreat overlooking the magnificent Chamberlain Gorge in north Western Australia. Offering true luxury within the wild Kimberly frontier, this million-acre homestead features six private, well-appointed rooms and suites, a tennis court and swimming pool, and excellent cuisine served in your choice of scenic locations. Activities are available at all levels of adventure – boating the Chamberlain Gorge, horse trekking in the bush, fishing, bird watching, 4WD or helicopter tours to remote gorges and waterfalls, or simply relaxing in the nearby thermal springs. Please note: El Questro does not cater for children 12 and under. Minimum stay 2 nights.
topNorthern Territory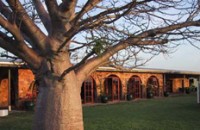 90-minute flight from Darwin
Home to 9000 Brahman-cross cattle, as well as wallabies, dingoes and crocodiles, this working cattle station is the real deal. Bullo is located in the northwestern corner of the Northern Territory, within a bend of the Victoria River; the best way to get here is by charter flight from Kununurra or Darwin. Activities include cattle mustering and bull catching (seasonal and subject to availability) and horseback riding (subject to ability; experienced riders only). While Bullo offers real involvement with the daily life of the station, you can also choose from a range of leisure activities: the area offers some of the best fishing in Northern Australia, and there are fascinating Aboriginal rock sites to be explored nearby. Helicopter tours are also available to secret waterfalls and watering holes, or for a day trip to the Bungle Bungles. 12 double en suite guest rooms, swimming pool, informal meals.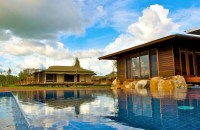 Just outside Kakadu National Park
Wildman Wilderness Lodge offers an extraordinary wetlands safari experience, situated in the Mary River Wetlands area half way between Darwin and Kakadu National Park. Recently opened in April 2011, Wildman is a small-scale, high quality safari lodge featuring a variety of boutique and environmentally sensitive touring options, including tours of Kakadu National Park and cruising on the Mary River. Its teeming wildlife and unique tours a world far removed from your own, yet with all the modern comforts of great accommodation, delicious meals and wine to enjoy at the end of each day.
topQueensland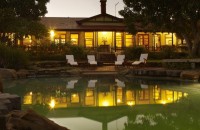 2 hr drive from Brisbane
Overlooking the Great Dividing Range and Main Range National Park, this secluded, mountain-top retreat is the highest non-alpine lodge in Australia and just two hours' drive from Brisbane but with the stunning views and rolling mists, it feels a world away from everyday life. The nearby Granite Belt region is the wine capital of Queensland so be sure to schedule a tasting tour. The Lodge also offers a world-class Restaurant and Spa.
topNew South Wales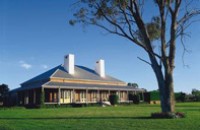 Central NSW (270 miles west of Sydney); 1 hr drive from Parkes airport
This magnificent country estate is located on a fully operational cattle station, famous for its beef. The homestead and lodges were inspired by the classic traditions of colonial Australia, and offer a blend of luxurious comfort, simplicity and style. Twelve suites within the four boutique lodges offer accommodation for up to 24 guests. One of the most popular activities here is touring the station on a quad bike; you can also visit the nearby Yarrabandai billabong, home to a wide variety of birds and wildlife. At night, the exceptionally clear skies make stargazing here an unforgettable experience. The resort features a pool, driving range and tennis courts – hot air balloon rides and spa treatments can be arranged. Burrawang also enjoys a strong relationship with the local Aboriginal people – guests can experience a traditional Corroboree gathering or learn to play the didgeridoo.
topVictoria
Border of Grampians National Park (3 hrs west of Melbourne)
With its beautifully appointed rooms, stylish hand-crafted furniture, and lush mountain setting, Meringa Springs seems light years away from the harsh Outback of legend. But rest assured, this is truly the Australian bush, home to a rich diversity of flora as well as kangaroos, koalas, bandicoots and other wildlife. Opened in 2003, this five-star luxury lodge offers villas and king rooms for a maximum of ten people; local and visiting chefs prepare a mix of Australian and international cuisine. Neighboring Grampians National Park is a treasure trove of stunning rock formations, gorges, and waterfalls, including impressive MacKenzie Falls. Bushwalks, rock climbing and horse riding are available near the lodge.
Copyright 2013 MyLittleSwans, LLC. All rights reserved. My Little Swans, the logo and Share a world of experience are registered Trademarks of MyLittleSwans, LLC. Use of this site constitutes acceptance of our Terms of Use and Privacy Policy.