Unplug to Reconnect
Even on vacation, it can be difficult to relax and really immerse yourself in the experience if you're constantly being distracted by emails, texts, and the urge to check your stocks or your Facebook page. Sometimes, you need to get off the grid entirely, and go to a place where the day-to-day world can't reach you.
My family often heads to remote or exotic places on our trips—not only do we love wildlife and untamed landscapes, we also like how getting away from it all, brings us closer. Long conversations under the stars; games that involve cards or slingshots rather than video screens; entire days spent in the outdoors, followed by a well-earned feast and stories told around a fire; these are the components of some of our very best holidays.
One of my favorite ways to get offline is an African safari. By their nature, safari camps and lodges are in far-flung destinations—otherwise, you wouldn't see the animals! It often means you only have electricity a few hours a day, but that just adds to the experience, and harks back to the glamorous, grand days of touring. So far we've been to Tanzania, Botswana and South Africa, and I have my eye on Namibia and Zambia.
Of course, a safari doesn't have to take place in Africa. Through our partners, you can visit jungle lodges in Brazil, Peru, Nicaragua, Belize & Costa Rica, go to a tiger preserve in India, or spot kangas and dingoes in the Australian Outback. For bears, whales and glaciers, head north to British Columbia—our partner Nimmo Bay offers heli-fishing, helicopter adventures and wilderness safaris that make the most of their pristine coastline and forest. Great Alaska, on the Kenai Peninsula, can also take you to remote, stunningly scenic locations for fishing and bear watching.
And don't forget the wilderness under the sea. Lord Howe Island (off the coast of New South Wales, Australia), North Island (in the Seychelles) and Fernando de Noronha (off the northeast coast of Brazil) are wonderfully isolated paradises, surrounded by crystal-clear waters filled with marine life.
If you want an up-close, personal animal encounter, you might consider Abu Camp in Botswana. It's an African elephant sanctuary as well as a safari camp (making it unique in the world). Abu offers safaris by boat or by elephants. In Laos, there's the Xiang Lom Elephant Village near Luang Prabang, where you can interact with these gentle creatures and take an elephant trek into the surrounding jungle.
Boat trips are another of our favorite ways to get off the grid. Few vacations are more relaxing, but it's never dull because every day brings a new destination. We also love deserts—so still and peaceful, and yet teeming with life. My family has stayed in camps in the deserts of Jordan and Morocco, complete with traditional music, entertainment and camel rides. My kids would probably say that the sand boarding was the best activity!
Even in today's global society, it's still possible to find civilizations that live in traditional ways. For example, our Indochina partner can take you to visit remote Laotian hill tribes in places accessible only by boat. Or you can go trekking in the Himalayas with our partner Shakti, staying at traditional village houses each night and passing through rural villages each day.
Authenticity is something we all seek when traveling, and getting off the grid lets you truly stay in the moment and have deeper, more genuine interactions with the locals, with nature, and with one another. As our Nimmo Bay partner says, "Sometimes you have to unplug to reconnect."
New Destination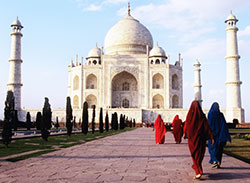 Our newest destination is perhaps the world's most diverse country, and certainly one of its most fascinating— India. I was there just recently, on the MLS Ladies' Trip, and I have rarely experienced such a rich and complex culture. Whatever you're interested in—luxurious hotels, beautifully preserved heritage sites, artistic masterpieces, phenomenal cuisine, incredible shopping, tiger safaris, yoga and wellness retreats, Himalayan adventures—you'll find it here. On our site, we focus mostly on my itinerary (Delhi, Agra, Jaipur, and Hyderabad, along with extensions to Khana National Park and Bhutan). Our tour included some of the most famous places in India, such as the Taj Mahal and Jaipur's Amber Fort. It was a truly remarkable trip, but we still only scratched the surface. Visit our destination pages for inspiration, then get in touch with our partner &Beyond to find out all the other possibilities India has in store.
New Partner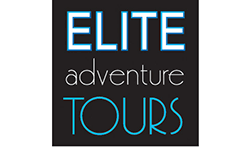 When my husband Terry and son Ali went for a father-son weekend in Los Angeles, they spent a full day on a customized, private tour with Elite Adventure Tours. Their driver/guide (who was also a professional photographer) took them to all the top sights of Hollywood, from Paramount Studios to Grauman's Chinese Theater, and they had a marvelous time. We are pleased to welcome Elite Adventure Tours to our partner network. In addition to luxury ground tours, Elite also offers private helicopter and yacht charters—their most popular tours combine air and ground services for a truly one-of-a-kind experience. Their knowledgeable guides will take you anywhere you want to go, from celebrity neighborhoods, to the Hollywood sign, to the beaches and coast, or even on a helicopter trip to a private winery and estate in Malibu. Their philosophy is that every one of their clients is a VIP, and whether you go to Los Angeles frequently or are seeing it for the first time, they will show you a side of LA that few visitors get to enjoy.
Photo Contest
Our photo contests continue to be successful thanks to our members! Please send in your submissions starting now up until May 31, 2012. Each month, we'll select the best and most compelling images and post them on our photo contest page. In early June, the grand prize winner's name will be drawn from the monthly winners. Once again, the prize is either an iPad3 or a G12 camera (winner's choice). If you have an amazing image to share, please send it in. To see the winning photos from earlier this year, please visit the Photo Contest page on My Little Swans.
Warm Regards,
Katrina Garnett