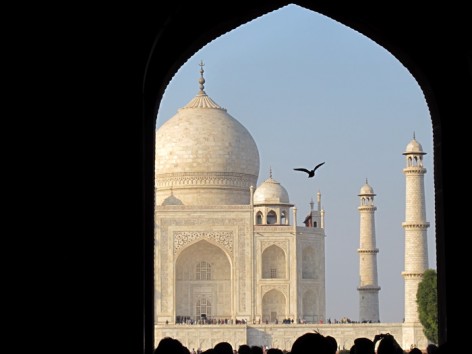 GeoStats:
Official Name: Republic of India
Population: Approx. 1.2 billion
Capital: New Delhi
Predominant Religions: Hindu (80%), Islam
Predominant Languages: Hindi, English
Time Zone: GMT less 5 ½ hrs
Voltage Requirements: 220 to 240 volts, 50Hz
Telephone Codes: 91, country code; 11, city code for New Delhi; 562, city code for Agra; 141, city code for Jaipur; 40, city code for Hyderabad
Overview
It would be difficult to find another country on earth as diverse as India. The immense variety of its landscapes – from the snow-capped Himalayas, to the nearly rainless Thar Desert, to the green forests of Cherrapunji, one of the wettest places on earth – has helped create a civilization filled with striking contrasts. The population of over a billion people encompasses nearly two dozen official languages, hundreds of dialects, and a wide range of religious beliefs. Hinduism is ever-present in the sacred cows roaming the streets and statues of deities everywhere, but you'll also find enormous mosques and minarets, Jain temples and Buddhist shrines. India's cultural and physical diversity shows up in its regional cuisine as well, flavored by long-standing traditions, religious preferences, and local spices, seafood, meat and produce.
One of the sharpest contrasts in India is between past and present. The country's history is long and eventful, filled with one influential dynasty after another and scattered with foreign invasions and conquests. Independence and modernity are relatively new, and India's growth as an economic and technological power has been dizzying. But folk traditions are also alive and well. Bazaars and markets sell high-quality local handicrafts, and colorful festivals occur regularly throughout the year, featuring traditional dance, music and religious rituals.
I have long been fascinated by India, and made my first trip here a few years ago, for a wedding in the south. Recently I returned, on a My Little Swans-hosted ladies' trip that focused on the north and central parts of the country. Our itinerary covered Delhi (Old and New), Agra (home of the Taj Mahal and Agra Fort), Jaipur (the so-called "Pink City," capital of Rajasthan) and Hyderabad ("City of Pearls"). When we weren't feasting our eyes on opulent tombs and palaces, or overwhelming our senses with the dazzling array of items to buy, we were indulging our palates with amazing cuisine from all over the country. We toured seven World Heritage sites, tried our hands at elephant polo, and enjoyed traditional dance performances and craft fairs. But what impressed me the most was the richness and variety of the culture. Rarely have I experienced so many layers of history, such a range of lifestyles, and such juxtaposition between calm and chaos. Centuries of living in close quarters and rubbing shoulders with others of different walks of life have given the Indian people a tolerance, serenity and cheerfulness that I found unique. Their philosophy seems to be, "What you have doesn't own you."
Whether you're traveling for your body, heart or mind, India has it all – spiritual retreats, tiger safaris, Himalayan treks, fine hotels, exceptional cuisine, and some of the best-preserved heritage sites in the world. Making a journey here is powerful, inspiring, stimulating, life changing, and an experience I'll never forget.
Copyright 2013 MyLittleSwans, LLC. All rights reserved. My Little Swans, the logo and Share a world of experience are registered Trademarks of MyLittleSwans, LLC. Use of this site constitutes acceptance of our Terms of Use and Privacy Policy.