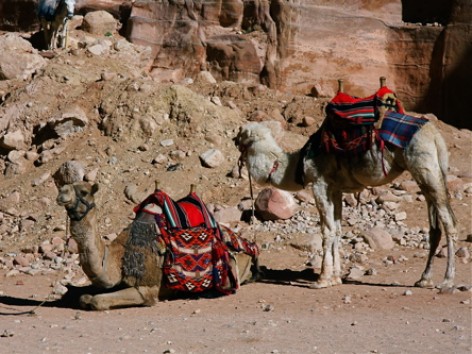 GeoStats:
Official Name: Hashemite Kingdom of Jordan
Passport/Visa Requirements: US citizens need both a passport and visa
Capital: Amman
Population: 6,053,193
Languages: Arabic, some English and French spoken
Predominant Religions: Islamic, small Christian minority
Time Zone: 2 hours ahead of Greenwich Mean Time (+2 GMT), 7 hours ahead of Eastern Standard Time
Currency: Jordanian Dinar
Voltage Requirements: 220 volts
Telephone Codes: 962, country code; 2, Amman city code
Overview
Largely landlocked and mostly desert, Jordan also contains portions of the fertile Jordan River and the coral-rich Gulf of Aqaba, and has been home to numerous ancient civilizations. Now a constitutional monarchy, it's one of the most liberal countries in the region, but still very Arabic in flavor. For many travelers, Jordan is synonymous with Petra, the famous lost city. While no visitor should miss this awe-inspiring place, Jordan offers plenty of other cultural and geological treasures. During our five days here, we visited wind-carved wadis, Greco-Roman ruins, historic biblical sites and ancient Christian churches, and still didn't see it all. We spent most of our time exploring the capital city of Amman and the deserts of central and south Jordan – we were completely fascinated by Petra, but our day in Wadi Rum, complete with petroglyphs, camel rides and lunch at a Bedouin camp, might have been the kids' favorite.
Copyright 2013 MyLittleSwans, LLC. All rights reserved. My Little Swans, the logo and Share a world of experience are registered Trademarks of MyLittleSwans, LLC. Use of this site constitutes acceptance of our Terms of Use and Privacy Policy.