Fall and Winter Travel Ideas
Now that summer's over, it's time to think about the upcoming seasons. With the kids in school, fall is ideal for a holiday with your spouse or a group of friends—and it's not too soon to get your plans in motion for winter break. How to decide where to go? We say, follow your passions.
If You're Happiest on the Seat of a Bike…
Indochina Travel Company has a number of family-friendly Vietnam cycling trips, from the Mekong Delta, with its floating markets, to the Mai Chau Valley, with its welcoming hill tribes. Backroads also has a variety of trips for fall and winter—you can cycle from verdant rain forests to black lava fields on Hawaii's Big Island, or thrill to the dramatic, curving roads and Mediterranean vistas of Mallorca, to name just a few. Wherever you choose to go, touring by bike will give you a fresh perspective on the landscape and endless opportunities to interact with locals.
If You're Hearing the Call of the Wild…
Go on an African safari, and be forever transformed. We took both of our safaris (to Botswana and Tanzania) over Christmas breaks—it was the green season in the Ngorongoro Crater and Okavango Delta, which meant lush landscapes and lots of baby animals, and we added on unforgettable visits to see the chimps in Tanzania's Mahale Mountains and watch leatherback sea turtles lay eggs in Rocktail Bay, South Africa. To view unique species that exist nowhere else, visit a remote island like Madagascar or the Galapagos. Or for sheer biodiversity, head to the jungles of Costa Rica. 25% of Costa Rica's land is protected, creating thriving habitats for monkeys, sloths, sea turtles, wild cats and tropical birds.
If You Think Variety is the Spice of Life…
You'll never be bored in New Zealand. There's so much to see and do here: dolphin and penguin encounters, glacier hikes, Maori feasts, rafting a subterranean river, cruising a fiord—the list goes on and on. When we visited, we spent most of our time in the North Island, staying at an amazing house in the Bay of Islands (which are a famous sailing destination), trout fishing on Lake Taupo (one of the largest lakes in the Southern Hemisphere), and taking helicopter flights over the coast. We were there while Auckland was hosting the America's Cup and the Lord of the Rings was being filmed. If you go, why not anticipate next year's America's Cup in San Francisco by sailing on an America's Cup challenger yacht in Auckland? Or, take a LOTR-themed tour in preparation for the first Hobbit film, due in theaters this December.
Argentina offers innumerable possibilities as well—our trip there was one of our favorites due to its variety, from horseback riding with gauchos on the pampas, to hiking the Perito Moreno glacier in El Calafate, to zip-lining at Iguazu Falls. We loved the stunning beauty of Patagonia and the Lake District, but Northwestern Argentina has its own share of breathtaking landscapes: the brilliant Mountain of the Seven Colors, the famous Salinas Grandes salt flats, and rolling vineyards backed by the towering Andes in Salta and Cafayate.
If You Want to Explore Eastern Cultures…
See the famous terracotta warriors in Xi'an (my son Emerson's favorite), or take a calligraphy class in Beijing. Enjoy the dazzling fall colors in Kyoto, or get a glimpse at the life of a sumo wrestler at the sumo stables in Tokyo. Go on an elephant-back safari in Nepal, or experience one of Bhutan's exuberant autumn festivals. Fall means great weather in Japan, China, Bhutan, and Nepal—but you might also consider visiting China in winter, as we did, when the crowds are thinner.
The late fall and winter months are also ideal in most of Southeast Asia and much of India (the weather was quite pleasant during my visit to India last February). The palaces and forts of Rajasthan, Agra, and Hyderabad will astound you with their opulence—but you might be equally impressed by the magnificent temples of Angkor Wat in Cambodia, Luang Prabang in Laos, or Bagan in Myanmar.
If You Think Summer's So Nice, You Should Enjoy It Twice…
Do as we did a few years back, and go Down Under—Sep-Dec is the perfect time to hit the beaches of Sydney or Lord Howe Island, learn to surf at Noosa Heads, or spot kangas amidst abundant wildflowers on Kangaroo Island and the Flinders Ranges. Or, explore the pristine reefs of Fernando de Noronha, a diver's and nature-lover's paradise off the northeastern coast of Brazil—then enjoy the stunning Colonial architecture and vibrant Afro-Caribbean culture of Salvador de Bahia, which is warm and tropical year-round (we suggest going in January for the annual Bonfim festival).
If You Love Finding the Perfect Holiday Gift…
Take a bespoke shopping tour of Beijing and Shanghai, where you'll visit traditional markets and designer boutiques accompanied by a local fashion expert. Or plan an excursion to New York, every shopper's dream come true—our partner Discover New York can provide insider access to designer showrooms and sample sales in the city's famous Garment District.
If You're a Wine Enthusiast…
Take a tour of South Africa's spectacular Cape Winelands, in the company of a Master of Wine. Or head to another emerging wine destination—South America. Argentina's Mendoza region is duly famous, but the Salta region, in the far north of Argentina, is exciting in its own right, home to the highest vineyards in the world (as well as the oldest wineries in the country). Chile's wine country is also generating buzz—this scenic region at the foot of the Andes is about an hour's drive from Santiago.
If You Want to Start the Year Off with a Bang…
Ring in 2013 with a truly magnificent fireworks show—we've seen some of the world's most impressive New Year's Eve displays, in China, Buenos Aires, Sydney, and Cape Town. Or get a taste of Imperial splendor with a gala New Year's ball at Catherine Palace, and experience St. Petersburg under a magical dusting of snow.
Upcoming Event
Friday, November 9
Please join us in Hillsborough, CA for a day of global inspiration. Two of our partners—one from India and one from Africa—will be attending.
Jaisalmer Trunk Show
11am-4pm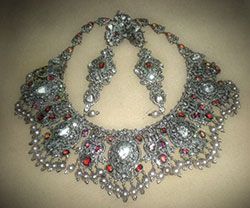 Start your holiday shopping with our trunk show featuring Jaisalmer Fine Indian Jewelry. Ranging from fashionable everyday wear to jewels for the most special occasions, these one-of-a-kind pieces are inspired by the unique designs of Indian jewelry, exquisite craftsmanship, and the beauty of finely cut and polished gems.
"Dreams of Africa"
4-8pm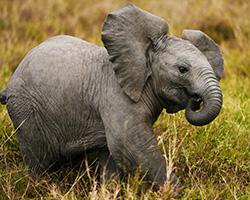 Enjoy enthralling stories and mesmerizing photos presented by Jan Kortland of Royal African Safaris. An East Africa native, Jan has been guiding safaris in Tanzania for 25 years. He'll be telling us about two extraordinary new Tanzania adventures, filled with unforgettable experiences like lion tracking, encounters with the Maasai, and a hot air balloon ride over Tarangire National Park.
If you live in the San Francisco Bay Area or will be traveling here around that time, please keep this date open—we hope to see you there. We'll be sending out more information to you in the coming weeks.
Photo Contest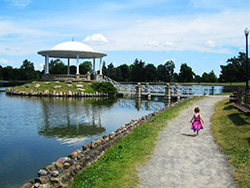 We're accepting submissions for our second 2012 contest. Send in your photos up until November 30, 2012—we'll be holding our next drawing in early December. As in previous contests, the prizewinner's name will be drawn from the monthly winners. The winner will have a choice of prizes—an Apple iPad or a BlackBerry PlayBook! To see the selected photos from earlier this year, please visit the Photo Contest page on My Little Swans.
Warm Regards,
Katrina Garnett