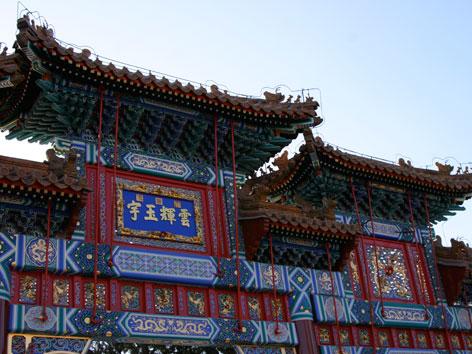 GeoStats:
Passport/Visa Requirements: US citizens need both a valid passport and visa
Capital: Beijing
Population: 1,338,612,968
Languages: Mandarin is the primary language although it has several regional dialects. In Hong Kong Cantonese and English are most common.
Predominant Religions: China is officially atheist, but Buddhists, Taoists, Lamaists, Muslims and Christians continue to practice their religions.
Time Zone: 8 hours ahead of Greenwich Mean Time (+8GMT), 13 hours ahead of Eastern Standard Time (+13EST).
Voltage Requirements: 220 volts
Phone Codes: 86, country code; 10, Beijing city code; 21, Shanghai city code; 852, Hong Kong city code
Overview
No place on earth shakes up a Westerner's worldview more profoundly than China. Isolated from the West until the 19th Century, this 5,000 year-old country and its 1.3 billion people cherish a strong national identity – as well as a treasure trove of tourist attractions. In Beijing, the image of Chairman Mao still peers over the infamous but breathtaking Tiananmen Square, and the wonders of the Last Emperor and the Great Wall rate high atop every visitor's must-see list. In Xi'an you'll find an underground vault filled with life-sized terracotta soldiers that China's first emperor built so he could go on to rule in the afterlife. Shanghai, the world's reigning "it" city, dazzles newcomers with an incredible proliferation of high-rises and trendy young capitalists, but the city also boasts Frenchtown and the riverside Bund area where the ghosts of colonialism and the 1920's "gangsters, jazz and opium" culture haunt the city streets. And in Hong Kong, visitors shop for antiques, electronic gear and Cantonese food amid skyscrapers ringing the beautiful harbor and narrow neon-lit alleys.
It's no wonder that a child once ruled the Forbidden City. From the Great Wall's towering perches, to the ubiquitous boat-rides, to the last remaining bamboo-chomping pandas; China seems to have been designed with families in mind. And talk about different! Everything from the toys to the cuisine will prove to be a new experience. Our kids were especially fond of the dumplings, a northern specialty. Besides taking in the major Beijing sites and performances, such as the Beijing Opera, acrobats, and the Shaolin monks (who invented Kung Fu), the kids also took classes in calligraphy, and visited classes in ballet, and acrobatics. In the wake of the Beijing Summer Olympics, classes at the Sports Training Institute are more famous than ever. Shanghai offered further amusement in the form of temple rubbings and a silk factory with its resident worms. Finally, Xi'an's Terracotta Army went over even better than expected. And once home, the kids got a really unique treat – we had a life-sized terracotta soldier shipped back as a souvenir.
Copyright 2013 MyLittleSwans, LLC. All rights reserved. My Little Swans, the logo and Share a world of experience are registered Trademarks of MyLittleSwans, LLC. Use of this site constitutes acceptance of our Terms of Use and Privacy Policy.