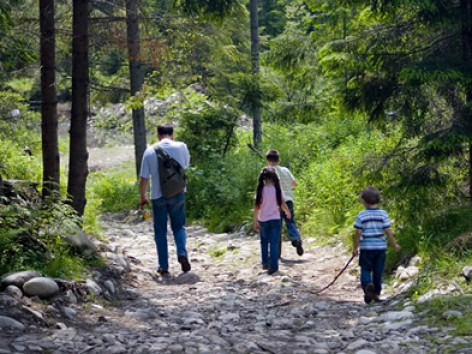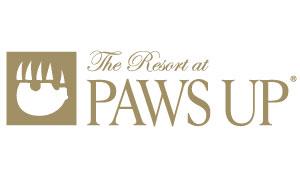 Partner:
Paws Up
List of Destinations:
Summer & Fall Activities
Adventure is abundant in Montana's Rocky Mountains at any time of year. And since the warm summer days in Montana never seem to get dark, you can fill your vacation with hundreds of moments you'll never forget. With spectacular lakes and rivers and over a hundred miles of hiking, biking and horseback riding trails, Paws Up offers just about any activity under the Big Sky sun.
topEquestrian Excursions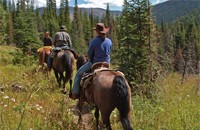 Saddle up with one of our private wranglers for a scenic horseback ride through the pristine Montana wilderness. Follow the Aspen Grove Trail through ancient Ponderosa pines, take in historic sights and spectacular views on the "Big Backyard" Tour, or explore the remains of a famous mining community on the Mining Ridge Trail.
Private equestrian rides and lessons are also available for both adults and children.
topLegendary Fly Fishing
The Resort at Paws Up is an angler's paradise, with a host of legendary rivers on or near the property. Surrounded by miles of breathtaking scenery, you'll stalk Rainbow, Brown, Cutthroat and Bull Trout, accompanied by guides who know every inch of the rivers.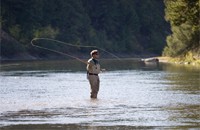 Available trips include:
Half-day or full-day fly-fishing float trip on the Blackfoot River and Clark Fork
Full-day fly-fishing float trips on the Bitterroot and Missouri Rivers
Unique, luxurious 5 or 7-day pack/float trips into the Montana backcountry with Paws Up Outfitters
topRiver Adventures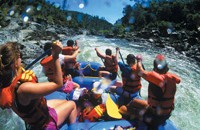 The legendary Blackfoot River is our "home water" – we have seven miles of it right on the resort, ready to be explored by canoe, raft or kayak.
"A Rivers Runs Through It" Tour
The Blackfoot has been immortalized in books and on the big screen – now you can pay homage to this majestic river your own way, on a scenic four-hour float trip.
The "Big" Blackfoot Kayak Tour
The spectacular Blackfoot is one of Montana's top whitewater streams (particularly during early summer). Your expert guide will lead you around rocks, boulders, rapids, pools and other obstacles for a thrilling downstream adventure. Kayaks are inflatable and kayaking instruction is available.
Alberton Gorge Whitewater Experience
This premier rafting run offers the finest, most reliable whitewater in the state of Montana, along with views of the Alberton Gorge's magnificent rock formations and dramatic rose-colored cliffs
Clearwater Canoe Cruise
Follow the beautiful meanderings of the Clearwater through dense forests and grassy marshlands, where you'll spot birds such as bald eagles, osprey, great blue herons, mergansers, loons, kingfishers and red tailed hawks.
topATV Tours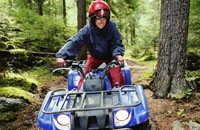 Both beginning and experienced ATV drivers will get a thrill out of the ATV adventures we offer. Our agile, brand-new Hondas have automatic transmissions, so you can concentrate on the scenery and the fun.
1.5 Hour Tour
This is a great way for newer drivers to explore the sights of our 60-square-mile ranch.
4-hour Tour
This technical excursion lets more experienced drivers step up the throttle on and off challenging trails and deep forest roads.
Garnet Ghost Town 5-Hour Tour
Just down the road from Paws Up, Garnet is one of Montana's best-preserved ghost towns. On this all-day adventure, you'll ride your ATV back to the 1800s – plus you'll enjoy incredible Montana scenery, a history lesson for all ages, snacks and a gourmet lunch.
topShooting Sports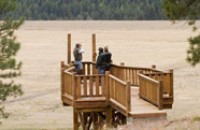 Test your marksmanship on our specially designed, 12-station Sporting Clays course – the clay targets cross, climb, zip in, fly out, or streak high overhead, accurately simulating the flight patterns of game birds.
If you're new to the sport, our Young Guns half-day adventure is designed to introduce those with little or no shooting experience to the thrill and challenge of sporting clays.
topRanch Activities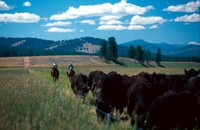 Cattle Drives
For the ultimate western experience, join an honest-to-goodness cattle drive. Both experienced and novice riders can take part in this unforgettable adventure, as you help experienced ranch hands round up cattle from the range and sort them at the corral.
Wagon Rides
There's no better way to end your day's activities than with a relaxing, scenic wagon ride through Paws Up Village. Sit back and enjoy the scenery as our team of horses takes you back to the days of old.
Junior Wrangler Program
At the Saddle Club, young riders aged 8-14 will enjoy a full day of adventure, learning skills such as catching, brushing/cleaning, saddling and bridling trail horses, proper horse mounting techniques, reigning and riding, draft horse harnessing and driving. Kids will also ride shotgun on a wagon ride, and will function as the "Junior Wrangler" for a trail ride.
topLake Activities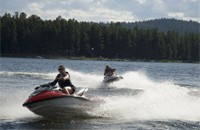 Part of the Clearwater Valley's "Chain of Lakes," 1,025-acre Seeley Lake is a water-sports nirvana. Zip around on your two-passenger Polaris personal watercraft, take a joy ride in our 19-foot Bayliner powerboat, or strap on your skis and kick up a rooster tail or two.
topRappelling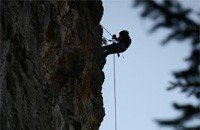 Imagine the rush of descending the sheer, 150-foot rock face of Lookout Rock, with our 37,000-acre ranch and the majestic Blackfoot River spread out below. We have all the gear necessary to make your descent as safe and secure as it is thrilling, with well-trained Paws Up guides attending to your every need. Whether you're a climbing expert or a newbie, this is one adventure you'll never forget.
topHot Air Ballooning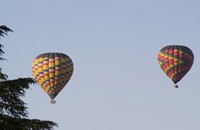 Float effortlessly over the historic Lewis and Clark route, watching eagles soar below you. Chase the balloon's sun-cast shadow as it glides over the spectacular Montana landscape. Hot air ballooning is an experience - hot air ballooning in the majestic Blackfoot Valley is the experience of a lifetime.
topGeocaching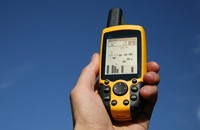 Put your explorer skills to the test with a fun, challenging high-tech treasure hunt. Using a hand-held GPS unit, you'll punch in coordinates, which will point you in the direction of a "cache" (a waterproof container with a logbook and a "hidden treasure"). These caches are hidden along the ranch's many scenic hiking trails. Once you find a cache, you'll sign the logbook, and help yourself to the treasure. You'll also leave something behind for future geocachers.
topKids Activities
The family-oriented Resort at Paws Up offers a big variety of supervised, age-appropriate activities that let kids make the most of our pristine mountain environment.
All Ages
Wagon/Carriage Rides
Wiffle Ball
Spin Fishing
Guided Hikes
Frisbee Golf
Lake Clubhouse
Badminton
Basketball
Croquet
Canoeing
Geocaching
Family-Friendly
River Rafting (Age 5+)
Pony Rides (Age 5-7)
Group Horseback Riding (Age 8+)
Private Horseback Riding (Age 6+)
Fly-Fishing (Age 8+)
ATV Tours (16 to drive/12 to ride)
Shooting Sports (Age 11+ or 100lbs+)
Mountain Biking (Age 10+)
Hot Air Ballooning (Age 8+)
Kayak Instruction (Age 10+)
Paintball (Age 10+)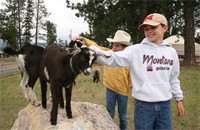 Kids Corps of Discovery
The Resort at Paws Up offers full and half-day programs for children ages 5-12, featuring organized, themed activities, age-appropriate crafts, and baby animal feedings at the petting zoo. Programs are held daily; each day has a different theme:
Monday – Lewis and Clark Day: Basic mapping and pioneering skills, hiking, games
Tuesday – Fun in the Sun at Seeley Lake (full day only): Boat and kayak excursions, dock fishing, water games
Wednesday – A Day at the Ranch: Rope tying and lasso techniques, hat and horse painting, nature hike, wagon ride
Thursday – Gold Rush Day: Visit to a historic ghost town, gold panning, scavenger hunt
Friday – Wild Montana: Exploring the wonders of nature with a naturalist guide
Saturday – Go Tribal: Native American crafts and culture
Sunday – Art in Montana: Creating art based on objects and patterns found in nature
Junior Wrangler Program
At the Saddle Club, young riders aged 8-14 will enjoy a full day of adventure, learning riding and ranching techniques and taking part in ranch activities.
topBackcountry Camping & Fishing
Paws Up Outfitters offers Big Game Hunting expeditions, 3-5 day Fly-Fishing Float Trips on the South Fork of the Flathead and North Fork of the Blackfoot Rivers, or an unforgettable tour to our Encampment at Bull Creek.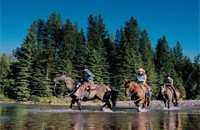 The Encampment at Bull Creek
This 3 day/2 night adventure is a luxury-camping equestrian tour into the Montana backcountry. After a spectacular 12-mile horseback ride, you'll arrive at our well-equipped luxury tents, where hot showers and gourmet meals await you. Guided fishing treks, scenic mountain trails, and miles of pure, unspoiled wilderness complete the experience.
Copyright 2013 MyLittleSwans, LLC. All rights reserved. My Little Swans, the logo and Share a world of experience are registered Trademarks of MyLittleSwans, LLC. Use of this site constitutes acceptance of our Terms of Use and Privacy Policy.