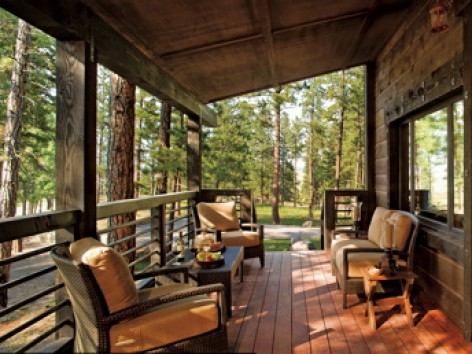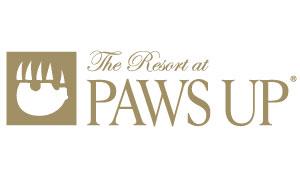 Partner:
Paws Up
List of Destinations:
Winter Activities
Escape the ski-area crowds and come to the Resort at Paws Up, the Last, Best Place for an authentic Rocky Mountain winter vacation. Enjoy a 37,000 acre wonderland full of peace and magic – the kind of place where Jack Frost might take a well-earned holiday after winterizing the world. The ranch offers over a hundred miles of lightly traveled wilderness trails for a diversity of unique winter excursions – just about any activity you can think of that makes use of hills blanketed with white.
topSnowmobiling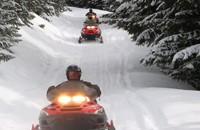 Blaze a trail through virgin powder amidst towering pines, with the crisp air adding an extra clarity to your senses. This is snowmobiling, Montana-style. The Garnet Mountain Range is your magnificent backdrop as you explore Garnet, Montana's best-preserved ghost town, only accessible by snowmobile during the winter.
topWinter ATV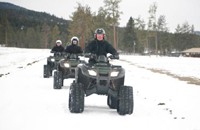 No trail? No problem. Equipped with foot-wide snow treads, your four-wheel ATV gives new meaning to the term off-roading. On our guided Winter ATV Tour, you'll be one of the first to experience ATV riding as it truly should be enjoyed: in the fresh powder.
topDog Sledding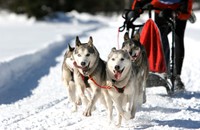 At The Resort at Paws Up, we love dogs, so it's no surprise that our signature winter adventure is centered around man's best friend. Imagine being pulled by a dozen gorgeous Siberian Huskies through the wilds of Montana; all at the foot of the Garnet Mountains – one of the handsomest ranges in the Rockies.
topSleigh Rides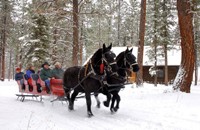 Join the Paws Up Wranglers and their majestic Percheron draft horses on an enchanting sleigh ride through frosted forests and over powdery hills. While your eyes drink in the scenery and your mind devours tasty historical and naturalistic facts – told in storybook style by your Sleigh Guide – your palate will be treated to delicious hot chocolate, coffee, and hot cider.
topCross-Country Skiing and Snowshoeing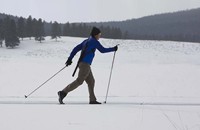 Cross Country Skiing
Cross-country skiing is practically the state sport of Montana. Your Paws Up guide will outfit you with the best equipment, and lead you through the expertly groomed trails of the Lubrecht Experimental Forest as well as The Resort itself. As you glide under a canopy of conifers, you'll learn fascinating facts about the history of the area and the surrounding wildlife.
Alpine Skiing/Snowboarding
Several alpine ski resorts are located within a short radius of Paws Up. Montana Snow Bowl, boasting over 2,600 vertical feet of terrain, is a scenic 50-minute drive from The Resort. A little further away, and well worth the 2-hour drive, is The Big Mountain Ski Resort in Whitefish, with over 15 lifts and every type of terrain imaginable.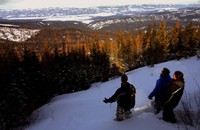 Snowshoeing
Advances in technological equipment have made snowshoeing America's fastest-growing winter activity. If you've never tried it, now is your chance to do it. The bottom line is, if you can hike, you can snowshoe. Your Paws Up guide will outfit you with the best snowshoes for the terrain, ensuring your experience will be a memorable one. On the scenic hills of the ranch, you'll find serene spots and panoramic vantage points that could never be reached by hiking alone.
topWinter Horseback Riding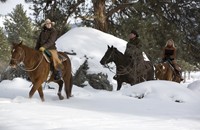 From spectacular views of the legendary Blackfoot River to Jones' Pond and the endless conifer forests, our winter horseback adventures offer a big slice of the winter wonderland in and around Paws Up. This journey will transport you through 60 minutes of beautiful winter vistas and unforgettable Old West history.
Copyright 2013 MyLittleSwans, LLC. All rights reserved. My Little Swans, the logo and Share a world of experience are registered Trademarks of MyLittleSwans, LLC. Use of this site constitutes acceptance of our Terms of Use and Privacy Policy.