Partner:
Indochina Travel Company
List of Destinations:
Bhutan
Cambodia
Laos
Myanmar
Thailand
Vietnam
Biking Tours
Our cycling division, VeloAsia, has been organizing the most unique cycling tours in Southeast Asia since 1992. Below, we've listed some of our most popular Vietnam tours – we also offer cycling and non-cycling adventures in Laos, Myanmar, Angkor and Thailand. Contact us to plan an unforgettable private journey, or join one of our seasonally scheduled tours, such as our annual Vietnam Lunar New Year Tour.
top4-Day Family Biking Tour: Vietnam's Central Coast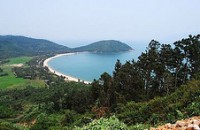 Vietnam's central coast, encompassing Hue to the north, Danang, and Hoi An to the south, features the richest concentration of historical sites, picturesque landscapes, pleasant towns, and finest cycling routes in the country. It is truly the heartland and always the highlight of our regular two-week tours. Along with the Mekong Delta and kayaking on Halong Bay, this is one of our most popular family trips and if you've only time for a short cycling tour in Vietnam, this should be the one.
Day 1
Hanoi (or Saigon) to Hue
After breakfast, one-hour flight to Hue, the Imperial Capital of Vietnam and arguably Vietnam's most pleasant city which remains largely unchanged by the rapid growth that has transformed other parts of the country. After meeting cycling crew, transfer to hotel for refreshments and bicycle fitting and adjustment, followed by a short orientation ride to lunch along the pleasant Perfume River.
After lunch, leisurely bicycling through the Royal Citadel, recognizable from images broadcast during the Tet Offensive of 1968, and onto the 17th century Thien Mu Pagoda — Vietnam's most important Buddhist temple and symbol of Hue. On the return, exploration of bustling Dong Ba Market before freshening up at the hotel for dinner. Transport to dinner in traditional cyclo (pedicab).
Overnight at the pleasant La Residence Hotel or other hotel.
After breakfast, cycling through the picturesque countryside outside of Hue to Imperial Tombs, visiting two of the finest examples of Imperial architecture, the Tu Duc and Ming Mang, also stopping at the temple widely considered a gaudy excess — Khai Dinh (but we still love the setting).
Afterwards, board a private, traditional dragon boat for the return to Hue, our on-board cooking up delicious local specialties such as Banh Xeo — a tasty crepe dish. Afternoon and dinner free for further sightseeing, or relaxing and massage to prepare for the morning's most challenging ride of the trip.
Accommodation at La Residence.
Rise early for an epic ride through some of Vietnam's most picturesque landscapes. We begin biking from Hue along a coastal road with light traffic, through rural villages tending emerald green rice fields abutting the ocean. By midday, it's time to break at Lang Co Lagoon, one of Southeast Asia's most scenic beach areas.
After a seafood lunch, riding over the dramatic Hai Van Pass (Pass of the High Clouds), the summit affording wide panoramic views of Lang Co to the north and Danang to the south (parents may choose to ride this while younger children hop in the van). As the traffic increases around Danang, board the van to skirt the city (with an optional stop at the Cham sculpture museum).
Continue onto Marble Mountain, exploring its interesting grottoes and temple as well as marble crafts shops. China Beach, a famous "R&R" location fro American soldiers, is nearby and worth a stop and perhaps a swim in the waves. This epic day ends with a room overlooking the ocean at Hoi An's Cua Dai Beach and a wonderful dinner at one of Hoi An's delightful restaurants.
Overnight at the Victoria Resort (Ocean View) or Nam Hai.
Morning exploration of pleasant Hoi An by foot, including the Thu Bon River Market, rare traditional wooden homes, art studios, and pagodas. Lunch of Cao Lao Soup, a unique dish from Hoi An. Following lunch, return by private car to Danang for flight to Hanoi or Saigon.
Note: Hoi An is typically everyone's favorite place in Vietnam, a small town where all the elements of a perfect place come together: picturesque setting, rich local culture, friendly people, and fantastic cuisine. We encourage you to stay on another day, either relaxing at the beach or exploring this special place.
top3-Day Biking Tour: Mai Chau Valley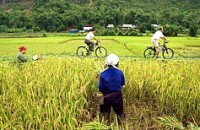 Located 135 km south-west of Hanoi, this lovely valley offers splendid vistas of lush green hills and stilt houses. Mai Chau has a population of about 47,500 inhabitants that belong to different ethnic minority groups such as the White Thai, H'mong, Zao, Muong, Tay, Hoa and Viet. The Mai Chau hill tribes are warm and welcoming, and famous for their handicrafts – in particular, for their skills in embroidering clothes. The Sunday market brings a lot of people into town where they make traditional Thai dishes and revel in traditional dances.
The weather here is generally good throughout the year (March-July and October are ideal) and is more temperate than Sapa, with better visibility. This itinerary is suitable for all levels of ability.
Early departure from Hanoi to the beautiful Hoa Binh Province southwest of Hanoi. Along the way, stop in Gang Mo, a small Muong ethinic village not too far from Hanoi, but still retaining its native lifestyle and culture. Here enjoy our first hilltribe encounter, exploring the village by foot, enjoyng the rural atmosphere of the surrounding rice fields and visiting with hilltribes in the area, taking in their daily routine so different from our own. Afterwards, head on to Mai Chau valley to begin biking through the Thai ethnic villages and surrounding rice and corn farms on dirt paths. In the evening, join in a traditional Thai dance performance and partake of Ruou Can (sweet rice wine) tasting. (B, L, D)
Accommodations: Mai Chau Lodge
The Mai Chau Lodge is a real treat, built only a few years ago with stunning views of the surrounding landscape and pleasant pool area for post-ride "R&R."
Day 2
Mai Chau to Hoa Binh Reservoir
After breakfast, biking from the hotel on the quiet road to Hoa Binh Reservoir, making contact with local people on the way (Muong ethnic people). After arrival at the reservoir, kayaking around the lake, learning more about the history and local lifestyles of this peaceful area. After a picnic lunch, continue biking along Da River, through a thick primitive forest lush with plants and wildlife. After exploring the forest, driving back to Mai Chau for refreshments by the pool before dinner. (B, L, D)
Most inhabitants of the area are White Thais, known for their warm hospitality. For your second night on our Mai Chau tour, we can arrange a comfortable and unforgettable home stay in a village longhouse, complete with evening dancing.
Day 3
Pa Co, Mai Chau to Hanoi
In the morning, drive for about one hour to Pa Co, a village near the Laos border. From here, scenic riding around Pa Co, passing through the Blue and Flower H'mong villages, surrounding mountain jungle and apricot and peach orchards. If it is Sunday, visit the colorful hilltribe market. The Flower H'mong wear especially beautiful traditional clothing here, and we'll ride to Hang Kia village to visit a local home and find out how they make the fanciful brocade for their impressive costumes. After a picnic lunch, continue cycling in the area or return back to Mai Chau to enjoy the poolside before dinner.
top3-Day Family Biking Trip: Mekong Delta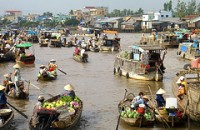 In the Mekong Delta, the mighty Mekong River splits into multiple branches, offering a wealth of sights and experiences for those who care to explore. The delta is a region of extraordinary energy and market commerce, with miles of rice fields, exotic fruit orchards, and the last floating markets in Asia. This easy bike tour travels some of the quietest back roads in the country, with frequent side trips by the delta's primary mode of transport — sampan (boat). You'll drift in small sampan through bustling market places and riverfront villages, stopping into homes, cottage industries, and crafts villages along the way.
If you want to avoid hills, and enjoy Vietnam's warmest weather, this tour is your best bet, making it ideal for families — aside from Sam Mountain, the delta is flat as a pancake and always warm. We pause frequently along the route to take in the people, sites, markets and other distractions. Aside from the beautiful expanse of emerald green rice fields, there is a short hike up Sam Mountain affording views of neighboring Cambodia, and a stop for tea at a wonderful bonsai garden.
After breakfast, depart Saigon by private van through the lighter, early morning traffic to Cai Lay (about two hours). After arrival, we'll pause for tea or iced coffee as the bikes are prepped. After, mount bikes and begin riding the flat scenic roads, passing fruit orchards and expansive, emerald rice fields en route to Cai Be. After arrival in Cai Be, board local sampan (boat), drifting down the smaller branches of the Mekong River past waterfront villages and floating markets, pausing for lunch of local specialties on Binh Hoa Phuoc Island.
In the afternoon, continued boating to Vinh Long and disembark for continued cycling through countryside roads. Afterwards, transfer remaining distance to Can Tho. Dinner free in town or dining at the resort's fabulous banquet.
Accommodation at the luxury French resort Victoria Can Tho (featuring some of the best massages in Vietnam). (L,D)
Rise early morning to witness the beautiful sunrise over the Mekong River. After breakfast banquet, board sampan to explore the vibrant, bustling Cai Rang and Phong Dien floating markets -- some of the last authentic floating markets in Asia swirling with hundreds of boats zig-zagging on the river.
Afterward, mount bikes for pleasant riding further out from Can Tho under the lush green, jungle canopy in one of the most scenic areas of the Delta. After passing through numerous villages, return to the resort for cooling off in the pool.
Accommodation and dinner banquet at Victoria Can Tho Resort. (B,L,D)
After breakfast, optional repeat visit to the floating markets, followed by breakfast at the resort and continued biking (or optional boating by sampan) through the tranquil paths and lush canals of the area, along the scenic, back country roads stopping to visit local schools, markets and homes. Also pausing for tropical fruit tasting and tea at a longan tree orchard with a local family.
After lunch, we depart the Victoria resort and return to Saigon by private car stopping briefly in My Tho for refreshments at a popular local cafe.
After arrival in Saigon, farewell with guide before flight out. (B,L)
Copyright 2013 MyLittleSwans, LLC. All rights reserved. My Little Swans, the logo and Share a world of experience are registered Trademarks of MyLittleSwans, LLC. Use of this site constitutes acceptance of our Terms of Use and Privacy Policy.