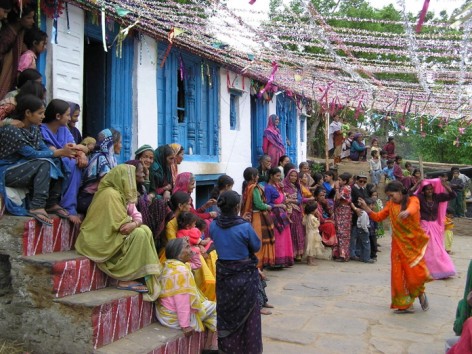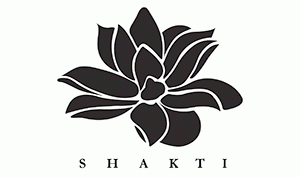 Partner:
Shakti
List of Destinations:
Himalayan Destinations
topShakti Kumaon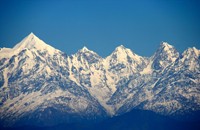 Making up the eastern portion of the state of Uttarakhand, the Kumaon region contains some of the most stunning mountain scenery that we know of anywhere, from the perennially snow-capped peaks of the Great Himalaya range in the north to the pretty hill stations of Almora and Nainital in the foothills and the stunning wilderness of Corbett National Park in the south.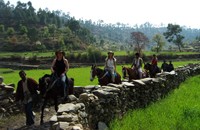 Little known outside of India, Kumaon has escaped the influx of backpackers, making it the ideal place for Shakti to pioneer the village walks concept in an unspoiled part of India. We have been able to bring benefits to both the local people of the region and to our guests without a negative impact on the Kumaon's environment and culture.

In addition to walks and treks, in Kumaon it is also possible to travel between villages on horseback.
topShakti Sikiim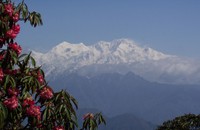 Fed by over one hundred rivers and hot springs, the Northeastern Indian state boasts exotic wild flora and fauna and rich Buddhist culture dating back to the 8th century. Today Sikkim is inhabited by numerous indigenous clans following an almost Spartan Buddhist way of life. This region is the perfect destination to experience a melting pot of Himalayan and Indian cultures – stroll through colorful markets or step into ancient monasteries, enjoy crisp mountain air and the friendliest hosts one will ever encounter as you explore this oasis in the Himalayas.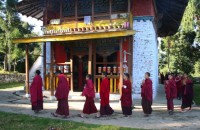 Shakti Himalaya offers a "village house" experience that avoids the over-commercialization of Sikkim and immerses you in the authentic villages of the valley. Visits to serene monasteries and the backdrop of the multiple white peaks of Khangchendzonga Mountain are the essence of Shakti Himalaya's Sikkim Experience.
You may like to combine the Shakti Sikkim experience with a visit to the tea growing area around Darjeeling and the true Indian city, Calcutta. It is also possible to combine Shakti Sikkim with Bhutan.
topShakti Ladakh
Situated in the far north of the sub-continent, over 11,500 feet up on the high plateau, Ladakh is geographically, anthropologically and culturally part of Tibet. However, its geography protected it from the ravages of the Chinese cultural revolution and today it contains one of the most intact Tantric Buddhist societies left on earth.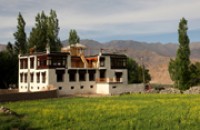 Ladakh features high-altitude desert dominated by rugged, snow-capped mountains and deep turquoise lakes. The traditional architecture of Ladakh is grander in style than found in other Himalayan regions; therefore we have renovated three village houses to a slightly higher level of sophistication but without compromising on authenticity and charm. Staying in these houses offers the visitor a rare chance to experience an unchanged rural way of life in the homes of the Ladakhi people. As the terrain in Ladakh is also very different to that of Sikkim and Kumaon, journeys between the houses here will be on foot, by river raft and by vehicles with stops at un-spoilt Buddhist monasteries en route.
As an extension to the Ladakh Village Experience, Shakti is also operating our exclusive Shayok River journey that will take you along the old Silk Route into the remote Nubra valley.
top360º Leti - Shakti's Himalayan Retreat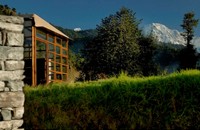 In 2007, the village walks were joined by our luxury lodge, 360º Leti. Situated on a stunning mountain spur close to where Nepal, Tibet and India meet and with mind-blowing views of the Great Himalayan Range, we truly believe that 360º Leti is one of a kind. An innovative language of architecture that combines age-old local building techniques with contemporary design and structural technologies, set in a stunning mountain wilderness at 8,000 feet, 360° Leti is a place where you can take time to reflect, and allow the space, peace and astonishingly beautiful landscape to work their magic around you.
Leti was built using traditional dry-stacking techniques, under the guidance of a top local architect, so it places no impact on the land. While the service and amenities are five-star, what really sets Leti apart is its location, surrounded by nothing except snow-capped peaks, ancient rhododendron forests, and crystalline air.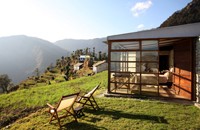 With only four private guest pavilions cottages and a main lounge/dining area, 360° Leti provides an exclusive mountain experience, unique in the Himalaya. Indoors, there's gourmet cooking and fine wine, as well as beds adorned with pashmina blankets and fluffy duvets. Outdoors there are mountain walks (with private guides), delicious picnics, fabulous views, simply relaxing in planter's chairs – and, if you wish, yoga and meditation sessions by arrangement.
Copyright 2013 MyLittleSwans, LLC. All rights reserved. My Little Swans, the logo and Share a world of experience are registered Trademarks of MyLittleSwans, LLC. Use of this site constitutes acceptance of our Terms of Use and Privacy Policy.