Partner:
Backroads
List of Destinations:
Bhutan
China
India
Thailand
Vietnam
Austria
Croatia
Czech Republic
France
Greece
Hungary
Italy
Norway
Poland
Portugal
Slovakia
Slovenia
Spain
Switzerland
Turkey
Canada
Costa Rica
United States
Argentina
Ecuador and the Galapagos Islands
Peru
Special Offer: Family Adventures in Latin America
Plan your family's winter or spring break escape today – book a one-of-a-kind multisport adventure in Latin America. Explore local traditions and unique wildlife in the Ecuadorian Andes and Galapagos Islands. Or discover Costa Rica's many precious ecosystems, from lava fields to jungles to beaches.
topEcuador: Ancient Culture & Wondrous Wildlife in the Islands & Highlands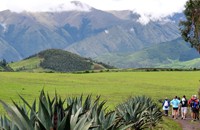 Day 1
Bike through highland villages, where Otavaleño Indians continue age-old traditions • Pedal to Otavalo, then the younger set takes part in a scavenger hunt in the colorful outdoor market • Spin to Peguche and enjoy the spirited serenading of musicians playing handcrafted instruments • Visit the studio of Señor Miguel Andrango, one of Ecuador's foremost master weavers.
Days 2-3
Hike in the Andes with spectacular views of snowcapped mountains • Walk through eucalpytus forest and the fertile valleys between Cayambe and Imbabura Volcanoes  • Learn about daily life here from locals in the community of Angla • Fernando Polanco, grandson of an Ecuadorian president, welcomes us into Hacienda Zuleta, a 4,000-acre working farm set amid volcano vistas and pre-Inca ruins • Hop in the saddle of your mountain bike - or horse! - and follow winding roads through the lush pastureland of the Zuleta Valley • Ever milked a cow? Now's your chance!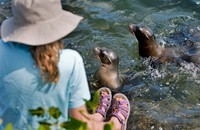 Days 4-8
Incredible up-close wildlife viewing in the Galápagos Islands, an isolated sanctuary for a stunning array of unique plants and animals • Accompanied by an expert naturalist, marvel at blue-footed boobies, giant tortoises, white-tipped reef sharks, fluorescent fish, sea lions, lava lizards and possibly penguins • Boat from island to island, stopping along the way to snorkel, kayak, hike and swim • Explore Isabela Island's Sierra Negra volcano, the second largest caldera in the world • Spot marine iguanas basking in the sun, unfazed by the Sally Lightfoot crabs that scurry across them • Come late afternoon, kick back at our comfortable island lodges or venture out to hike, play at the beach or discover unique port towns.
2013 Family Dates (8 days, 7 nights)
Mar 23-30, Jun 22-29, Jul 20-27, Aug 3-10, Dec 23-30, Dec 25-Jan 1, Dec 27-Jan 3, Dec 29-Jan 5
Click here for further details, pricing, and lodging information.
topCosta Rica: Adventures in Paradise from Arenal Volcano to the Pacific Coast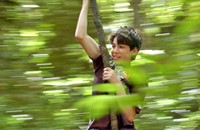 Days 1-2
Gaze at Arenal Volcano as we walk across a barren lava field and through rain forest in Arenal National Park • Kids check out snakes, frogs and butterflies at a serpentarium • Cruise across Lake Arenal by boat, then explore its lush jungle surroundings by bike • The afternoon is yours to zip-line, horseback ride, hike or simply relax by the pool • Soak in hot springs hidden in a rain forest oasis.
Day 3
Listen for the call of howler and white-faced monkeys as you walk through primary forest and cross hanging bridges - up to 300 feet long • A private charter plane whisks us to the white-sand beaches of the Pacific coast • Join a local family for a homemade lunch in their rural village • While hiking through the pristine Savegre Valley, our local guide points out flora and fauna, and shares tips on how to survive if you're lost in the jungle • Kick back at our secluded hotel on your private deck or - look out below! - zoom down the 100-foot waterslide.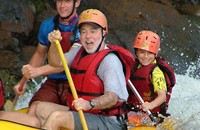 Day 4
Venture through the lush habitat of sloths, monkeys, toucans and lizards • Make a splash during a thrilling white-water rafting excursion on Río Savegre • On our naturalist-led walk through Manuel Antonio National Park, white-faced monkeys frolic in the canopy and prehistoric-looking iguanas slither up tree trunks.
Days 5-6
Kids paint their own Boruca masks with an indigenous artist, while adults are as active (from beach walking and kayaking to horseback riding and surfing) or inactive (from pool lounging to spa treating) as they like • Pedal on the beach, then turn inland through a landscape of banana and African palm trees • After a morning seaside stroll, shuttle to San José, stopping on the way to look for crocodiles.
2013 Family Dates (6 days, 5 nights)
Mar 17-22, Mar 24-29, Mar 31-Apr 5, Dec 17-22, Dec 21-26, Dec 25-30, Dec 27-Jan 1
Click here for further details, pricing, and lodging information.
Copyright 2013 MyLittleSwans, LLC. All rights reserved. My Little Swans, the logo and Share a world of experience are registered Trademarks of MyLittleSwans, LLC. Use of this site constitutes acceptance of our Terms of Use and Privacy Policy.