Partner:
Imperial Tours
List of Destinations:
MLS Signature Trip: Women's Tour of China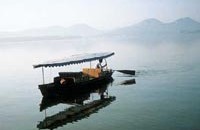 Far more than just an exploration of China's major sights, this exclusive itinerary is filled with special experiences that take you deep within the country's multi-faceted culture. You won't just visit the Forbidden City – you'll get access to a section normally closed to the public. You'll enjoy a private banquet on the Great Wall, and travel across Hangzhou's West Lake in a private gondola. You'll learn from experts about tea, pearls, traditional Chinese medicine, Shanghai's colonial architecture, and Beijing's contemporary art. You'll get private lessons in taichi and Shanghainese cooking. And you'll be taken to one shopping paradise after another, from Beijing's largest open-air market, to local design shops, to the studio of an international fashion designer in Shanghai.
On this tour, you'll be accompanied by a Western, bilingual China Host who will ensure that you receive the highest quality of service. This China Host is there in addition to the local guide who does the actual explanation of sites, history, etc. The China Host, in effect, acts as a personal concierge throughout the duration of your stay in China.
To book this one-of-a-kind itinerary, contact Margot at Imperial Tours.
topMay 3-13, 2013
Day 1, Fri, 5/3
Arrive Beijing
This morning we will visit the Temple of Heaven – a Confucianist complex spanning 670 acres – created for the exclusive use of the Emperor as a place to mediate affairs between God and man. Morning is a wonderful time to visit the Temple as you will see local Beijingers out doing their morning exercises. We will also arrange for a private taichi lesson by a local taichi master.
For shoppers, Beijing's largest open-air market will come close to paradise. Here, early this morning, you will mingle with Beijingers, overseas and local art dealers as well as farmers who import goods from the countryside. This is your opportunity to buy a Ming dynasty set of the Confucianist classics for a song or else, and more likely, to buy from an astonishingly rich variety of Chinese and Tibetan cultural objects (at usually a tenth the price found in the U.S. and at often half the price found at local shops). For non-shoppers, this market can be thought of as China's largest museum of modern cultural life, where you can see, talk to and photograph a wide range of local and regional Chinese going about their daily lives and business.
In the afternoon you will explore Beijing's contemporary art scene with a visit to the Factory 798 area in the north of the city. Designed by Bauhaus-inspired German architects in the 1950s, the now-decommissioned factory complex once produced a wide variety of military equipment. As production slowed in the late 1990s, local artists began to gravitate towards the area, finding its vast empty spaces ideal for studios and galleries. Now widely regarded as the epicenter of Beijing's art scene, 798 is home to a vibrant mixture of internationally established galleries and smaller exhibition spaces in addition to a number of cafes, restaurants and stores. The 798 district also hosts a number of local designers shops selling unique items from purses to jewelry to ceramics.
To enhance your journey through this maze-like area we will organize a Chinese Contemporary Art Expert to accompany you. After today you will have a thorough understanding of Contemporary Art in China.
B, L, D
Today, you will visit the Great Wall of China. Built to protect China from the incursions of predatory nomads, the utility and meaning of this fortification has been contested for centuries. The unprecedented scale and unexpected charm of the Great Wall may inspire you. The section that we most highly recommend is the further away, about 2.5 hours drive, but is generally considered one of the most beautiful sections of the Great Wall. Once there, you will be treated to a private banquet on the Wall itself (weather permitting). After lunch you will be given some time for a stroll along this most magnificent of sites.
On the way back to downtown Beijing we will invest some time in retail therapy to visit a shop where one can find unique items by local designers such as cashmeres, children's clothing, and jewelry that incorporates silver, jade and ceramic shards.
B, L, D
Many people have heard how traditional Chinese medicine (TCM) focuses on preventive care, but few understand the overarching principles of this curative tradition and how you can incorporate its benefits into your everyday life. We will spend a few hours this morning learning about the background and precepts of traditional Chinese medicine to learn how you can change your lifestyle to improve your long-term health and quality of life. We begin in an ancient Imperial park, energized by early risers exercising as the sun rises and the new day begins. This is the backdrop to understanding how important it is for your life to mirror the rhythm of the seasons and day. Having outlined the basics, we proceed to a typical TCM clinic, crowded with patients and doctors, to see Chinese pharmacology at work and understand how it has progressed over the centuries. (Please note that this tour is possible only on Mon/Wed/Fri/Sat)
We continue the day with a visit to an ancient quarter of Beijing, whose traditional alleyways known as hutong are being preserved. We access a deeper understanding of life in the hutong through contrasting two radically different environments in this same area. Our tour begins in the everyday setting of an outdoor market, wedged between a maze of disheveled but lively and colorful streets. From there, we travel partly on pedicab along the lakeside to an affluent neighborhood, where you will see beautifully restored traditional courtyard homes and have the opportunity to learn calligraphy.
Some of the hutongs, these days, host interesting local designers' boutiques and upscale cashmere and silk shops. We will show you a selection of the best ones.
B, L, D
Day 5, Tue, 5/7
Beijing/Hangzhou
Whether by force of irony or expediency, China's government has been located in the same area continuously for over six hundred years. You will walk back in time; strolling across Tian'anmen Square, one of the largest squares of the modern era, you will pass the Monument to the People's Heroes – dedicated to the ravages of the hundred year long Opium War – and finally enter the ancient epicenter of Imperial Power, the Forbidden City. We will also arrange for special access to Chonghuagong, a section of the Forbidden City that is normally closed to the general public. Please note that Chonghuagong is filled with antiques and in the event that the weather is particularly rainy/humid, the authorities will not grant access. (Please note that Chonghuagong visits are not possible during weekends and Public Holidays.)
We will then fly to Hangzhou, the city which Marco Polo described as the "most enchanting on earth". You will be transferred to the Aman Fayun located within the sacred temple district in the Hangzhou hills. This is a truly unique getaway, allowing you to experience Chinese village life, albeit in Aman style. (Aman Fayun – Village Rooms)
B, L, D
This morning you will engage further with the scenery by viewing Hangzhou as did Marco Polo, traveling by private gondola across the idyllic West Lake, encompassing its pagodas, causeways and landscaped islands.
The afternoon will be dedicated to a Tea Appreciation Tour, led by an Expert. An historic capital for the manufacture of green tea, Hangzhou offers both a tea research institute and specialist tertiary education facilities. An American pursuing post-graduate study in tea will take you into the verdant surrounding tea fields to introduce the traditional and modern methodologies of cultivating tea and to present some of the key varietals, discussing their impact on flavor in the same way as wine. At a subsequent tasting in a nearby tea house you will compare machine and hand-made green teas as well as oolong and black teas. The aim of the tour is to enable you to feel informed in making a purchase at any tea market. Thus, should you wish, please request that your tour finish at such a market, either on your own or together with the specialist, where you can further research and explore your passion for tea… white, yellow, green, red, black or oolong.
B, L, D
Day 7, Thu, 5/9
Hangzhou/Shanghai
Hangzhou was capital of China during the Southern Song dynasty (1127 – 1279), a time of explosive innovation in the sciences and arts. The literati or gentleman scholar was the driving force behind this stunning progress. After breakfast, we will visit one of modern China's most exclusive private clubs to learn about the ancient Five Disciplines. As well as being generally proficient in tea, incense, flower arrangement, music and calligraphy, a gentleman scholar was expected to excel at one of these disciplines to connect with the unchanging laws at the root of nature and further his study of the Dao or inner truth. (This location for this activity draws a telling parallel between the culture of the scholar gentleman of Song dynasty China and the entrepreneurial membership of this private club today; this is not misguided.)
In the afternoon we will drive (approx. 3 hours) to Shanghai. Shanghai will take your breath away. Since the early 80's this city has been growing like no other, the Pudong waterfront becoming as emblematic of economic prowess as that of Manhattan or Hong Kong. (Peninsula Hotel – Grand Deluxe River Rooms)
B, L, D
Day 8, Fri, 5/10
Shanghai
Your tour of Shanghai begins with a lecture/tour on colonial architecture in Shanghai given by a member of the Shanghai Historical Society. This tour will take you into some of the most important buildings along the Bund and French Concessions including the former Hong Kong Shanghai Bank.
The afternoon will be entirely dedicated to discovering the French Concessions' wonderful shopping opportunities. This will include the Taikang Road area, where boutiques opened by up-and-coming local designers are housed in traditional Shanghai Shikumen lane houses. Many of the goods on offer here combine eastern and western aesthetics, offering a reflection of Shanghai's unique history.
You may also be interested in a contemporary ceramics shop, boutiques specializing in silk and cashmere, as well as a shop selling cashmere for children. We will also provide access to the studio of a locally based international fashion designer who also makes unique jewelry using pearls, crystal and silk embroidery.
B, L, D
Day 9, Sat, 5/11
Shanghai
This morning, we take you to visit the Shanghai Museum, one of the most modern in the country. Arranged by category rather than according to a chronology, its collection introduces and elucidates the gamut of Chinese arts from ceramics to jade and ivory carvings to paintings.
In the afternoon we will invite our fee-based pearl expert to help you find a quality set at a fair price. Certified through the Gemological Institute of America, she will guide you to the traders most suitable for your needs –far from the tourist crowds – and help you navigate an elegant and wide array of freshwater, Tahitian and South Sea pearls. At the pearl market, there will also be a wide selection of other items such as jade, beads, coral, turquoise, etc.
B, L, D
Day 10, Sun, 5/12
Shanghai
This morning you will enjoy a private cooking lesson inside of an old French Concession home. Here you will learn to prepare dishes that one would eat in a typical Shanghainese home.
In the afternoon, we will visit the Yu Gardens, one of the best examples of traditional Chinese garden design in the country. Afterwards, you will have some time to stroll through Shanghai's Old Quarter.
Your final dinner takes place at one of our favorite Shanghai restaurants, boasting a magnificent view over the Bund and Pudong waterfronts.
B, L, D
Day 11, Mon, 5/13
Depart Shanghai
This morning, you will be transferred to the airport in time for your international flight home. (Please note that this itinerary assumes one transfer per couple; additional transfers will be subject to an extra charge.)
**Please note that check-out time is 12pm.
B
Pricing:
Approx. USD 9,550 * per person based on double occupancy
Approx. USD 3,680 * single supplement for anyone requiring single occupancy
Approx. USD 270* per person for upgrades to first class on the Beijing/Hangzhou flight.
*Pricings are valid for 10-12 persons; Should the number of participants fall under 10, all pricings will have to be revised.
Included in the tour price is:
• 10 nights accommodation in outstanding five star hotels
• 10 breakfasts (buffet breakfast), 9 lunches, 9 dinners at our carefully selected restaurants (including soft drinks and local beer)
• Services of a Western bilingual China Host and local tour guides
• All internal flights in economy class (Beijing/Hangzhou)
• All land transportation (as listed on the itinerary)
• Entrance fees to all tourist sites (as listed on the itinerary)
• Local guide and driver gratuities
• Baggage handling, domestic airport, city and hotel taxes
Not included in the tour price is:
• International airfare to/from China, visa processing fees, travel insurance
• Personal expenses such as alcoholic beverages, imported mineral waters, excess luggage fees, telephone charges, room service and laundry charges
• Gratuities to the China Host (recommended at USD60-120 per group per day)
• Optional lectures and performances.
Optional Experiences
We have not included the following experiences in our quoted price, but encourage you to consider commissioning these to further enhance your experience of China.
Diplomatic Channel
You will be met off the jet bridge and whisked through the airport's Diplomatic Channel. No need to wait in line for Customs and Immigration, and no need to walk through the car park. Your car will be waiting for you at the airport exit (please note that this service is only available between 7:30 am – 10:00 pm). (CNY1,010 per person)
Court Life of the Forbidden City
An alternative to a lecture on the significance of its architecture, is to invite a former Sotheby's expert to bring the history of the Imperial Palace to life through a guided tour entitled "Court Life of the Forbidden City". As this site was at the apex of political might for nearly five hundred years, this introduction combines general topics such as the organization of Imperial private life or the role of eunuchs in government with the particular challenges, solutions and idiosyncrasies of various Emperors of the Ming and Qing dynasty. That said, guests are invited at all times to ask questions and so influence the direction of the tour. (CNY5,370 per lecture)
Coaching Seminar
There are a number of Olympic sports that Chinese have traditionally excelled at. Imperial Tours can arrange a special coaching seminar with a past or (depending on availability) present Olympic champion in one of the following disciplines: table tennis, badminton, martial arts and boxing. Pricing varies by sport and teacher. (Please inquire about pricing.)
Shaolin Martial Arts Performance
Once at the Great Wall, you will see the extraordinary kungfu performance of the famous Shaolin warriors. (CNY8,540 per performance)
Great Wall Historian Lecture
To deepen your experience of the Great Wall, you will be accompanied to the Wall by an historian, the subject of a major profile in the "New Yorker" magazine and a contributor to two "Discovery" channel programs, who devotes himself full-time to walking, studying and writing about the Great Wall and is now arguably the most informed historian on the Great Wall in any country in any language. (CNY8,460 per lecture)
Meeting with Social and Political Commentator Lijia
We can arrange a meeting with Social and Political Commentator Lijia, who will relate her experiences and views of China. Lijia's eventful life is representative of many interesting aspects of China's modern history: after being forced out of school to take a job in the local missile factory, Lijia learned English from the radio in the evenings. Having organized the largest worker demonstration in Nanjing in support of the Tiananmen demonstrators in '89, Lijia was able to leave China to complete her studies in the UK where she worked as a journalist. She now provides regular commentary on China for such organizations as the BBC and Newsweek and has recently published her ironically-entitled memoirs, Socialism Is Great!, to critical acclaim. (CNY3,500 per meeting)
Meeting with Beijing Business Personality
David has been in the center of the maelstrom of high-level corporate life in Beijing since the beginning of the reform process in China, thirty years ago. He knows many of the main players personally and works with the government regularly in the areas of hi-tech and innovation. He can speak on government policy, , the business environment and its future direction, the status of hi-tech and how best to invest in it. Formerly leading Microsoft's legal team in China, David now has three projects related by the theme of "innovation". He sees China's key challenge as introducing innovation and creative thinking to a traditional system that is still hide-bound to respecting precedents. Firstly, he has an art gallery in 798, called Yuenfen. The art he curates does not have any application, but some of his artists are generative in that they use technology in new ways within their multimedia pieces and he can facilitate this through his knowledge of hi-tech. Secondly, he manages an "accelerator", by which young enterprises with good ideas can receive back office support, knowledge and financial investment to accelerate them to the next stage of their development. Thirdly, he has a non-profit, with the goal of introducing innovation to Chinese society, especially in the educational arena. All of these projects are based out of his 798 property. (CNY3,120 per meeting)
Court Life at the Summer Palace
We can invite a guest lecturer, formerly at Sotheby's, to introduce this site through his talk "Court Life at the Summer Palace". This focuses on the reign of the much demonized Dowager Empress Cixi, for whom the New Summer Palace was built towards the end of the nineteenth century. The Dowager Empress is a controversial figure in Chinese History - she lived through the demise of three Emperors and is commonly blamed for bringing the Qing dynasty to its knees, all the while leading an egregiously hedonistic lifestyle at her cherished Summer Palace. (CNY5,370 per lecture)
Private Cocktails at Summer Palace
You will enjoy the Summer Palace in utmost exclusivity on a dragon boat across Lake Kunming, on which we will arrange for a private cocktail party. (Please inquire about pricing.)
Designer Shopping with a Fashion Insider
Beijing can be a sartorially challenging city to conquer. The glitzy shopping malls generally tout international brands, but if you're wanting something more unique and localised, our fashion expert can help you navigate. An extremely well connected fashion insider, who is also editor and stylist for numerous top-end publications, she also runs her own China-centric fashion website and online store, promoting the very best of emerging Chinese design. (CNY3,305 per 4 hour tour)
Expert Art Educators
In 2010, total global sales of works by the traditional Chinese painter Qi Baishi ranked second only to Picasso, and above Warhol and all other Western artists. In China he is a household name, but in the West he is almost entirely unknown. Stanford- and Yale-educated art curators and educators manage several of the most important private collections of traditional Chinese paintings in the world, including the works of Qi Baishi. They have lectured and organized exhibitions at major Chinese and Western institutions such as the Asian Art Museum, Honolulu Academy of Arts, the Society for Asian Art, and Tsinghua University. They are experienced in teaching both Chinese and foreigners with widely varying degrees of art knowledge how to understand and connect with this quintessentially Chinese art form. Drawing exemplary masterworks from these collections for your private viewing, they will spend approximately 1.5 hours teaching you the traditional Chinese method of connoisseurship, and will help you comprehend not just the beauty of the art, but also its deeper philosophical, emotional, poetic, historical and religious content. The great American art scholar Sherman Lee once said, "If art is the essence of culture, then Chinese painting is the essence of that essence." One cannot truly understand Chinese culture without understanding traditional Chinese painting. (CNY2,600 per meeting)
West Lake Impressions
You may wish to watch a performance of West Lake Impressions produce by Zhang Yi Mo. The man responsible for choreographing the Beijing 2008 Olympic's Opening Ceremony has created another stunning visual performance with West Lake as the backdrop. (CNY930 per person for first class seats)
Jewish History Tour
From the Iraqi Sephardi Jews, who traded opium between Bombay and Shanghai in the 1880's, to the European Ashkenazi's for whom Shanghai was the only refuge in the Holocaust, Shanghai has long had an intimate relationship with Jewish people. This is a story that can be told on site visiting Shanghai's remaining synagogues, Jewish areas and great mansions. (No surcharge if replacing the Colonial History tour.)
Contemporary Art Tour
We can arrange for a locally-based art expert to accompany you as you visit the galleries. This expert will custom design an itinerary according to your taste and current exhibitions as well as any questions you may have about the local art scene. (CNY6,265 per tour)
China's Three Traditions: Buddhism, Confuciunism and Daoism
An The "Vinegar Tasters" is an allegory illustrating China's three major philosophical and religious traditions. The Buddha, Confucius, and Laozi each tastes vinegar from the same vat and reacts to the flavor. Each man's expression represents the predominant attitude of his religion: Confucius saw life as sour, in need of rules to correct the degeneration of people; Buddha saw life as bitter, dominated by pain and suffering; and Laozi saw life as fundamentally good in its natural state. The single vat of vinegar represents the "Three Teachings as One." We will explore each of these traditions by visiting a Chinese Buddhist temple, a Confucian temple, and a Daoist temple and see temple architecture, iconography, and religious practices. Our discussion will include a brief introduction to the founders, philosophical concepts, and the pantheon of the Sage, Immortals, and Chinese Buddhist Deities. At the conclusion of these visits, you will understand how these divergent teachings became the roots of Chinese civilization and culture. (CNY4,025 per tour)
Jazz Tour
Shanghai, a city of glamour and excess, came of age in the jazz era. Maestros were canvassed from San Francisco to Harlem to play in Asia's most sophisticated dance halls and clubs. A published expert, passionate about the sounds of the age, guides you through the dawn of jazz; the birth of Shanghai is revealed through its sounds, locales and histories. Visit a favorite stomping ground of the 1930's – listening to the band at the splendid Peace Hotel where Victor Sassoon held his infamous fancy dress balls – and then on to one of the glitziest dance halls of the 20's, the first to have ("Staying Alive"-style) under-lit dance floors, where you might groove your Cha Cha Cha. The outing ends at a modern jazz club, comparing past with present, but your evening can of course continue long into the night at one or other of Shanghai's buzzing jazz clubs. (~8pm – 11pm. Drinks not included) (CNY4,100 per tour)
Shanghai Museum with Art Specialist
An art specialist introduces the wonderfully displayed collection at Shanghai Museum by placing key objects within their wider historical and cultural context. Thus, the exhibition of bronzes, often cited as one of the world's best displays, is brought to life through understanding the rituals and role of elite ancestor worship. Statuary is interpreted through the prism of Chinese Buddhism, and the ceramic collection is understood within its development from a local aesthetic to its far-reaching impact as a global luxury good. By outlining the ambitions of a literati or gentleman scholar the purpose of such exotic art items as calligraphic scrolls, seals and traditional paintings will be clarified, such that the museum's art collection will become a bridge to the past, affording rare and enjoyable glimpses of China's social history. (CNY4,025 per tour)
Copyright 2013 MyLittleSwans, LLC. All rights reserved. My Little Swans, the logo and Share a world of experience are registered Trademarks of MyLittleSwans, LLC. Use of this site constitutes acceptance of our Terms of Use and Privacy Policy.