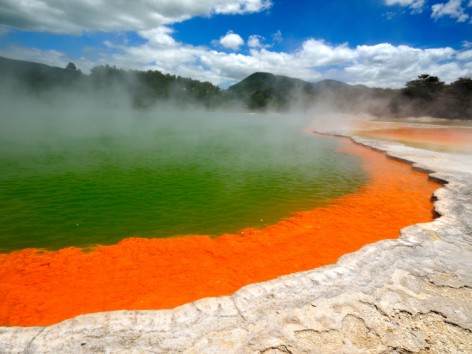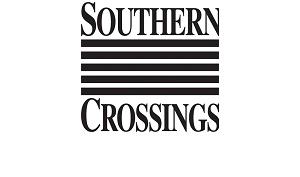 Partner:
Southern Crossings
Special Offers: Australia Adventures
List of Destinations:
Australia
Cook Islands
Fiji
French Polynesia
New Zealand
Samoa
Tonga
Red Centre, Top End, Rainforest & Reef
Australia has a vast diversity of landscapes, and this 10-day trip covers some of the most awe-inspiring, from arid outback, to vast wetlands, to dense rainforest, to the world's largest coral reef. It's a perfect adventure for lovers of wilderness and wildlife.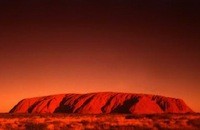 You'll begin in the famous Uluru region, where iconic Ayers Rock rises 1,248 feet above the arid plains. 25 miles to the west is Kata Tjuta (The Olgas) - a group of more than 30 massive red domes rising from the desert floor. Here, you'll stay at the legendary Sails in the Desert hotel, enjoy an unforgettable outback dinner under the stars, and go on small-group sunrise and sunset tours of the Olgas and Uluru. You'll learn the history and culture of this remarkable place, which plays an important part in the Aboriginal people's spiritual life.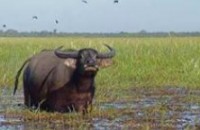 Next is a wilderness experience in Kakadu National Park, which has a World Heritage listing for both its natural and cultural importance. This corner of Australia is a land of rugged hills inscribed with Aboriginal rock art, sprawling plains, majestic boab trees, magnificent gorges and sandstone escarpments. This awe-inspiring landscape is home to a stunning variety of native wildlife including dingoes, wild buffalo, crocodiles and countless species of birdlife. Here, you'll stay at the Wildman Wilderness Lodge, an eco-lodge designed for exceptional wildlife viewing as well as maximum comfort.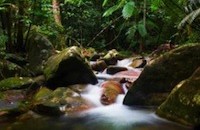 You'll continue on to Far North Queensland, where relaxation, luxury, adventure, wildlife and aboriginal culture converge. Here, you'll enjoy a shared group tour of the Daintree Rainforest, the oldest rainforest in the world. You'll explore a scenic, World Heritage-protected region of waterfalls, lush greenery, and exotic wildlife, cruise with crocs on the mighty Daintree River, and discover magical Thornton Beach, where the forest meets the sea. Accommodations are at Silky Oaks Lodge and Healing Waters Spa, an oasis of elegance and beauty nestled on the edge of the wilderness.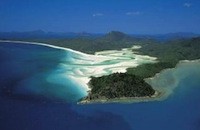 Your tour concludes with three nights on pristine Hamilton Island in the Whitsunday region of the Great Barrier Reef. The 74 islands that dot the Whitsunday Passage are still largely cloaked with pine forests and rainforests, their waterlines blessed with glorious sandy beaches and fringing coral reefs. Almost all are preserved as national parks, making their turquoise waters an idyllic cruising ground. Along with fantastic snorkeling and scuba diving, you can fill your days with sailing, game fishing, water sports, bush walking or tennis.
top10 Days
Upon arrival at Ayers Rock airport proceed to join your complimentary shuttle bus transfer to your accommodation.
This evening you will be met at your accommodation by your guide and driver for an intimate dining experience under the outback sky.
'Tali Wiru', meaning beautiful dune in local Anangu language, encapsulates the magic of fine dining under the Southern Desert sky. Instead of walls, this open-air restaurant has magnificent views of Uluru and the distant domes of Kata Tjuta (The Olgas), and for music there's the stillness of the desert at night and the haunting sound of the didgeridoo.
Relax with Champagne and canapés around a firepit while you watch the sun set. As day turns to night, stroll to the top of the dune for a table d'hote four-course dinner, matched with premium Australian wine. Tali Wiru is so much more than a dining experience; it's a night you will remember for the rest of your life. After dinner, a local storyteller will captivate you with celestial creation stories, before you will be transferred back to you accommodation.
ACCOMMODATION FOR TWO NIGHTS IN A TERRACE ROOM ON A ROOM-ONLY BASIS AT: VOYAGES SAILS IN THE DESERT AYERS ROCK
Early this morning, approximately 1 hour prior to sunrise, you will be met at your accommodation by your vehicle and driver for your small group tour of the Olgas (Kata Tjuta).
Departing the resort it is a 40km journey through the desert landscape to the mighty rock formation. On arrival at the viewing area you walk to the best vantage point to see the 36 domes that comprise this spiritual place while watching the sun's morning glow as the desert comes alive.
Make your way to the western side of Kata Tjuta where you will have the opportunity to relax and enjoy a light picnic breakfast.
As you approach the entrance to Walpa Gorge, named for the wind (Walpa) that whistles between the massive domes that shape Kata Tjuta, the result of eons of weathering and continual upheaval, your guide will share the significance of this men's sacred ceremonial site.
Take a stroll between these mighty conglomerate rock walls as your guide explains how the environment and the geology has evolved over millions of years. Your guide will return to your accommodation at Ayers Rock Resort.
This afternoon you will be met at your accommodation by your guide and vehicle for a small group tour to the Ayers Rock (Uluru). Departing the resort the tour will travel through the landscape to the spectre of Uluru rises from the sand dunes demonstrating its enormity and presence in this country. Your first stop allows you a photographic opportunity of this amazing icon. With Uluru looming in front of you, your guide journeys toward the base. Walk with your guide to a place of tranquillity.
The closer you wander the more you surrender to the realisation of the sheer size of this monolith.
As you drive around the base, your guide will take you to the entrance of Mutitjulu Waterhole, a semi-permanent watercourse nestled in the contours of Uluru. Here you will learn the Creation stories and other prominent Tjukurpa (Dreaming) stories. You will see the rock art of the ancients and learn how Uluru was, and still is, a significant location for teaching young Aboriginal people.
Adjourn to the new Talinguru Nyakunytjaku viewing area where you will observe an uninterrupted view of Uluru with Kata Tjuta in the background before returning to your hotel.
This morning a complimentary shuttle bus transfer is provided to Ayers Rock airport for your onward flight.
Fly Ayers Rock to Darwin (cost not included)
Upon arrival at Darwin Airport you will be met by your private vehicle and driver and transferred to your accommodation (approximately a two hour journey).
Kakadu National Park, located in Australia's Northern Territory, it is an unbelievable place swarming with rare fauna and flora. For this reason, it has been added to the list of UNESCO World Heritage Sites.
The park itself is impressively huge; it is the size of Israel and extends some 200km from north to south and over 100 km from east to west. Its name is derived from the mispronounced 'Gagudju' which is the name of an Aboriginal language spoken in the area. According to scientists, same inhabitants have been living here for nearly 40,000 years and thus Kakadu is very rich in heritage sites (5000 have been already recorded) which illustrate the Aboriginal culture. For bird lovers have a perfect opportunity to design great itineraries which will take them to a very colorful variety of bird species, such as sea eagles, pelicans, egrets, herons, ducks and spoonbills.
ACCOMMODATION FOR TWO NIGHTS IN A HABITAT INCLUDING DINNER AND BREAKFAST AT: WILDMAN WILDERNESS LODGE, MARY RIVER
Day at leisure and while at Wildman Wilderness Lodge you can participate in a number of activities including the following at an additional cost:
• Billabong Cruise
• Crocodile rivers cruises
• Kakadu Day Tour
• Wildlife watching – the wetlands are a meeting ground for thousands of birds and animals
• 4WD Quad Bike Safaris
This morning you will be met at your accommodation by your private vehicle and driver and transferred to Darwin Airport for your onward flight.
Fly Darwin to Cairns (cost not included)
Upon arrival at Cairns Airport you will be met by your private car and driver and transferred to your accommodation (approximately a 1 hour and 30 minute journey).
ACCOMMODATION FOR TWO NIGHTS IN A RIVERHOUSE INCLUDING BREAKFAST AT: SILKY OAKS LODGE, MOSSMAN
This morning you will be met at your accommodation by your guide and vehicle for a full day small group tour to the Daintree Rainforest.
Travel through rich farming areas toward the World Heritage-listed forest region of Cape Tribulation and the Daintree River. On arrival at the river you will board a shared vessel and cruise through silent backwaters where crocodiles can often be seen basking on the muddy banks.
On the northern side of the river your tour enters the Cape Tribulation section of the Wet Tropics World Heritage-protected rainforest. Your journey travels up the beautiful Alexandra Range, passing through rainforest waterfalls and on to your first stop for home-style morning tea deep in the rainforest at the Jindalba boardwalk.
Continuing along the Cape Tribulation road, then stop at the magical Thornton Beach. Here your guide will highlight the amazing wildlife and ecosystems unique to this part of the world – "where the rainforest meets the sea." Lunch today is a special treat of tropical rainforest-inspired local produce at a location deep under the Rainforest canopy.
After lunch, you will be taken to an exotic tropical fruit orchard, where, depending upon the season, you will see unusual, exotic fruit originating from the world's tropical regions.
Your last stop and final lasting impression will be at the outstanding panoramic picture postcard view at Alexandra Range Lookout. Your tour will conclude at your accommodation.
Today you will be met at your accommodation by your private car and driver and transferred to Cairns Airport for your onward flight.
Fly Cairns to Hamilton Island (cost not included)
Upon arrival at Hamilton Island Airport you will be met by a representative of the resort and transferred to your accommodation.
Hamilton Island is situated in the heart of the Whitsundays and is one of 74 tropical islands that lie between the Queensland Coast and The Great Barrier Reef. Over 80 per cent of Hamilton Island has been carefully preserved in its natural state so that visitors can continue to enjoy the pristine beauty of the island's fabulous beaches, unspoilt nature trails and secluded hideaways.
ACCOMMODATION FOR THREE NIGHTS IN A BEACH CLUB INCLUDING BREAKFAST AT: HAMILTON ISLAND RESORT, HAMILTON ISLAND
Days at leisure and whilst at Hamilton Island some of the complimentary activities available include:
• Bush walking
• Use of non-motorised watercraft such as catamarans, windsurfers, paddleboards, volleyball, waterpolo and snorkelling equipment
• Outdoor/Indoor Cinema
• Tennis (Beach Club only)
• Full access to Sports Club facilities (Reef View Hotel and Beach Club only)
In addition there are over 40 activities offered at an additional cost including:
• Tennis and squash court hire
• Scuba diving
• Game Fishing
• Great Barrier Reef Cruises
• Whitehaven Beach fly or cruise
• Target Sports
• Waterskiing
• Sailing
This morning you will be met at your accommodation by a representative of the resort and transferred to Hamilton Island airport for your onward flight.
Depart Hamilton Island.
Cost: Based on two people sharing a room, the cost per person is USD$4,625 (total cost for two people is USD$9,250) and includes:
• Private car transfers as noted
• Tali Wiru dinner at Ayers Rock
• Small group touring to Uluru (Ayers Rock)
• Small group touring to Kata Tjuta (the Olgas)
• Small group touring to Daintree National Park
• Accommodation and meals as specified
• Australian Goods and Services Tax (GST) at 10%
Price may be subject to seasonal fluctuations and public holiday surcharges.
All services are subject to availability at the time of booking.
Copyright 2013 MyLittleSwans, LLC. All rights reserved. My Little Swans, the logo and Share a world of experience are registered Trademarks of MyLittleSwans, LLC. Use of this site constitutes acceptance of our Terms of Use and Privacy Policy.